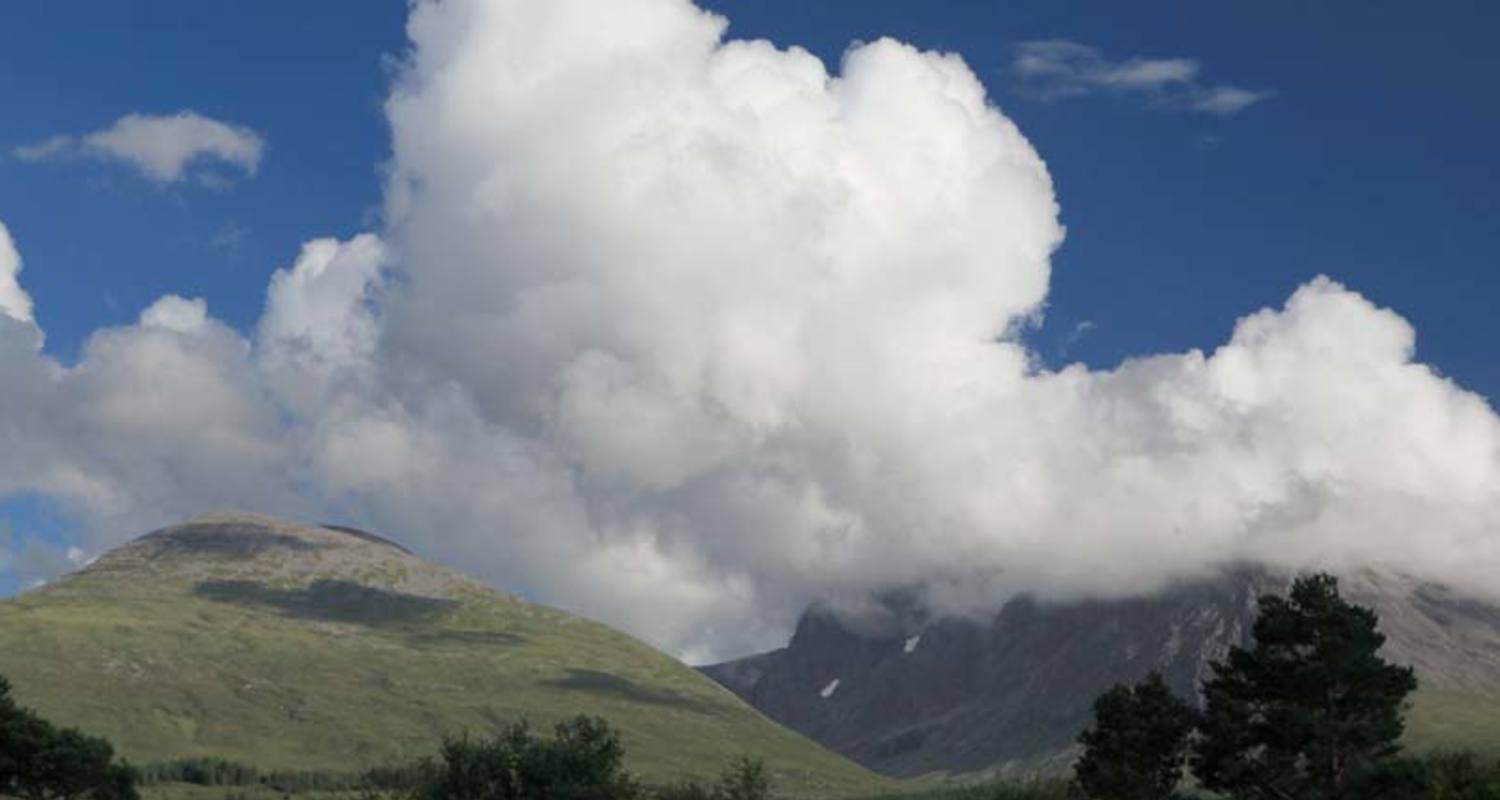 Visit Fort William, Glen Nevis and Ben Nevis in the Outdoor Capital of the UK
John Muir was a Scotsman born in Dunbar and famous for his work during his lifetime campaigning to keep natural areas of countries wild for all time.
Ben Nevis Estate includes Britain's highest point at Ben Nevis summit (1334 m, 4406 ft), the upper part of the Mountain Track, and some of the mountain's southern flank. The track crosses the estate boundary at about 800 m. As well as the Ben, there are a chain of high peaks to the east. These fine hills slope down to the Water of Nevis, as it plunges from high grass flats at Steall through the Nevis Gorge, a densely wooded cleft with a rich native woodland and remnants of the Caledonian pine forest.< Why are we here?
The John Muir Trust acquired Ben Nevis Estate from Duncan Fairfax-Lucy, after being asked if we would be prepared to take on the guardianship of the area. Despite its popularity, Ben Nevis Estate retains some of the basic characteristics of wild land. It has extensive areas, particularly at high altitude, where one can experience a near natural environment and a sense of remoteness and adventure. Our overall aim is to safeguard and enhance the area's wild land character, in particular by restoring some of the damaged habitat. Access John Muir Trust land is open to all, and we welcome all visitors. We trust visitors will respect the wishes of the people who live and work on the estates.
The Mountain Track There are about 100,000 ascents of Ben Nevis every year, and most visitors use this walking route from lower Glen Nevis to the summit. Also known as the pony track, it was formed in 1883 when the summit observatory was built. The track reaches the summit area via a series of zigzags up the western face of the mountain.
Many climbers use the Allt a' Mhuilinn track which heads to the cliffs from the 'North Face' car park near Torlundy on the A82 road. Experienced hill walkers can start on either track, then ascend Carn Mor Dearg and cross to Ben Nevis by the sensational Carn Mor Dearg arete.  The John Muir Trust strongly recommend that anyone climbing Ben Nevis carries suitable food, drink and clothing and is competent with a map and compass. For more information about the John Muir Trust, and who John Muir was, please visit 
John Muir Trust website
Airds Hotel & Restaurant - Luxury Boutique Hotel

Winter Escape deal at AirdsJanuary SaleValentine's PackageEaster Package at AirdsMonthly Wine Club   ...

Moorings Hotel

Celebrated as one of the most popular hotels in Fort William, the Moorings Hotel is a hidden gem, located just five minutes drive from Fort William town centre but a million miles away from every day hustle and bustle.Situated on the banks of the Caledonian Canal at the famous Neptune's staircase locks the location is perfect for a short stroll along the canal-side or enjoying a more strenuous walk along the...

Torlinnhe Guest House

Mark and Larisa would be delighted to welcome you to Torlinnhe, for an exceptional guest house experience in Fort William. Our guests' comfort and enjoyment is our top priority! On arrival, relax a while after your journey, settle in our comfortable lounge and enjoy the spectacular views of Loch Linnhe and the mountains beyond for dinner and drinks.  In the morning you'll enjoy a delicious and substantial breakfast overlooking the loch.  You can...
Glentower Lower Observatory

Achintore Road, Fort William, PH33 6RQ

Glentower Bed and Breakfast in Fort William is the former Lower Observatory building where the mountain observatory Superintendent used to live and work. Today, our home is a fabulous, modern guest house located on the lochside, a few minutes from the town centre. We offer a range of 3...

Sleep 6

Brae Mhor Cottage

Coire Vullin, Blarmafoldach, Fort William, PH33 6SZ

With a unique view of Ben Nevis, the West Highland Way on your doorstep & a stunning panoramic of surrounding countryside, Brae Mhor Cottage is the ideal Highland holiday retreat. The newly built cottage is situated in its own private grounds in the small crofting township of...

Invercoe Highland Holidays - Glencoe MacIain Cottages

Invercoe, Glencoe, Argyll, PH49 4HP

Invercoe Highland Holidays where we offer you quiet, getaway from it all vacations, in what is undoubtedly one of the most picturesque of the Scottish Glens. Here in Glencoe, an area renowned worldwide for its rugged grandeur and also for the Massacre of the Clan MacDonald in 1692, you can have a...

Buccleuch Guest House

Buccleuch Guest House, Achintore Road, Fort William, PH33 6RQ

With fine views over Loch Linnhe and the hills of Ardgour, Buccleuch B & B (pronounced 'Buckloo') provides a great place to stay while visiting Fort William and touring the West Coast of scotland. Our spacious, Victorian (circa 1878), stone-built home has seven ensuite bedrooms. Breakfast...
on the Ben Nevis footpath...

Ben Nevis is often 4 hours up and 3 hours down

on a winter's afternoon in Fort William...

from above Glen Nevis...

rising puffy cumulus cloud on Ben Nevis...

early winter morning at Tomacharich...

rising cloud after a heavy shower on Ben Nevis...