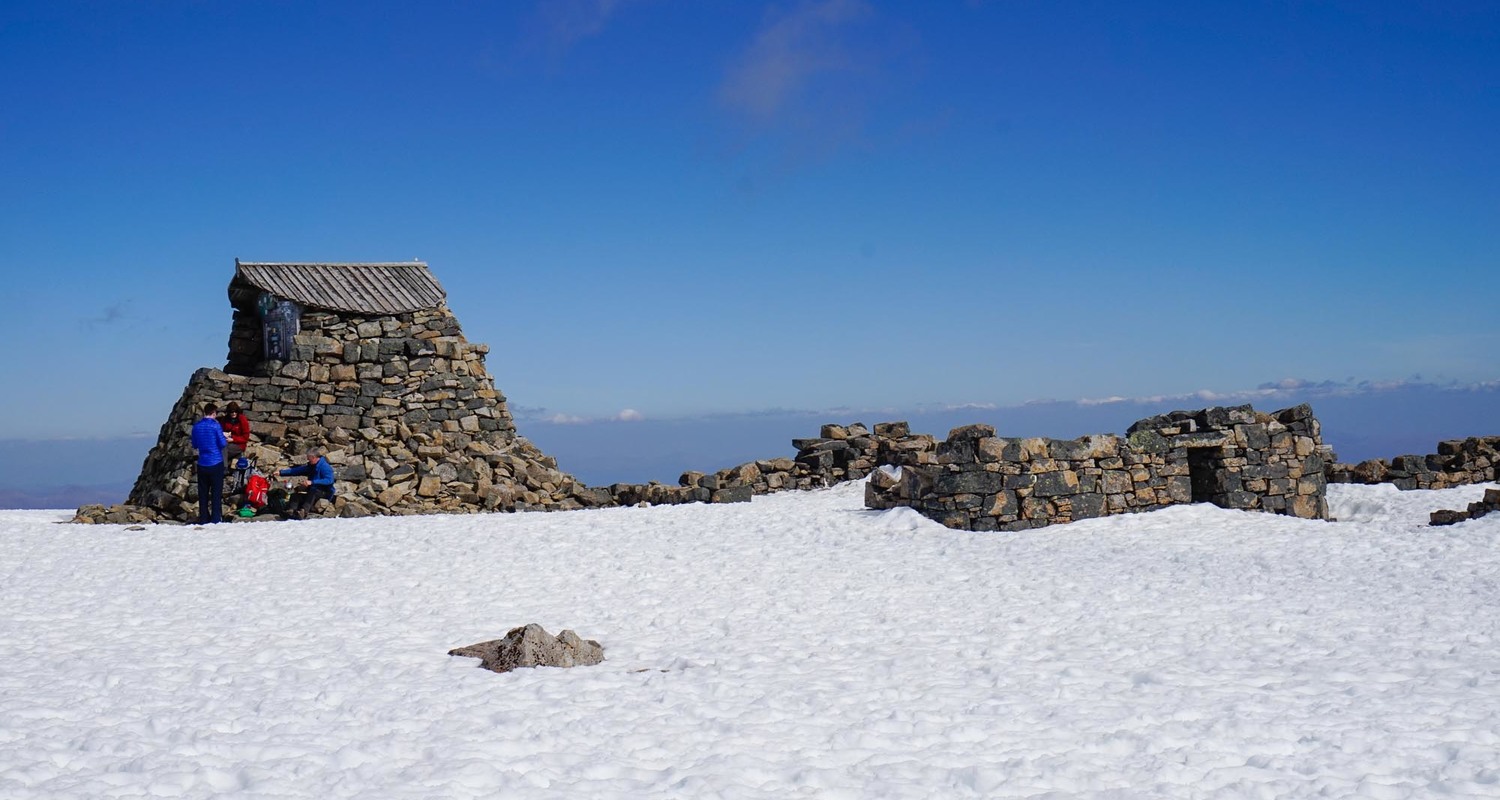 Visit Fort William, Glen Nevis and Ben Nevis in the Outdoor Capital of the UK
Search the Visit Fort William & Lochaber Directory
Der Ben Nevis, von den Einwohnern des Gebietes um Fort William im westlichen schottischen Hochland einfach nur "Ben" genannt, ist mit 1344 Metern der höchste Berg der Britischen Inseln. Dieses Gebirgsmassiv ...
Der Ben Nevis, von den Einwohnern des Gebietes um Fort William im westlichen schottischen Hochland einfach nur "Ben" genannt, ist mit 1344 Metern der höchste Berg der Britischen Inseln.
Dieses Gebirgsmassiv ist im wahrsten Sinne des Wortes ein Besuchermagnet. Es hält für jeden seiner Besucher etwas Besonderes bereit. So können hier geologisch interessierte Leute sehr alte Gesteine aus der Zeit der Kaledonischen Gebirgsfaltung finden. Das Ben-Nevis-Massiv war einst ein Gebiet großer vulkanischer Aktivität. Deshalb stehen dort eine Menge Erguss- und metamorphe Gesteine an.
Biologisch interessierte Besucher hingegen können in den einzelnen Höhenstufen des Gebirgsmassivs selten gewordene Tier- und Pflanzenarten entdecken. So können sie im Verlaufe der verschiedenen Jahreszeiten solche Vogelarten wie den Wiesenpieper, den Steinschmätzer, die Ringdrossel, das Schwarzkehlchen und manchmal auch das Schneehuhn sichten. Auch kleine Eidechsen sind dort beheimatet. Dieser Naturraum ist auch reich an weniger bekannten subalpinen Gebirgspflanzen. Es sind vor allem verschiedene Arten von Steinbrechgewächsen. In der unbewaldeten Zone des Bergplateaus gibt es seltene Flechten und Moose, die auf Felsgeröll und Steinschutt wachsen.
Besucher, die sich speziell für Meteorologie interessieren, haben die Möglichkeit, spezifische Wetterphänomene zu studieren und vielleicht auch interessante Temperaturmessungen durchzuführen.
Laufsportler können jährlich am ersten Wochenende des Monats September im Ben-Nevis-Lauf ihre Kondition und ihr Können testen.
Geübten Wanderern in einem guten Gesundheitszustand eröffnet sich die Möglichkeit, auf einem Fußpfad in einer Halbtagestour zum Ben-Nevis-Plateau aufzusteigen.
Kletterer finden besonders an der Nordwand des Berges tolle Kletterrouten, die es sich lohnt, einmal auszuprobieren. Besondere "Leckerbissen" hält der Berg auch für Eiskletterer bereit.
Der "große" Ben im Land der anderen kleineren Bens weist einfach eine atemberaubende Landschaft auf. Auf seinem Gipfelplateau stehend, hat man bei schönem Wetter herrliche Ausblicke in Richtung des Glencoe, des Great Glen ("Großes Tal"), tief hinunter zum Loch Linnhe und dem Loch Eil.
Das sind Eindrücke, die die Besucher in ihrem Leben nie wieder vergessen werden. Das Ben-Nevis-Gebirgsmassiv ist deshalb
von immer größer werdendem Interesse bei jung und alt. Das trifft auch auf Besucher zu, die sich für das Fotografieren und die Malerei interessieren. Hier gibt es tausende von wunderbaren Motiven, die einfach darauf warten, eingefangen zu werden.
Das Ben-Nevis-Massiv ist aber auch ein Naturreservat, an dem gegenwärtig beispielhaft demonstriert wird wie Naturresourcen umweltfreundlich genutzt werden können. Das betrifft besonders auf die Ressource "Wasser" zu. In diesem Zusammenhang haben die Besucher auch die Möglichkeit, den Weg der Ben-Wasser bis zum "Lebenselixier Whisky" zu verfolgen und in der Whisky-Brennerei des Ortes einen "Dram" des guten Dew of Ben selbst zu nehmen.
Apropos Wasser. Der Ben ist an seiner Westseite auch von Seen umgeben.(Loch Linnhe und Loch Eil). Nördlich vom Berg fließt der Lochy-Fluss. Parrallel zu letzterem erstreckt der berühmte Kaledonische Kanal.
All das ist auch ein ideales Gebiet für den Wassersport, insbesondere Segeln. Außerdem können die Besucher hier auch schöne Bootsfahrten unternehmen.
Übrigens die Winter im Ben-Nevis-Areal und in der Nevis-Range-Bergkette sind meistens schneereich. Das am besten ausgebaute Skigebiet ist dabei die Nevis Range. Eine Kabinenseilbahn bringt die Besucher in ein herrliches Skigebiet, hinauf auf 600 Meter Höhe.
Eine Kurzreise, ein längerer Urlaubsaufenthalt oder auch eine Studienreise würde dem Besucher die Möglichkeit eröffnen, die hier aufgezeigten zahlreichen Facetten des Gebirgsmassivs noch besser zu erschließen. Das könnte sehr lehrreich, ja aber auch erholend sein. Fort William bietet mit seinem Ben-Nevis-Gebiet ausreichend Möglichkeiten der geistigen und körperlichen Betätigung und Entspannung. Es hat dafür übrigens auch das richtige Reizklima.
Hier noch einige nützliche Links für Ihre weitere Urlaubsplanung oder Ihre Studienreise nach Fort William:
Anreise von Deutschland:
http://www.visit-fortwilliam.co.uk/schnellsten-von-deutschland-nach-fort-william
Empfehlenswerte billige Unterkunft:
Woodside B&B:
http://www.woodsidefortwilliam.co.uk/
Selbstversorger- Unterkunft "Cedar Lodge":
http://www.fortwilliam-selfcatering.co.uk/
Weitere Urlaubsattraktivitäten in Fort William:
The Lime Tree Hotel

The Lime Tree in Fort William is a Small Hotel, Restaurant and high quality Art Gallery offering you unique accommodation in a convenient location in the Highlands of Scotland. Whether you choose to relax at The Lime Tree, enjoy the spectacular mountains and landscape, bag a Munro, tackle world championship mountain bike track at Nevis Range, take the Jacobite steam train on the road to the Isles, or choose to immerse...

Bed & Breakfast, Fort William - a view with a view

PLEASE NOTE: This B&B is only available between OCTOBER and MARCH. We do not offer one night stays, but instead offer a discount to stay a min of two nights or longer. Our current rates, when accommodation is available, are on our website. This property operates as a self catering cottage during the Spring and Summer months.Fort William short breaks and weekend breaks are available all year round at Woodside. A MARVELLOUS view...

Burnlea Cottage in Fort William

With fantastic panoramic views over Loch Linnhe to the hills beyond, this stylish Fort William cottage is less than 1 mile from the shops, restaurants and pubs of Fort William town centre. Our cottage accommodation comprises 1 twin/super-king bedroom, kitchen/sitting room, shower room.Free WiFi /parking and guests have use of the garden with waterfall and burn: watch out for visiting wildlife - deer and otters!Fort William, the outdoor capital of the...

Nevis Lodge Self Catering

Nevis Lodge is a fabulous open-plan holiday lodge set in an ancient pine forest in front of Ben Nevis, but just 5 minutes from Fort William town centre. The property sleeps 8 - 10 persons in 5 bedrooms, two modern bathrooms with showers and baths (one ensuite). The central living area has a modern open plan kitchen, central log fire and comfortable seating with large picture windows and sliding doors onto a...

Crolinnhe Bed and Breakfast

A superb, secluded Guest House with it's own extensive gardens and elevated views overlooking Loch Linnhe. This lovingly restored Victorian villa is a haven in the West Highlands of Scotland. Crolinnhe is a 5-star establishment offering exceptional levels of comfort to guests and a warm welcome with an intimate and opulent atmosphere ensuring our guests enjoy the majestic Scottish scenery surrounding them.Enjoy afternoon tea and shortbread on arrival in the spacious...

Airds Hotel & Restaurant - Luxury Boutique Hotel

The Airds Hotel & Restaurant is a romantic luxury boutique hotel located in the stunning hamlet of Port Appin, near Oban, Argyll, situated on the shore of Loch Linnhe with the Morvern mountains behind, on the West Coast of Scotland in the Scottish Highlands. This luxury hotel has one of the best reputations in Scotland for it's food and dining here is a real pleasure. The bedrooms are all individually decorated and all have...

Inverskilavulin Lodges - self catering near Fort William

Warm and cosy lodges for between 4-6 people each, with spectacular views on Ben Nevis, Aonach Mor, the Grey Corries and much more. Both lodges are nestled away in the heart of the Scottish Highlands, located just 6 miles outside of Fort William in Glenloy at the foot of Beinn Bhan corbett. Solar powered, with water straight from Beinn Bhan river, we offer eco-friendly and sustainable holiday accommodation, in the quiet serenity...

Braeburn Guesthouse

Ton and Irene look forward to welcoming you to our spacious and beautifully appointed home, where your comfort in our Fort William B&B is always our top priority. Braeburn is a family run house set in its own grounds with beautiful views of Loch Linnhe and the Ardgour Hills.All of our guest ensuite bedrooms are tastefully decorated and guests often comment on our `home from home' atmosphere. Relax in our comfortable lounge...

Alba Ben View Holiday Cottage

Our self catering cottage is located just past the Commando Monument above the village of Spean Bridge - about 10 miles from Fort William town centre and Ben Nevis - a pleasant 20 minute journey. The cottage sits in its own grounds, next to the owners accommodation with superb uninterrupted views over to Ben Nevis and the Mamore Hills, and provides accommodation for up to 4 persons in two ensuite bedrooms.Everything...

St Anthonys Bed & Breakfast

St Anthonys  is a quiet, comfortable Fort William Bed & Breakfast situated in the middle of town in an elevated position giving lovely views over Loch Linnhe and the surrounding hills. We have 3 Double rooms and 1 Family Suite. All rooms are en-suite, with hospitality trays, hairdryers, flat screen tv/dvd players and free WiFi. Gill & Dave Ferguson, the owners, look forward to offering a warm welcome and friendly service. Complete...

Cedar Lodge - Self Catering Cottage Fort William

Cedar Lodge is one of the closest self catering places to Fort William's downhill mountain biking tracks and winter skiing/snowboarding at Nevis Range. We are also within 10 minutes of the Ben Nevis North Face car park, and 15 minutes from the Glen Nevis Visitor Centre where most people begin their walk up the mountain footpath on Ben Nevis. THIS PROPERTY IS AVAILABLE FOR THE MONTH OF APRIL FOR PROFESSIONALS WORKING...

The Willows Guest House, Fort William

The Willows is a 3 star family run guest house situated by the shores of Loch Linnhe with views of the Ardgour hills.  Located close to Fort William town centre it is approximately a 10 - 15 minute pleasant stroll along the gardens of Loch Linnhe to the restaurants, bars and shops.  But for our guests arriving by bus or train we would recommend a taxi, as the train and bus station are on...

Calluna - Self Catering apartments and bunkhouse

Ben Nevis mountain country - Calluna self catering apartment(s) in Fort William are perfect for walkers, climbers and outdoor people. Welcome to Calluna, self-catering accommodation in the heart of the beautiful Scottish Highlands. Located above the west coast town of Fort William beneath Ben Nevis, Britain's highest mountain. Calluna provides the ideal self-catering base for your holiday, whatever you wish to do. Families, groups, couples and individuals are welcome, for a short or long...

Luxury accommodation in Fort William

Luxury suites in Fort William. Choice of self-catering or award winning 5 Star Gold B&B with sublime suites in a stunning Victorian Townhouse, a traditional Highland cottage beside Loch Linnhe or a unique cottage for two in a quiet glen.The Grange - Our B&B is rated at the highest quality, 5 Star Gold, by Visit Scotland, winner of the 'Most Hospitable Bed and Breakfast' at the 2016 Highland and Islands Tourism...

Springburn Farm House

Located a short distance from the world-famous Commando Monument above the village of Spean Bridge, our modern and comfortable 4-star bed and breakfast is a great place to stay for a few days. We offer a real Highland welcome, a comfortable ensuite room with a great breakfast served from 7am.We have all modern conveniences you would expect. We are only 20 minutes from Fort William town centre and 30 minutes from...
on the Ben Nevis mountain footpath...

Ben Nevis is often 4 hours up and 3 hours down

pop into the Ben Nevis Inn for a pint ?

on the Ben Nevis footpath...

on the way to Glenfinnan village...

on a winter's afternoon in Fort William...