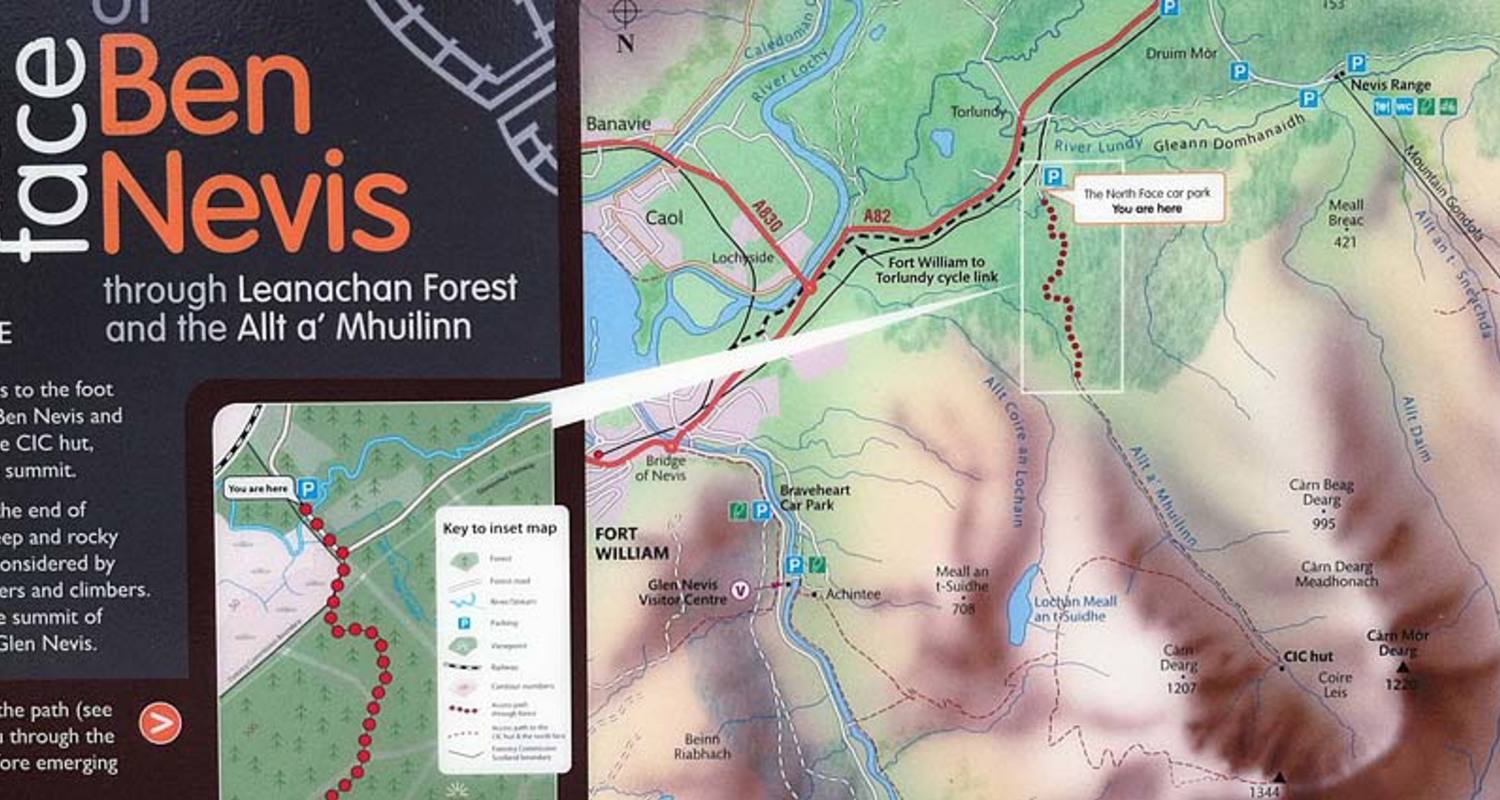 Visit Fort William, Glen Nevis and Ben Nevis in the Outdoor Capital of the UK
How To Behave On Ben Nevis
This page has lots of helpful information about going to the toilet on the mountains and in the countryside - managing your personal waste and litter
Ben Nevis is a busy mountain in both summer and winter. In order to help us keep this area in a pristine condition and to safeguard its future development we provide some key information about some of the environmental issues that affect the area and some guidelines for how you may help maintain the beauty and magnificence of the area.
Litter
Please carry all your litter off the mountain. Sadly the summit of Ben Nevis attracts large amounts of waste. There are a number of voluntary summit clean ups each year and these are often organised by the Lochaber Mountain Rescue Team or the John Muir Trust Conservation activities manager. You can get involved by contacting the Nevis Partnership and providing your time as a volunteer. In addition if you are at the summit of Ben Nevis please help us by removing the waste of others and in time we will get the message across that leaving waste at this magnificent site is not appropriate. Please do not discard orange peel, banana skins or apple cores. Many people believe that these are of no consequence to the environment. Please bring them down.
Toilet issues
Please be discreet with your need to go to the toilet. If at all possible try not leaving excreta on the mountain. There are public toilets at the Glen Nevis visitor centre. If you find yourself in a position that you have to go to the toilet on the mountain please follow the advice in the Mountaineering Council of Scotland's information sheet. The leaflet "
Where to go in the Outdoors
" is downloadable.
Use of the Summit shelter and Observatory ruins
Sadly a great deal of people use the summit shelter and the observatory ruins as a toilet area. Please, please refrain from this activity as it is making the summit area an unpleasant experience for all of our visitors and significantly detracts from the whole wild mountain experience tat people have worked so hard to achieve.

Cairns
There are a number of cairns on the mountain. Please do not add stones to the cairns during your ascent and descent.
All cairns below the 4000' contour will be removed. The reason for this is that the creation of these enormous cairns is creating large scale path diversion and path erosion. In addition many people feel that these purpose built items are an eye sore and should not become permanent features. Some of these cairns now have a base exceeding 10m in diameter.
There are a number of cairns above the 4000' contour on the way to the summit that will be managed via the Nevis Partnership. It is important that these cairns are not tampered with in any way, either taken down or added to.
Memorials
Please do not leave any memorials on the summit of Ben Nevis. In association with the John Muir Trust and Highland Council we have created an alternative site of remembrance in Glen Nevis. We understand and recognise the importance of the summit for relatives and friends to remember their loved ones and are asking our visitors to simply not leave any items at the summit.
If you wish to formally memorialise your loved one and wish to utilise then please contact the Glen Nevis Visitor Centre on 01397-705922.
Useful links

About the Mountaineering Council of Scotland
About John Muir Trust in Glen Nevis
Luxury accommodation in Fort William

Luxury suites in Fort William. Choice of self-catering or award winning 5 Star Gold B&B with sublime suites in a stunning Victorian Townhouse or a unique cottage for two in a quiet glen.The Grange - Our B&B is rated at the highest quality, 5 Star Gold, by Visit Scotland, winner of the 'Most Hospitable Bed and Breakfast' at the 2016 Highland and Islands Tourism Awards and holds numerous other awards.Or choose The...

Cedar Lodge - Self Catering Cottage Fort William

Cedar Lodge is one of the closest self catering places to Fort William's downhill mountain biking tracks and winter skiing/snowboarding at Nevis Range. We are also within 10 minutes of the Ben Nevis North Face car park, and 15 minutes from the Glen Nevis Visitor Centre where most people begin their walk up the mountain footpath on Ben Nevis. Facilities Cedar Lodge offers two ensuite bedrooms, a fully fitted kitchen, washing...

Lapwing Rise Self Catering Accommodation

Situated on a working croft just over 3 miles from Fort William this bright and spacious self catering bungalow sleeps up to 7 persons and enjoys wonderful views over the Caledonian Canal to Ben Nevis and the Aonach Mor ski slopes.This holiday home is enclosed within its own garden and the accommodation includes a lounge, dining room, 4 bedrooms and 2 bathrooms (one with shower and the other with a bath...

Hollybank Lochside Self Catering

Luxury lochside holiday home just 30 metres from the shore of Loch Linnhe and set in its own ten acres of croft ground, the property has been completely refurbished and has three ensuite bedrooms all with window seats and loch views. The lounge has loch views and flat screen TV and DVD and cosy wood burner and wifi there is a dining room seating six and large kitchen with all new...

Bishops Bay Luxury Self Catering Cottage

Nestled between woodlands, wildlife, mountains and the shores of Loch Leven, Bishop's Bay Cottage enjoys a special place in her surroundings and offers an ideal base, discovering  Glencoe, Ben Nevis, Fort William, the Mamores and many other adventures. 5 Star Luxury Self CateringLochside LocationSurrounded by private woodlandRaised terrace with furnitureBeautifully designed and finishedIdeal for one or two couplesBishop's Bay Cottage is ideally located to explore this magnificent area. From Mallaig in the...

Glencoe Mountain Cottages

Enjoy a lovely 4 star cottage with just the most amazing views. Our Glencoe self catering holiday cottages are wonderfully situated a mile up a secret valley off, most probably, Scotlands most photographed, magnificent and historical glen -Glencoe.The two modern and clean, semi-detached self catering holiday cottages, sit below some of Scotland's highest mountains. Amongst this beautiful scenery, in what must be one of the most imposing and impressive locations in...

Kinchellie Croft

Kinchellie Crort provides extremely good value of money self catering holiday accommodation at the same time as offering an excellent standard of log cabins and cottages. We are located in Roy Bridge and perfect for groups looking for a good location for outdoor activities.Our three cottages sleep up to 6 people and the two log cabins sleep up to 4 persons.We are open all year round and available for weekly lets...
Rose Cottage - Garden Flat

Rose Cottage , Torlundy, Fort William, PH33 6SW

This little flat, which is part of the owners home, is perfect for a couple. The flat is self contained. All the accommodation is at ground level with access to a small private garden. Seats and table, herbs and cottage garden plants. Enjoy this sheltered spot with views of Ben Nevis.On a clear...

But'N'Ben Self Catering Holiday Cottage (With log cabin BBQ hut)

1 But'N'Ben, Stronaba, Spean Bridge, PH34 4DX

But'N'Ben holiday cottage offers comfortable, homely and affordable self catering accommodation for up to 4 people in the beautiful scenery of the Scottish highlands. Our lovely cottage is located in the hamlet of Stronaba, at the gateway to the famous Great Glen, yet only a 15 minute drive to...

Nevis Croft Self Catering Cottages

Nevis Bridge, Glen Nevis, Fort William, PH33 6PF

Self catering accommodation situated at Nevis Bridge, Glen Nevis, Fort William. Nevis Croft Cottages are situated near Nevis Bridge - just half a mile from Fort William town centre and at the entrance to the stunning Glen Nevis and at the original end of the West Highland Way. Our cottages are...

Sleeps 11

Minard Cottage

Minard Cottage, Self Catering Holidays, Glencoe, Argyll, Scotland, PH49 4HN

We have 2 holiday cottages in iconic Glencoe: ​ Minard Cottage. Sleeps 6-8 Adults and 1-3 Juniors.  The Bunkie Chalet. Sleeps 2 Adults and 1-2 Juniors.  ​ Based in stunning Glencoe, our holiday cottages are in Scotland's most iconic glen and the perfect base for exploring the...

Invercoe Highland Holidays - Glencoe MacIain Cottages

Invercoe, Glencoe, Argyll, PH49 4HP

Invercoe Highland Holidays where we offer you quiet, getaway from it all vacations, in what is undoubtedly one of the most picturesque of the Scottish Glens. Here in Glencoe, an area renowned worldwide for its rugged grandeur and also for the Massacre of the Clan MacDonald in 1692, you can have a...

Sleep 6

Brae Mhor Cottage

Coire Vullin, Blarmafoldach, Fort William, PH33 6SZ

With a unique view of Ben Nevis, the West Highland Way on your doorstep & a stunning panoramic of surrounding countryside, Brae Mhor Cottage is the ideal Highland holiday retreat. The newly built cottage is situated in its own private grounds in the small crofting township of...

Craig Moray Cottage Glencoe

Allanbreck, Lettermore, Ballachulish, PH49 4JD

Glencoe Luxurious and elegant properties, in the beautiful valley of Glencoe. If it's water sports, mountain biking, hill climbing, skiing, or touring you want, this beautiful rugged glen has it all. Exclusively designed for couples seeking that special break away from the toils of daily...

Glencaig Self Catering Cottage

Glencaig Cottage, 6 Stronaba, Spean Bridge, PH34 4DX

Glencaig self catering cottage, located 2 miles north east of Spean Bridge in the Western Highlands, is a bright two bedroom bungalow on the family croft at Stronaba.Near Fort William (the Outdoor Capital of the UK) and the UK's highest mountain (Ben Nevis) Glencaig Cottage is not only popular...

Glen Nevis Cottage Self Catering Accommodation By Ben Nevis

old nevis bridge, Glen Nevis, FortWilliam, PH33 6PF

Located at the entrance to Glen Nevis, this very appealing, traditional cottage provides comfortable holiday accommodation for 4 plus persons. Every amenity is included in the weekly rent - except towels. Glen Nevis Cottage is within walking distance of Fort William town center, and at the...

The Old Store - Holiday Cottage, Onich near Glencoe

The Old Store, by Fort William, PH33 6SD

Situated on the edge of the pretty village of Onich, this cosy, comfortable, semi-detached holiday cottage has been nicely furnished. Set along the A82, it makes a perfect base for touring this beautiful part of the Highlands. Glencoe, Fort William 'Outdoor Capital of the UK', Loch Ness and...

Ramblers Rest

45 Mossfield Drive, Lochyside, Fort William, PH33

Ramblers Rest is a detached, single floor self-catering cottage in a quiet secluded location in Fort William. Accommodation includes sitting room/dining/kitchen open plan design leading to one double bedroom and separate toilet/shower room. The sitting room has a double sofa bed. A large,...

Sleeps 4

Glen Nevis Holiday Cottages

Glen Nevis Holidays, Glen Nevis, PH33 6SX

Tranquil holiday cottages set in magnificent mountain scenery at the foot of Ben Nevis in the Scottish Highlands; purpose built with every comfort, allowing you to make yourself truly at home. Enjoying the peace and privacy, each cottage is thoughtfully placed away from our access road, in pretty...
seen from the WHW footpath...

at the bottom of the footpath

over Ben Nevis...

Ben Nevis, Glen Nevis

at Glen Nevis Visitor Centre

its about 7km long...

from the Ben Footpath...

descending from the rain...