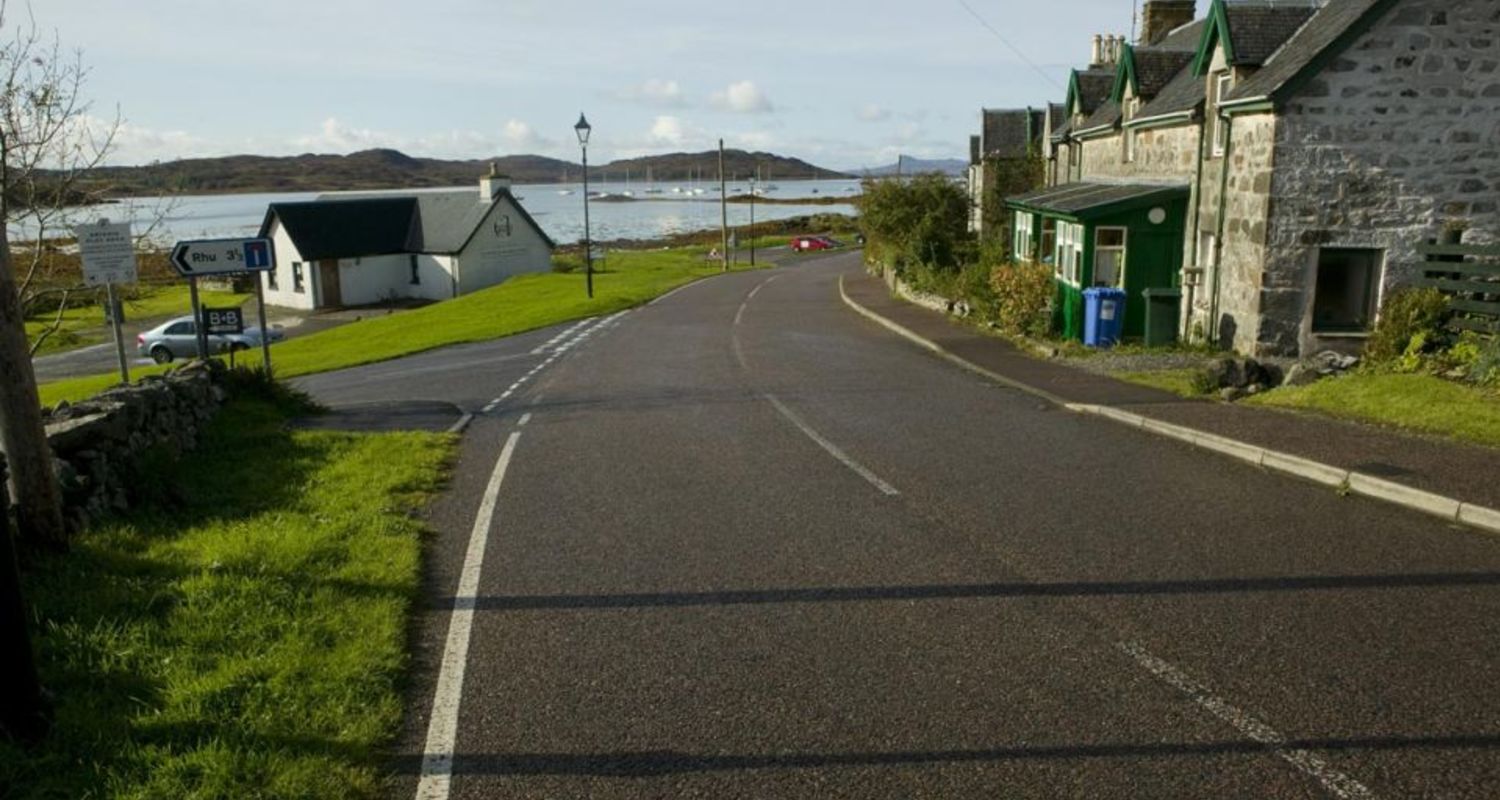 Visit Fort William, Glen Nevis and Ben Nevis in the Outdoor Capital of the UK
Visit Arisaig By The Sea On The Road To The Isles
Arisaig is a pretty location by the sea with a great natural harbour for sailing boats and fantastic summer sunsets. A good place to stop off
The west coast of Lochaber is renowned for fantastic sunsets and there is no better place to witness such an event than Arisaig.  As the sun dips behind one of the Small Isles of Rum or Eigg, the sky blazes and is reflected in the beautiful water of Loch na Ceall.  This loch offers excellent shelter for yachtsmen and 30 or so moorings are available in the summer months.  
Monks were probably the first settlers in Arisaig in the 12th century.  They called it "the Rough Bounds" - reflecting their views of having crossed mountainous terrain and rough seas to reach it. In the early part of the 19th century, a road suitable for stage coaches was constructed and the hotel built to support this new trade still exists. 
One of Arisaig's famous sons was John Silver.  He was born in Arisaig on 2 January 1853. As a young man he went to work on the construction of the lighthouse at Barrahead. The lighthouse designer was Thomas Stevenson, father of Robert Louis. Silver met Robert Louis on a few occasions. Local legend has it that Robert Louis Stevenson took the name for his character in Treasure Island.
Arisaig House, closeby, was used by the Special Operations Executive (SOE) to train operatives during the second world war.
A stay at The Old Library Inn and Restaurant is well worth considering. The owners provide a good menu in their restaurant and they offer apartments and rooms accommodation - some with sea views  

View Fort William & Lochaber in a larger map
Down by the waters edge is Arisaig Marine who operate the ferry to the Isle of Eigg, MV Shearwater. Arisaig Marine provide a floating pontoon for visiting yachts to load and unload, and manage the local moorings. Water and diesel are available as are cranage and slipping facilities.
If you're considering a holiday in Arisaig, one of the things you can do is take the boat from Mallaig to Skye for the day. If you're staying in Fort William, or indeed, other parts of Lochaber, a day trip to Skye travelling first north-west through Kintail and then onto Skye, provides the opportunity to enjoy a west coast sunset in and around Arisaig (subject to weather of course!) Stay awhile, relax, enjoy a meal...
You can arrive in Arisaig by train since the village is on the West Highland Line. In the summer months a steam train locomotive pulls a special passenger train from Fort William to Mallaig. Take the  Caledonian Sleeper from Euston, London and arrive refreshed at Arisaig - you'll be amazed !
The Old Library Lodge & Restaurant

Library Buildings, Arisaig, PH39 4NH

Perfectly located by the sea in the village of Arisaig, The Old Library has a good reputation for comfortable bed and breakfast accommodation and excellent food from this family owned restaurant with rooms.We are open for light lunches, coffee and tea during the day, and serve a varied, tasty menu in...

Arisaig Marine and Harbour

The Harbour, Arisaig, PH39 4NH

Known as "The Gateway to the Small Isles", Arisaig Marine provides the perfect sheltered base from which to explore the West Coast of Scotland. We have 60 professionally checked swinging moorings available to rent on anything from a nightly to a seasonal basis.We also offer: Summer Moorings Winter Storage 20-ton Roodberg...

Fuze Ceremonies

Grahams Manse, PH39 4NJ

Whether you are seeking a Wedding Ceremony (I'm authorised to conduct weddings by the Registrar General of Scotland), a Baby Naming, a Funeral Service or affirmation of vows, I can design and deliver a sincere, professional and thoroughly personal ceremony. My aim is to help you and your loved ones celebrate...

WONDERLAND - Multi Award Winning Wedding Band

Rivendell, Fort William, PH39 4NJ

LIVE DUO BAND + CEILIDH + DJ - Fort William wedding band Providers of quality entertainment live music for any type of private or corporate function. "Wonderland" are the only band to win both a VOWS Award and and Scottish Wedding Award - given for exceptional customer service. Please check online...

Kilmartin Guesthouse

Kinloid Farm, Kilmartin, PH39 4NS

Our seaside Highland farmhouse at Arisaig provides a great place to stop over on the way to Mallaig for the Isle of Skye ferry. Kilmartin Guesthouse offers three very comfortable bed and breakfasts with a seaside location. We have two double rooms with private shower facilities, and one twin room with...

Arisaig Hotel

Arisaig, Inverness-shire, PH39 4NH

Located in the village of Arisaig by the sea and on the way to the Skye Ferry, and within walking distance from the train station, our nice hotel in Arisaig offers affordable B&B and tasty bar meals. With views out to sea over the bay, our family run hotel is a...
good food in a great location...

on Traigh Beach at Arisaig...

on Traigh Beach at Arisaig

its child's play...

often a treat for the family...

cattle like seaweed....

at Arisaig...