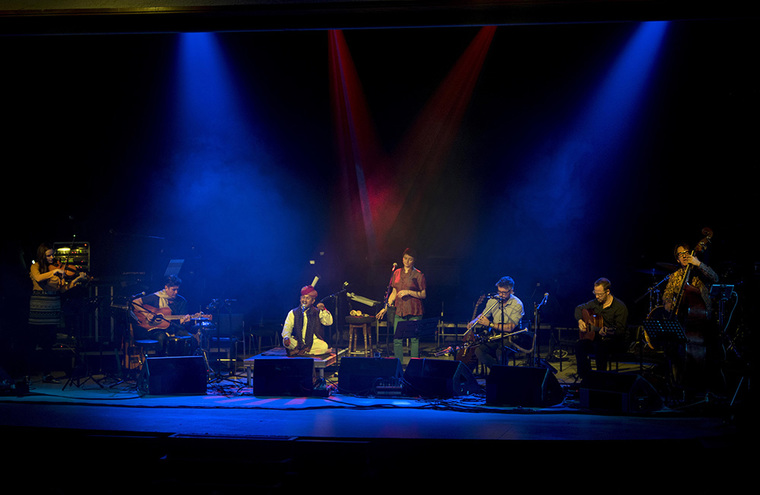 Kaela Rowan Band with support from Eva Corser
Watercolour Music, Ardgour, PH337AH
Kaela Rowan Band with support from Eva Corser
Booking essential (pay at door) via [email protected] or tel: 01855-841320
We are so pleased to be able to host some very special local talent for our latest House Concert at Watercolour Music. Kaela Rowan has her roots firmly in Lochaber, but has gained international attention as the singer with Acid Croft legends Shooglenifty.
Her own trio will be taking to the Watercolour stage with husband James Mackintosh (the Shoogles' drummer and likewise a 'lochside' boy with his Corran Ferry connections), and Ewan MacPherson on guitar.
Although she has been a singer since her teens and fronted many bands, including the influential 90s band Mouth Music, Kaela Rowan's solo career began in earnest in 2014 with the release of her first self-penned album Menagerie. Her second album, The Fruited Thorn, saw her return to the songs she learned growing up in the Scottish Highlands. Singing in Gaelic, Scots and English, she takes the listener on a tour of some of the finest Scots and Irish ballads, arranged in a unique style that is both respectful and innovative.
Much in demand for her beautiful voice, Kaela has also recorded and performed with Eliza Carthy Band, Karen Matheson, The Mike McGoldrick Band, Nusa, Anna Murray, The Loveboat Big Band, The Bevvy Sisters and many more. Most recently she joined Shooglenifty for their acclaimed seventh album The Untied Knot, bringing a dynamic new element to the band's sound. She toured extensively with the Shoogles throughout 2015 and 2016, and will record with the band again in 2017 in India.
AND! A special bonus! Those of you who have been to this year's gigs will know that we've been able to showcase young locally-connected talent through the generous support of the Ardgour Area Fund, and this concert will be no exception, with the opening act this time being Eva Corser, an emerging singer-songwriter, grand-daughter of Aonghas Grant, and niece of Angus R., Shooglenifty's much missed lead fiddler.
As ever, please do book ahead for us (pay on the day, just reserve your places via the contacts below) and we look forward to seeing you on the 8th April!

And here's a little taste of the delights in store: https://www.youtube.com/watch?v=IBAY6ZLl2IU
Directions: http://watercolourmusic.co.uk/contact.htm
Web: www.watercolourmusic.co.uk
Twitter: @watercolourmusic_uk, @nicualraig
Facebook: www.facebook.com/watercolourmusic.uk; www.facebook.com/nicualraig
Instagram: watercolourmusic
For more information or to make a booking, please send a message via the enquiry form.