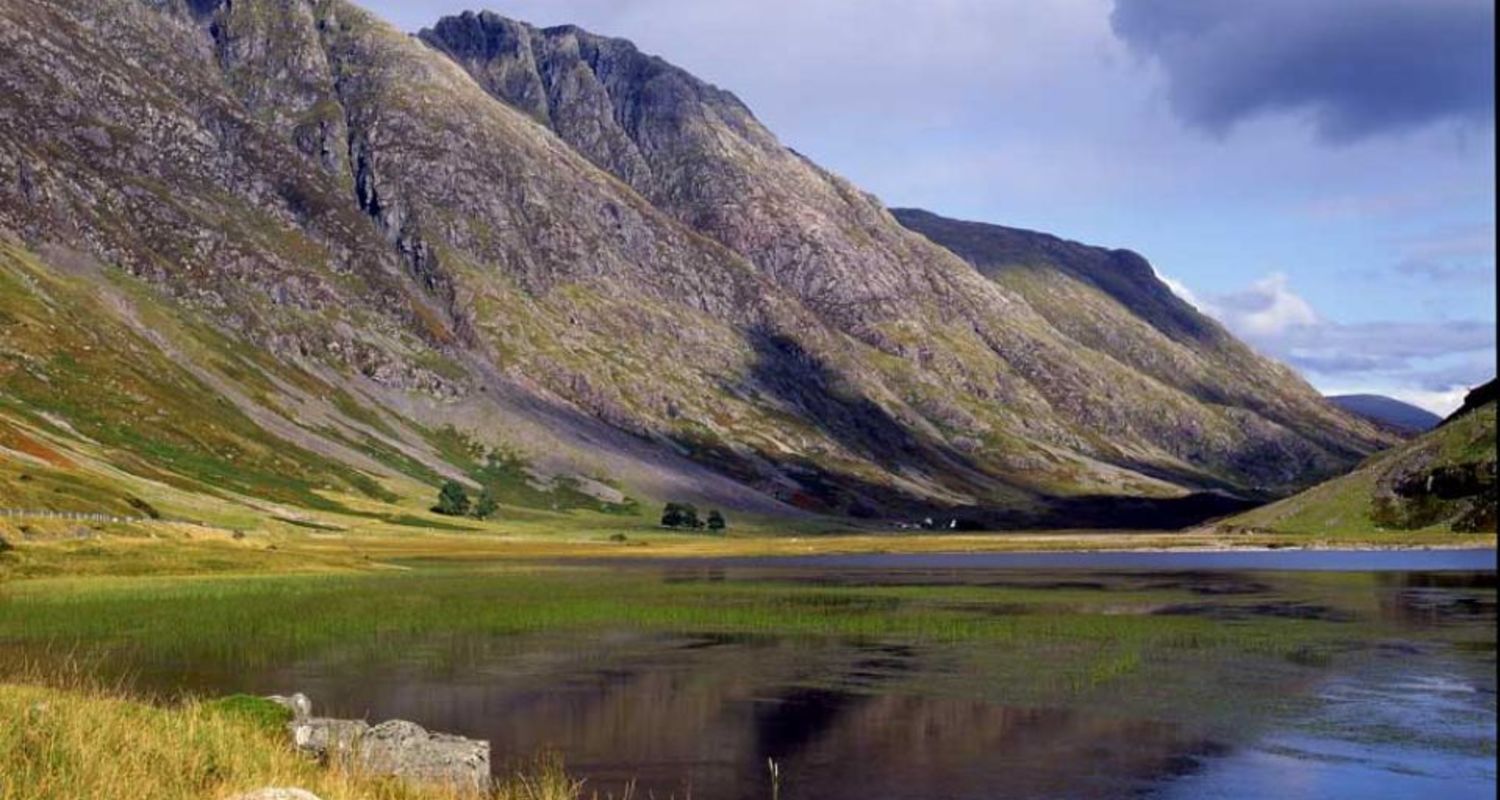 Visit Fort William, Glen Nevis and Ben Nevis in the Outdoor Capital of the UK
About The Glencoe Massacre In 1692
About the infamous massacre which took place in Glencoe in1692
The Massacre of Glencoe
At 5am in the morning of 13 February, the Argyll militia turned on their sleeping hosts. But some of the victims were warned of what was to happen. Many of the Argyll men would have been aware of the MacDonald's own capacity for waging war on their neighbours over the years, but the wanton killing of civilians who had been sharing food and shelter went against the grain.

Nevertheless, enough soldiers were prepared to put duty first and the final body count was 38 men, women and children, including the elderly chieftain, killed as he was putting on his trews. A further 40 women and children died of exposure after the homes were torched. More government soldiers had been ordered to seal the exits from the glen, but the hostile weather and reluctance to participate in murder of civilians meant the escape routes remained open. Two lieutenants, Francis Farquhar and Gilbert Kennedy, broke their swords rather than carry out their inhuman orders. Imprisoned for insubordination they were later exonerated, released and subsequently gave evidence for the prosecution against their superiors.

Aftermath of the Mass Murder
Scots Law specifically stated that 'murder under trust' was particularly heinous and was considered an even more atrocious crime than basic murder. The massacre may have allowed some score-settling amongst the centuries-old MacDonald versus Campbell bloodletting, but it was a propaganda coup for the Jacobite cause. The incident eventually became romanticized throughout the Victorian era, and was celebrated in literature, including the works of Sir Walter Scott.

The main reason Glencoe has been mythologized is that it wasn't widely seen in the context of a government action. It was a continuation of an ancient clan rivalry – one that was far from unique amongst the patchwork of clan territories at that time – but one which involved one faction feigning friendship only to stab their hosts in the back.
Glencoe Holiday Caravans - Self Catering Accommodation

Glencoe Independent Hostel, Glencoe, Near Ballachulish, PH494HX

Our private pet friendly, self catering caravan accommodation in Glencoe is set in a secluded position with fantastic mountain views all around. We have 4 luxury 'gold' holiday caravans, brand new with heated double and twin rooms, walk in shower, wc and wash hand basin, full cooking facilities and a lovely...

The Ballachulish Hotel

Ballachulich, Glencoe, PH49 4JY

The Ballachulish Hotel enjoys a wonderful location looking out to the west by the site of the old ferry crossing on Loch Leven... We are 10 miles south of Fort William town centre and Ben Nevis. Our Highland Hotel is a stone-built, baronial style building with lots of character, but completely...

Invercoe Highland Holidays - Glencoe MacIain Cottages

Invercoe, Glencoe, Argyll, PH49 4HP

Invercoe Highland Holidays where we offer you quiet, getaway from it all vacations, in what is undoubtedly one of the most picturesque of the Scottish Glens. Here in Glencoe, an area renowned worldwide for its rugged grandeur and also for the Massacre of the Clan MacDonald in 1692, you can have...

Invercoe Camping and Touring Park

Invercoe, Glencoe, PH49 4HP

Touring in Scotland with your motorhome, caravan or tent can be lots of fun and you'll find Invercoe in Glencoe has something for you - lots of touring pitches, good touring park facilities and services, big mountains and an equally big welcome !
Our long established caravan and camping park offers a high...

Sleeps 4

Invercoe Camping and Touring Park - Hobbit Houses

Invercoe, Glencoe, PH49 4HP

Come to Glencoe and stay in one of our two micro lodge Hobbit Houses which are available for nightly hire, with a 2 night minimum at the weekend. They are a real fun alternative to a tent and especially good when the weather is less than you might wish for... Each...

Invercoe Highland Holidays Timber Lodges

Invercoe, Glencoe, PH49 4HP

These luxury, self-catering holiday lodges in Glencoe are located on a peaceful location by the sea. They are double glazed and centrally heated. Each is tastefully set out to take in the wonderful views and surroundings and all are set back quite exclusively to give optimum privacy. Each lodge has 3 bedrooms...

Sleeps 11

Minard Cottage

Minard Cottage, Self Catering Holidays, Glencoe, Argyll, Scotland, PH49 4HN

We have 2 holiday cottages in iconic Glencoe: ​ Minard Cottage. Sleeps 6-8 Adults and 1-3 Juniors.  The Bunkie Chalet. Sleeps 2 Adults and 1-2 Juniors.  ​ Based in stunning Glencoe, our holiday cottages are in Scotland's most iconic glen and the perfect base for exploring the West Highlands of Scotland.   ...

Glencoe Independent Hostel Accommodation

Glencoe Independent Hostel, Glencoe, Near Ballachulish, PH494HX

Glencoe Independent Hostel & Self Catering Accommodation, is set in its own grounds at the foot of historic & dramatic Glencoe. We are perfectly located for those seeking great value accommodation and who want to explore the west coast of the Scottish Highlands. Glencoe really is one of the most iconic...

Glencoe Highland Holidays - self catering chalets

Beside lochside cottages, Ballachulish, Glencoe, PH494JP

Fabulous 5 Star luxury detached self catering properties nestled on the edge of loch leven with wonderful views over the lochs to the mamore hills beyond, you simply won't wish to go home on your departure day. All properties are furnished to the very highest of standards , all have free...

Clachaig Holidays, Glencoe

C/o Clachaig Inn, Glencoe, Argyll, PH49 4HX

Situated in and around Glencoe, the most famous and scenic glen in the Scottish Highlands, all our self catering cottages, chalets and lodges provide the very best of holiday accommodation. All of our listed properties provide a high standard of accommodation and sleep between 4 and 6 people. Use our easy...

Langall Cottages near Glencoe

LANGALL, Glencoe, PH33 6SA

Roe Deer Cottage is situated on our croft in North Ballachulish and enjoys magnificent views over wild mountain and moorland. Our cottage is comfortable and well equipped, we can accommodate up to four people and have a double and a twin bedroom, both have en-suite bathrooms with bath and shower.At the...

Craig Moray Cottage Glencoe

Allanbreck, Lettermore, Ballachulish, PH49 4JD

Glencoe Luxurious and elegant properties, in the beautiful valley of Glencoe. If it's water sports, mountain biking, hill climbing, skiing, or touring you want, this beautiful rugged glen has it all. Exclusively designed for couples seeking that special break away from the toils of daily living. Equally as elegant as our...

Sleeps 3

Schoolhouse Cottage

Tigh Sgoile, Onich, Fort William, PH33 6RY

The flexibility of a whole cottage, with gorgeous views and brilliantly located for exploring the highlands.The CottageThe cottage is light, bright and warm with views of Loch Linnhe, Glencoe and the mountains beyond. The spacious living room has a vaulted ceiling and leads on to an open plan kitchen and dining...
looking south...

in Glencoe

south of Glencoe

from Loch Leven

from Loch Linnhe

in Glencoe