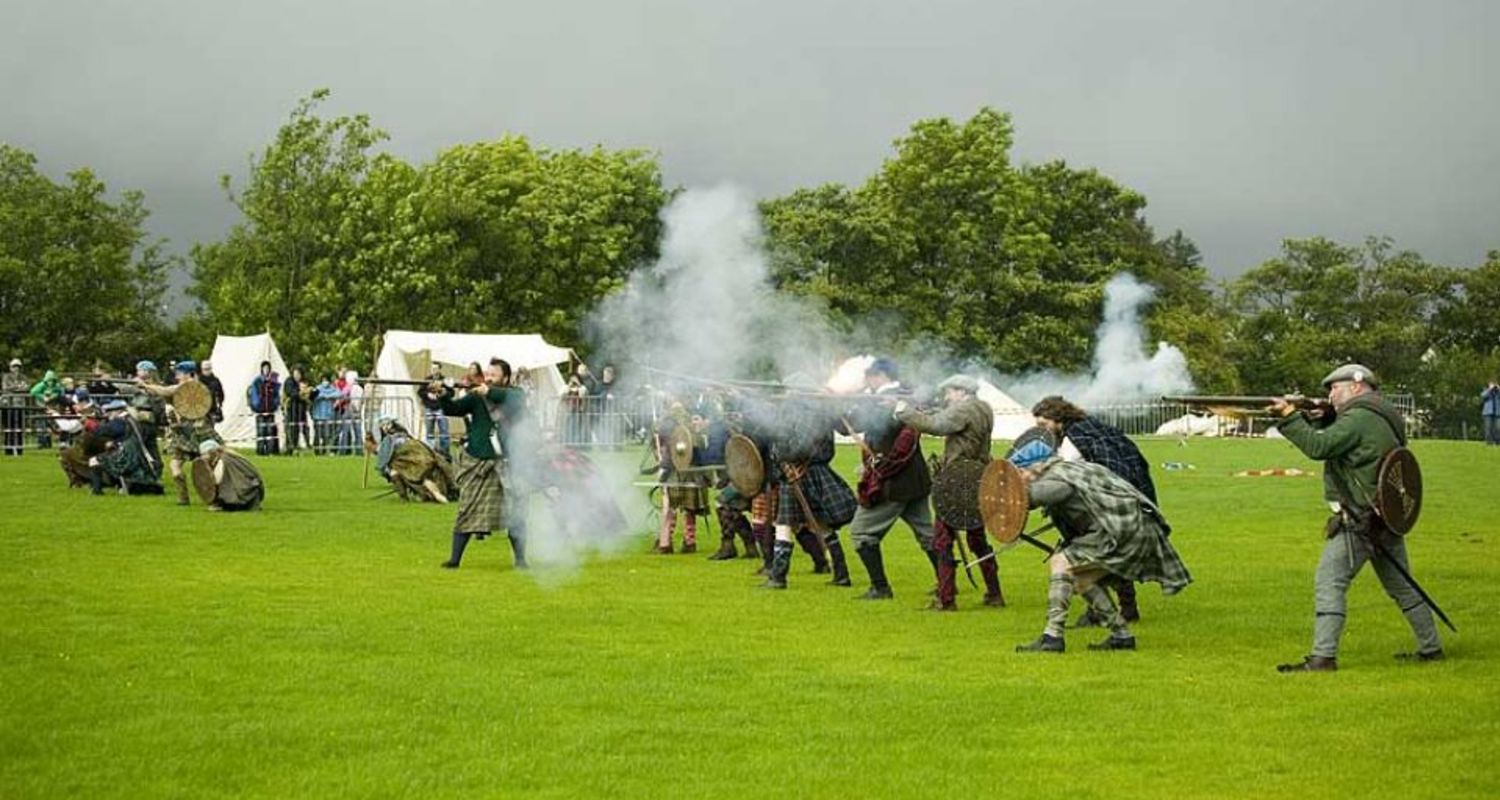 Visit Fort William, Glen Nevis and Ben Nevis in the Outdoor Capital of the UK
About The Jacobites And Bonnie Prince Charlie
The Jacobites were Scotland's 17th century patriots who fought for Independence from an aggressive England. Bonnie Prince Charlie
We've all heard about the Jacobite uprisings and Bonnie Prince Charlie but what is the history behind this?

Well let's take the Jacobites first.  The word "Jacobite" comes from the latin for James (Jacobeus) so not surprisingly, Jacobites were those who supported the exiled King James VII, his son, James Francis Edward Stewart (known as the Old Pretender) and his grandson, Charles Edward Stewart, Bonnie Prince Charlie, the Young Pretender in their claims to the British throne. James II (VII of Scotland) (1633-1701) was the brother of Charles II and came to the British throne at the age of 51 after Charles' death in 1685. Like most Rulers before him, his main  issue with his people was religion. He had been brought up Protestant but in 1668 he had become a Catholic and embraced Catholisim with all the fervour of a convert. 

However, James was keen to impose laws  to allow religious tolerance but this was not popular with his Parliament. Britain wanted to remain Protestant. James' second wife was Mary of Modena and they were both suspected of being sexually liberal.  Mary gave birth to James Francis Edward Stewart (the Old Pretender)in 1688 and, while the child's paternity was being questioned, the King's nephew, William of Orange landed in Britain and with little effort took the Crown. William was also James' son-in law having married his daughter Mary from his first marriage. to Anne Hyde.  He was a fierce protestant and had been invited to Britain by the Bishop of London and six laymen who became known as "the Immortal Seven." James and his family were exiled and offered great hospitality by the French court. James VII died in 1701 and King William in 1702.  James' second daughter by his first marriage, Anne, became Queen and reigned until 1714. Doubtless James would have felt betrayed and let down by both his daughters. Queen Anne oversaw the Union of the Crowns between Scotland and England in 1707.

The Act of Union , as it was known, was not popular in Scotland and manifested itself in issues such as the malt tax and Hanoverian succession ensuring that James' lineage could not become heirs to the throne. However, the Stewarts did not give up easily. James' son, James Francis Edward, the Old Pretender, made his bid for a Jacobite takeover in Scotland in 1715, shortly after Queen Anne had died (1714). The plan was led by the Earl of Mar and it was expected that nine out of ten Scots would rise to support James.  However, it was badly managed and Mar delayed too long in making his move and was eventually beaten by the Government troops led by the Duke of Argyll at the Battle of Sheriffmuir. By the time James landed at Peterhead, the game was up and, after spending Christmas 1715, in Scotland he and his followers sailed back to France. James' had moved to Italy in 1713 and found an alliance with the Spanish. 

In 1719 an invasion of south-west England was planned accompanied by a diversionary landing in north-west scotland. The landing in England was abandoned because of storms but the diversionary landing in Scotland went ahead. They took Eilean Donan Castle but were subsequently defeated at the Battle of Glensheil. Nearly a generation later, many Scots, particularly in the lowlands and central belt, had become resigned to the Union and support for the Jacobites was left mainly in the Higlands.  But even there, General Wade had built many miles of roads capable of taking Government troops and making another uprising almost impossible.  However, the Old Pretender had a son, Charles Edward Stewart, known as the "Young Pretender."

Charles was charismatic and energetic, characteristsics which masked his numerous shortcomings. In August 1745, Charles and his key supporters, the Seven Men of Moidart, landed on the Scottish mainland at Loch Nan Uamh in Arisaig and raised the Jacobite standard at Glenfinnan. Within six weeks he had taken Scotland, beating the Government troops at the Battle of Prestonpans. By December he was in Derby but his army had found no support in the lowlands of Scotland and were battle-weary and hungry.  Retreating north, they managed to inflict defeat on Government forces at Falkirk.

The King, George II, replaced the head of the Government's army with his own son the Duke of Cumberland who set off north to quell the uprising. Charles and his bedragled followers had reached Inverness and, despite advice to withdraw to the hills and fight a gorilla campaign, he decided on a battle at This was to be the last pitch battle on British soil and next day as Cumberland earned his title "butcher" by leaving no-one alive on the battlefield. Charles fled the scene and spent five months evading capture  across the Highlands and Islands.  Famously he dressed as a woman and was rowed across the sea of the Hebrides by Flora MacDonald before taking a ship to France. Draconian legislation followed the defeat at Culloden. Estates were forfeited and it became illegal to wear highland dress.  The strucutre of the clan sysem was pretty well destroyed and with it all prospects of further Jacobite uprisings.
The Byre Holiday Cottage

A spacious four star cottage with one of the best views in Britain. Sleeps 4 or 5. Situated on the sunnier side of the Great Glen, it offers instant access to traffic free local walks with village amenities close at hand. Sited on a working croft. Over 50% of guests are repeat visitors. Availability and tariffs shown on owners website...

Crolinnhe Bed and Breakfast

A superb, secluded Guest House with it's own extensive gardens and elevated views overlooking Loch Linnhe. This lovingly restored Victorian villa is a haven in the West Highlands of Scotland. Crolinnhe is a 5-star establishment offering exceptional levels of comfort to guests and a warm welcome with an intimate and opulent atmosphere ensuring our guests enjoy the majestic Scottish scenery surrounding them.Enjoy afternoon tea and shortbread on arrival in the spacious...

Glencoe Mountain Cottages

Enjoy a lovely 4 star cottage with just the most amazing views. Our Glencoe self catering holiday cottages are wonderfully situated a mile up a secret valley off, most probably, Scotlands most photographed, magnificent and historical glen -Glencoe.The two modern and clean, semi-detached self catering holiday cottages, sit below some of Scotland's highest mountains. Amongst this beautiful scenery, in what must be one of the most imposing and impressive locations in...

Achaderry Farmhouse

Achaderry Farmhouse is located near Roy Bridge on its own estate neighbouring Kinchellie Croft self catering holidays.The farmhouse was new on the market in 2016 and was completely refurnished for let. The property can sleep up to 10 people and has its own unique and secluded location. The view speaks for itself - looking across the glen to the Grey Corries, Aonach Mor, Carn Mor Dearg and of course, the mighty Ben...

Moorings Hotel

Celebrated as one of the most popular hotels in Fort William, the Moorings Hotel is a hidden gem, located just five minutes drive from Fort William town centre but a million miles away from every day hustle and bustle.Situated on the banks of the Caledonian Canal at the famous Neptune's staircase locks the location is perfect for a short stroll along the canal-side or enjoying a more strenuous walk along the...

Luxury accommodation in Fort William

Luxury suites in Fort William. Choice of self-catering or award winning 5 Star Gold B&B with sublime suites in a stunning Victorian Townhouse, a traditional Highland cottage beside Loch Linnhe or a unique cottage for two in a quiet glen.The Grange - Our B&B is rated at the highest quality, 5 Star Gold, by Visit Scotland, winner of the 'Most Hospitable Bed and Breakfast' at the 2016 Highland and Islands Tourism...

Torlinnhe Guest House

Andy and Sue Keen would be delighted to welcome you to Torlinnhe, for an exceptional bed and breakfast experience in Fort William. Our guests' comfort and enjoyment is our top priority! Right from the moment you call us to enquire you will find us friendly and welcoming. On arrival, relax a while after your journey, settle in our comfortable lounge and enjoy the spectacular views of Loch Linnhe and the mountains...

Springburn Farm House

Located a short distance from the world-famous Commando Monument above the village of Spean Bridge, our modern and comfortable 4-star bed and breakfast is a great place to stay for a few days. We offer a real Highland welcome, a comfortable ensuite room with a great breakfast served from 7am.We have all modern conveniences you would expect. We are only 20 minutes from Fort William town centre and 30 minutes from...

Lochaber Lodges - self catering holiday Fort William

Our high quality timber lodges are located in the Great Glen by The Caledonian Canal, about 20 minutes from Fort William town centre. The views of Ben Nevis and the Grey Corries are magnificent! We offer a choice of 12 very comfortable log-built lodges - some perfect for two or four persons, and others perfect for up to six. Each lodge is tastefully furnished with quality, contemporary fixtures and fittings PLUS...

Inverskilavulin Lodges - self catering near Fort William

Warm and cosy lodges for between 4-6 people each, with spectacular views on Ben Nevis, Aonach Mor, the Grey Corries and much more. Both lodges are nestled away in the heart of the Scottish Highlands, located just 6 miles outside of Fort William in Glenloy at the foot of Beinn Bhan corbett. Solar powered, with water straight from Beinn Bhan river, we offer eco-friendly and sustainable holiday accommodation, in the quiet serenity...

The Waterfront - Luxury Self-catering Apartment

This luxury self catering apartment in Fort William is new to the market and is a delight. Located by the shore of Loch Linnhe, and a short walk into town, our "just for two" self catering accommodation makes a wonderful place to stay during a visit to Fort William. Partially open-plan the holiday accommodation comprises an airy sitting room with leather settees and maple flooring.There's a breakfast bar and the stylish...

Old Harbour Master's Self Catering Apartment

Conveniently located in Fort William town centre, with great views overlooking Loch Linnhe, this large self catering apartment in Fort William can accommodate up to 8 people. All amenities are provided and included in the price. There is plenty of parking and the local shops, pubs and restaurants are minutes away. Take an evening stroll along the loch side and enjoy the views.Please telephone or email to check availability. Minimum of 2 nights...

Cedar Lodge - Self Catering Cottage Fort William

Cedar Lodge is one of the closest self catering places to Fort William's downhill mountain biking tracks and winter skiing/snowboarding at Nevis Range. We are also within 10 minutes of the Ben Nevis North Face car park, and 15 minutes from the Glen Nevis Visitor Centre where most people begin their walk up the mountain footpath on Ben Nevis. THIS PROPERTY IS AVAILABLE FOR THE MONTH OF APRIL FOR PROFESSIONALS WORKING...

Burnlea Bed and Breakfast Fort William

Burnlea bed and breakfast in Fort William has stunning, uninterrupted panoramic views over Loch Linnhe to the hills beyond and is just a mile's scenic walk from the shops, restaurants and pubs of Fort William. Free parking, free Wi-Fi, superb breakfasts; Highland hospitality at its best! Rooms from £79 - £110 per night, two persons, including breakfast.  We provide 2 comfortable rooms, each on the ground floor (super-king, twin or single,...

Alltonside Guest House

Alltonside is a modern 3 star guest house situated just over a mile from Fort William town centre. It commands fabulous views over Loch Linnhe and the hills beyond. We offer you a comfortable and friendly stay. Each of our six ensuite letting rooms is kept to a high standard with tea/coffee, television and central heating. Choose from one of our 3 doubles, 2 twins and one family room. Breakfast is served...

Bluebell Croft - Honeysuckle House and Rose Cottage

Honeysuckle House (sleeps 8+) and Rose Cottage (sleeps 2-4) are 5 star and were described in the Sunday Times as one "of the Best Cosy Cottages in the UK" and as a 'Heavenly cottage.. and the best sited hot tub in Europe'. The house and cottage have been designed with every thoughtful comfort, even extra towels for the hot tub. Dogs are welcome with care. We can leave a casserole in...
Bunree Holiday Cottages & Family Apartments

Bunree Holiday Cottages/Caravans, Janika, Onich, PH33 6SE

Bunree Scottish holiday accommodation is located 8 miles south of Fort William, near the village of Onich, on a croft running down to the shores of Loch Linnhe at Corran Narrows. You can walk to a good, family friendly, local pub and restaurant. We are half way between world famous Ben...

Western Isles Bed and Breakfast

East Bay, Mallaig, PH41 4QG

A very friendly and welcoming bed and breakfast in Mallaig, Western Isles provides ensuite rooms in the East Bay of Mallaig, only a few minutes from the Isle of Skye Ferry terminal in Mallaig Harbour.We have lots of parking, and offer a choice of breakfast, catering for most diets. So why...

Tigh an Beag

14 Upper Inveroy, Roybridge, PH31 4AQ

This comfortable, well equipped self contained ground floor self catering apartment with private entrance is annexed to our home and has full central heating and is double glazed throughout. The living / dining room has spectacular panoramic views toward the Grey Corries, it is carpeted throughout and has comfortable seating, coffee...

Sleeps 4

Invercoe Camping and Touring Park - Hobbit Houses

Invercoe, Glencoe, PH49 4HP

Come to Glencoe and stay in one of our two micro lodge Hobbit Houses which are available for nightly hire, with a 2 night minimum at the weekend. They are a real fun alternative to a tent and especially good when the weather is less than you might wish for... Each...

Sleeps 3

Schoolhouse Cottage

Tigh Sgoile, Onich, Fort William, PH33 6RY

The flexibility of a whole cottage, with gorgeous views and brilliantly located for exploring the highlands.The CottageThe cottage is light, bright and warm with views of Loch Linnhe, Glencoe and the mountains beyond. The spacious living room has a vaulted ceiling and leads on to an open plan kitchen and dining...

The Ballachulish Hotel

Ballachulich, Glencoe, PH49 4JY

The Ballachulish Hotel enjoys a wonderful location looking out to the west by the site of the old ferry crossing on Loch Leven... We are 10 miles south of Fort William town centre and Ben Nevis. Our Highland Hotel is a stone-built, baronial style building with lots of character, but completely...

Glentower Lower Observatory

Achintore Road, Fort William, PH33 6RQ

Glentower Bed and Breakfast in Fort William is the former Lower Observatory building where the mountain observatory Superintendent used to live and work. Today, our home is a fabulous, modern guest house located on the lochside, a few minutes from the town centre. We offer a range of 3 family, 3...

Nevis Croft Self Catering Cottages

Nevis Bridge, Glen Nevis, Fort William, PH33 6PF

Late availability in 2 bedroom cottages: 28 April - 5 May.Short breaks often available - please call 07872943912 or email [email protected] Nevis Croft Cottages are situated near Nevis Bridge - just half a mile from Fort William town centre and at the entrance to the stunning Glen Nevis and at the original end of the...

Sleeps 140

Alexandra Hotel

The Parade, Fort William, PH33 6AZ

Part of the very fabric of Fort William, since 1876 The Alexandra Hotel provides traditional Scottish Hospitality at its best and located in the centre of Fort William is an ideal base from which to explore the Highlands and Islands.Relax by the warmth of the open fire in the lounge before...

Minaig Bed & Breakfast

Achintore Road, Fort William, PH33 6RN

Minaig bed and breakfast offers a warm welcome and a comfortable room for your stay in Fort William. Our family home is a 15 minute stroll to the town centre with fine loch views all the way.We have two ensuite bedrooms with lots of home comforts. One has a great view...

Glencoe Highland Holidays - self catering chalets

Beside lochside cottages, Ballachulish, Glencoe, PH494JP

Fabulous 5 Star luxury detached self catering properties nestled on the edge of loch leven with wonderful views over the lochs to the mamore hills beyond, you simply won't wish to go home on your departure day. All properties are furnished to the very highest of standards , all have free...

Culacrick Guest House

Old Banavie Road, Banavie, Fort William, PH33 7PZ

Culacrick is in an elevated position with superb views towards Ben Nevis.              We have three spacious bedrooms: One king-size bedroom which could also accommodate a third person with our fold down bed, a double room and one family room. The family room has a double bed and bunk beds, ideal for a...

Invercoe Highland Holidays Timber Lodges

Invercoe, Glencoe, PH49 4HP

These luxury, self-catering holiday lodges in Glencoe are located on a peaceful location by the sea. They are double glazed and centrally heated. Each is tastefully set out to take in the wonderful views and surroundings and all are set back quite exclusively to give optimum privacy. Each lodge has 3 bedrooms...

Tigh na Drochaid Self Catering

Glen Nevis, Fort William, PH33 6PF

We are now offering autumn and winter short self catering breaks. This modern, semi-detached apartment is located near the foot of Ben Nevis and at the entrance to Glen Nevis in the heart of Britain's outdoor capital. Attached to the owners' property it is within walking distance of Fort William's town...

Springburn Self Catering Chalets

Stronaba, Spean Bridge, PH34 4DX

Located a short distance from the world-famous Commando Monument above the village of Spean Bridge, our modern and comfortable self-catering chalets are a great place to stay for a holiday. Our chalets have every modern convenience. They sleep up to 4 persons, have lots of private parking and their own patio...

Sleeps 8

Glen Nevis Holidays 4 and 5 star Luxury Lodges

Glen Nevis, Fort William, PH33 6SX

Glen Nevis Holidays offers some of the best self catering holiday accommodation facilities in the United Kingdom. Located at the foot of the highest mountain in the British Isles, Ben Nevis dominates this beautiful Highland glen. The River Nevis, with 1000 hectares of fishing rights, flows past one side of our park, which...

Western Isles Campers - Camper Hire

Station Square, PH336TQ

Welcome to Western Isles Campers! We hire a variety of campervans all year round - based in Fort William, giving you access to everything the highlands & islands has to offer! All of our campers come with everything you'll need for your adventure, & yes, all of our campers are heated,...

Roughburn Highland Holidays

Roughburn Highland Holidays, Roughburn, Tulloch, Roybridge, PH31 4AR

We are a family run business offering a friendly personal touch to ensure a pleasant stay in the beautiful Scottish Highlands. Lochside & Mountain View are quality self catering mobile homes situated at Roughburn, Tulloch on the A86, 7 miles from Roy Bridge at the foot of Meall Clachaig and Meall...

Sleeps 14

Camisky Lodge

By Torlundy, PH33 6SP

Camisky Lodge is a beautiful Victorian lodge near Torlundy, Fort William, set amidst the stunning Inverness-shire countryside on the banks of the River Lochy on the west coast of Scotland.Built in 1870 by Lord Abinger as the primary fishing lodge for the River Lochy, it was once host to the Prince of...

Langall Cottages near Glencoe

LANGALL, Glencoe, PH33 6SA

Roe Deer Cottage is situated on our croft in North Ballachulish and enjoys magnificent views over wild mountain and moorland. Our cottage is comfortable and well equipped, we can accommodate up to four people and have a double and a twin bedroom, both have en-suite bathrooms with bath and shower.At the...
once common in an around "Fort William"..

well worth a visiting near Inverness...

a good battle day out for those enjoying the re-enactment of old battles

after a bloody battle...

are a' weed awa...

around the time of Culloden

brave and well intentioned...

a scene from begone days...