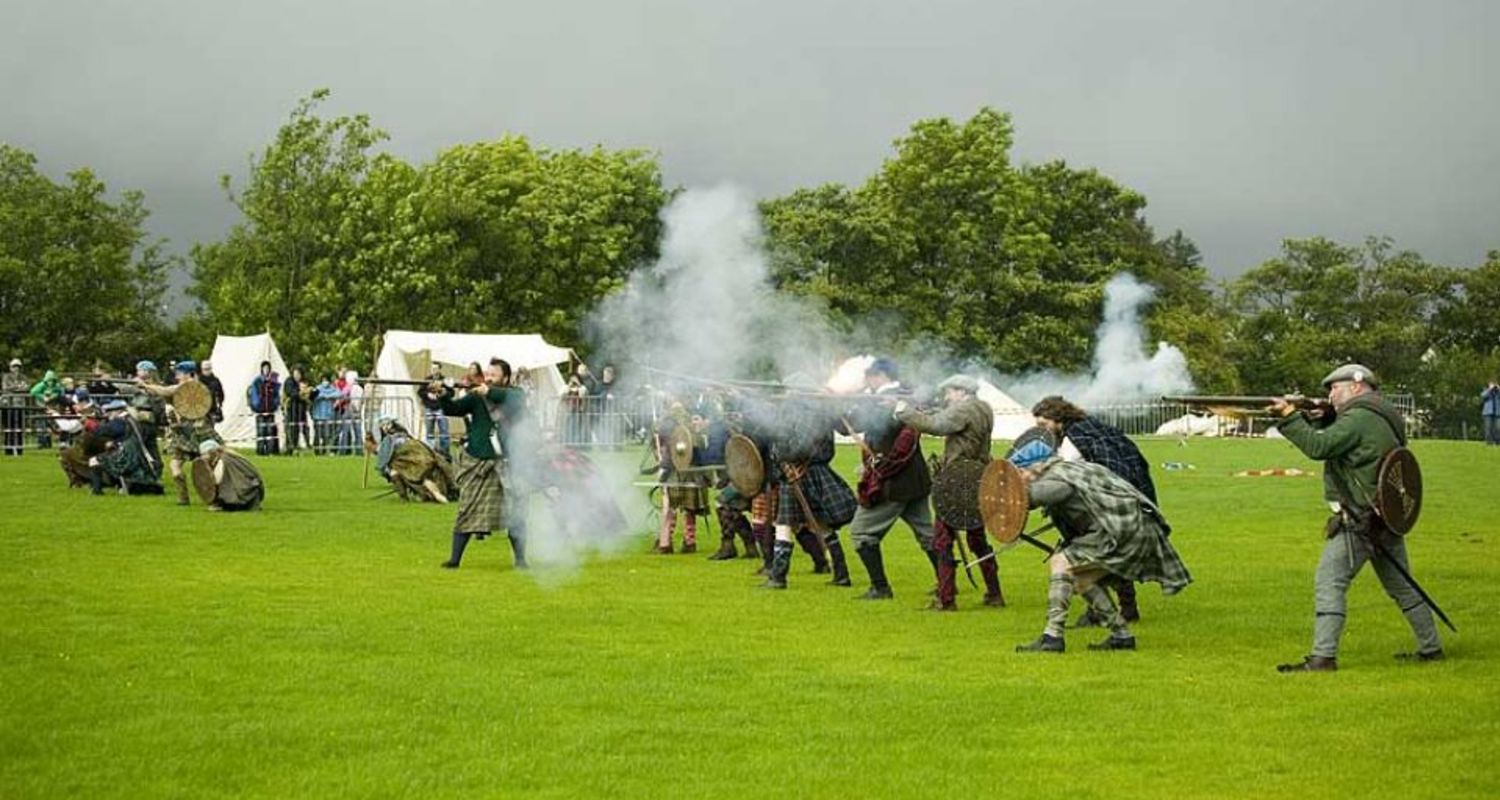 Visit Fort William, Glen Nevis and Ben Nevis in the Outdoor Capital of the UK
Highland Battles In Fort William And Lochaber
Lochaber is a place where several recorded ancient Highland battles took place between Highland Clans or against invaders from the south
Battles of Inverlochy   1431 & 1645
The original defensive site at Inverlochy was probably sacked by the Vikings but the construction of a substantial Inverlochy Castle about 1280 signified the strategic importance of the site which saw its fair share of bloodshed in medieval times.
The First Battle of Inverlochy in 1431 was during the desperate struggle between the Lords of the Isles and the Royalists. Donald Balloch, 18 year old cousin of the then imprisoned Lord of the Isles led 600 clansmen up Loch Linnhe to attack the Royalists in the Castle. Simultaneously his uncle from Torcastle attacked from the North. 1000 men lay dead and the battle was commemorated in a famous pipe tune, the Pibroch of Donald Dubh.
The Second Battle of Inverlochy was in 1645 during Covenanting times, James Graham, Earl of Montrose, was on the Royalist side in the Civil Wars. With only 1500 men, and after a long forced march through the winter hills of Lochaber, he attacked the Duke of Argyll's much larger army in front of the Castle at dawn. Argyll had retreated across the loch to Camasnagaul bay and witnessed, from a distance, the defeat of his men and the slaughter of 1500.
The Battle was witnessed by the local bard Iain Lom who overlooked the battlefield from a hillock just south west of the Castle. He wrote of the battle, in his native gaelic, a long poem which in part translates as:
'Twas the Sabbath that rose, 'twas the Feast of St. Bride,
When the rush of the clans shook Ben Nevis's side;
I, the bard of their battles, ascended the height
O'er dark Inverlochy that shadow'd the fight,
And I saw the Clan Donald resistless in might.
Those who fled were pursued by Montrose's men and further skirmishes took place. The spot where the MacDonalds gave up the chase is marked to this day by a Cairn 6 miles off near Lundavra on the West Highland Way. This Cairn was commemorated locally with a tradition that every MacDonald passing by would add a stone to the Cairn, whilst every Campbell would remove one. The Cairn briefly disappeared altogether when a local Campbell took away more stones than the one allotted to him by tradition. With the advent of the West Highland Way there was either a great surfeit of MacDonald's – as at one time the cairn was of such size as to threaten the pathway. It is now well signposted and a little more modest!   
The Siege of Fort William   20th March - 3rd April 1746
During the Jacobite uprising of 1745 Bonnie Prince Charlie at the start of his march South initially avoided the Fort of Fort William but in early March of 1746 a decision was made to take the Fort.
Fort
Augustus had already fallen to the rebels, but meanwhile Campbell militia on behalf of the Government were burning and pillaging. The attack on the Fort may have been seen as retribution – the Fort was under the command of Major General Campbell.
Siege Cannon were obtained from Fort Augustus  and the Fort bombarded, initially from the "Sugar Loaf" on the Cow hill – now clearly visible with a large Saltire painted on it. The distance to the Fort was too far however (as evidenced by Cannon Balls found beside Belford Road when Inverlochy Place was built last century). They then moved their cannon to the Craigs Burial Ground, but the Fort was easily supplied by sea and the jacobites inflicted only limited damage – and an early morning sortie by the Government troops captured some of their cannon and effectively put an end to the siege after two weeks.  
Battle of Bun Garbheill c.1570
During an uncertain period in Clan Cameron history the Clan MacIntosh decided to take advantage of the Cameron's apparent disarray, when the chief Allan Cameron was an infant and his tutors chose to claim the chieftain ship. The MacIntosh with 200 men came towards Achnacarry from the south, without apparent resistance, until on Loch Arkaig side they met with Donald "Taillear Dubh" Cameron – the "Black Tailor", a near relative of young Allan, who had rallied the Clan to meet the challenge.
Though outnumbered, the Camerons fought ferociously and with their Lochaber Axes and put the remaining MacIntosh's to flight. They retreated back over the hills to the head of Loch Eil where the chief of the MacIntosh Clan halted and standing atop a huge boulder (still there and known as  Clach Mhic an Toisich – the MacIntosh's Stone); he rallied his men and once more the slaughter began. If took the courage of the "Black Tailor" to unseat him, and his men then retreated further carrying their injured chief.
They headed south again over the hills toward Ardgour, resting in Glen Scaddle at a small hollow where they thought they were safe. Not so as the Tailor remained in pursuit and killed every last man at this remote site which may still have signs of the graves of the vanquished MacIntosh's.
Battles between the Camerons and the Garrison at Inverlochy 1654
The building of the Fort of Inverlochy (later to become Fort William) in 1654 to suppress local insurrection and warfare, inevitably led to much confrontation between the English Soldiers of Cromwell and Clan Cameron, led by their chief Ewen Cameron. Significant skirmishes took place at Achdalieu, Strone Nevis and Achintore, all in the year 1654.
It began when two thousand Cromwellian troops, under General Monk came equipped with one year's supplies, workmen, servants and ample materials to construct the garrison.  Ewen Cameron heard of their entry into Lochaber and rushed back home and was most probably shocked by what he would find.  Within a day the Cromwellians, using the plentiful woods of the area as a resource, had already firmly entrenched themselves in Lochaber behind a wooden stockade.
Ewen kept just thirty-two of his bravest men with him, retiring to the woods of Achdalieu where they would await the return of their forces and wait for a chance to strike against the enemy.  The commander of the fort, a Colonel Brayne, would soon order nearly three hundred of his men out of the fort, to cut "some fine old oak trees."  Two ships of soldiers sailed from the fort into Loch Eil, one anchoring on Ewen's side of the loch, the other ship on the opposite shore.  The young Chief of Clan Cameron counted one hundred and thirty-eight of the enemy on his lochside, in addition to officers and workmen.  Returning to his men Ewen asked their advice on what they might do "now that such a party of the enemy had offered their throats to be cut." 
Ewen Cameron of Lochiel decided to make the English pay with their lives each and every time they set foot outside their fort.  The Camerons would "take a bite" out of the Cromwellian soldiers during each such outing, beginning that very day at Achdalieu. Ewen's scouts brought word that the Cromwellian soldiers who had landed nearby were slowly made their way to the village of Achdalieu , pillaging houses and capturing poultry along the way.  Though given orders to march slowly through the woods to engage the enemy, the Camerons ran on ahead, eager to expel their unwanted guests.  The Cromwellians heard their charge, for though only 32 in number,  the Camerons must have sounded like an entire regiment, utilising the cover of the woods to confound the enemy just as Ewen had hoped.  Led by their courageous chief these "sons of the hound," armed with muskets, broadswords, dirks, targes and bow and arrow, rushed upon the soldiers. 
For every Cameron there were four soldiers from the Fort  armed with heavy muskets and bayonets. Immediately the Cromwellian soldiers fell into an extreme sense of panic, for they had fired much too soon.  Long before they had a chance to re-load the Highlanders were upon them.  Thirty of the enemy were dead instantly, with the "point blank" discharge of the Cameron firearms.  The subsequent cutting wounds inflicted upon the redcoats were said to be beyond belief.  Needless to say broadswords will inflict great damage upon an enemy, but they also were reported to have hewed through a good number of bayonets and into musket barrels.  After what has been described as a "stiff fight" the remaining 60 or so living Cromwellians were put to flight. 
Lochiel craftily sent two or three of his men ahead of the retreating enemy and had them call out from behind a bush, as to make the enemy imagine that they were heading into another body of Camerons.  While this strategy slowed the return to their boats, it also enraged the redcoats, who were still superior in numbers to the Camerons. In the midst of the battle Ewen was separated from his men, after following a few of the enemy into the woods where he killed two or three of them with his "own hand." 
As fate would have it the English officer who had commanded the party had also fled in this direction and had concealed himself behind a nearby bush.  Observing that the Chief of Clan Cameron was alone he emerged from his hiding place intent on avenging the deaths of his men.  Facing off to one another with swords these two gentlemen fought for both survival and honour.  Their swordsmanship being of a somewhat equal match, they fought on as the redcoats continued to be hounded by the Cameron men.  It is said that the English officer was a large, powerful foe, but that Ewen exceeded him in agility.  In due time the Englishman's sword was tripped out of his hand, leaving Ewen poised for the kill.  This was to be denied, for the redcoat pounced upon Ewen and wrestled him to the ground.  They struggled and fought one another, eventually tumbling down into the nearby channel of a brook or stream, which happened to be dry. 
The Englishman found himself atop of Ewen and proceeded to use his great size to drive the Cameron Chief deeply into the sharp stones.  After some time, during which the two men fought with their last remaining strength, the English officer regained the use of a free hand, with which he drew the dagger from upon his belt.  While keeping his full weight upon Ewen, to hold him to the ground, the Englishman attempted to stab his foe, but was unable to in such close quarters. In the end he finally managed to disengage himself, raising high above Ewen for the death blow.  In those moments of battle, when one is faced with impending death, desperation and fury combine with one another into a formidable defence.  Ewen at long last saw his opportunity, which he must have realised would be his last chance of survival.  He reached up and grabbed his opponent by the collar, jumping at the extended throat which presented itself at that moment.  The English officer, at full extension with his dagger above Ewen, was defenceless; his throat was bitten and torn from his body.  As Ewen reflected in his later years "it was the sweetest bite" that he had ever experienced.  The Camerons lost only five men on that day.
Many years later, when more civil relations had been restored Lochiel found himself in London at a barbers shop to get his beard and hair dressed. The barber sat him in his chair and producing his razor remarked: " You are from the north, sir, I believe ? "
" Yes," answered Lochiel, " I am. Do you know people from the north ? " 

" No," shouted the angry barber, " nor do I wish to. They are savages there - one of them tore the throat out of 
my father with his teeth, and I only wish I had the fellow's throat as near me as I have yours just now." 
On this occasion Lochiel did not challenge him and it is said he never again entered a barber's shop. 
Soon after the fight at Achdalieu , the Ewen requested those of his people who lived near the Cromwellian garrison of Inverlochy to "make their peace" with the Governor, that they should live peaceably towards himself and his garrison.  This was soon arranged and the Cameron people were secured from ruin during their leader's absence from the district. The Governor, however again sent  parties to bring in wood and other materials to strengthen his fortifications - materials belonging to the Camerons, if not Ewen himself. 
Being kept well informed of what was occurring at Inverlochy the young Chief of Clan Cameron returned to the district and immediately placed a body of his most resolute followers in a secure place, less than one-half mile westward of the fort.   That same morning a body of two hundred men came out from the garrison, marching in Ewen's direction.  Observing them, he detached twenty of his men to a secret place, to the rear of the enemy - between them and the garrison - with orders to rush out and intercept them in case they retreated, as they naturally would when attacked in front by the Camerons.  The Cromwellian party marched in "good order" until they arrived at the village of Achintore , where Ewen and his band lay concealed.  The Camerons furiously rushed forward, scattering their enemies in all directions.  
The memory of the battle of Achdalieu struck fear into their hearts, when they found themselves so suddenly and unexpectedly attacked by a force of strength of which they did not know and could not ascertain.  The men in ambush rushed forth to intercept them in their flight, giving the Cromwellians a full charge of their firelocks in front and then charged with their broadswords, killing more than half their number.  Those who escaped were pursued to the walls of the fort, but many of them were taken prisoner.
Once more, Ewen, XVII Captain and Chief of Clan Cameron left Lochaber and again heard that the Governor of Inverlochy was taking advantage of his absence, cutting down large quantities of his woods to supply the garrison with an ample supply of fuel during the upcoming winter.  Annoyed at this, he returned from his military commitments elsewhere and found that the English soldiers had been cutting down the woods on the shoulder of Ben Nevis , about one mile eastward from the garrison.  Ewen marched to this point, called Strone Nevis, early on the following morning after his arrival.  He carefully posted his men and gave then the necessary instructions. 
Ewen kept sixty, under his own immediate command, in a tuft of wood at a point opposite where the soldiers sent out from the garrison with the hewers of the wood always took up their position.  Two other bodies of thirty men each were told off to his right and left, respectively, where they were concealed.  They were instructed to rush forth as soon as the concerted signal was given, which was to be a great shout of "Advance, Advance!" as if the wood was full of men.  The remainder of his men he placed in a pass between the wood and the garrison, to lie in ambush and not to move out of that unless they found that the enemy was making a successful resistance when attacked by the Highlanders in front.  If these men laying in ambush noticed their enemies running away, in retreat, they were to rush forward in advance of them, place them between two fires by giving them a volley in front and then attack them with their broad-swords.  The object was to kill as many as they could.  They were, however, specially ordered to give quarter to any who offered to lay down his arms and surrender.
About four hundred Cromwellians marched out of the garrison, taking their usual position, quite innocent of the fate which immediately awaited them.  Everything turned out as Ewen anticipated; a general slaughter at once ensued.  The Highlanders, issuing forth from their places of concealment, made a great noise, loudly echoed by the surrounding mountains.  This, accompanied by the simultaneous sounds of several bagpipes, frightened the enemy, who in consequence made no resistance.  They truly believed themselves surrounded by large bodies of Highlanders pouring in upon them from all sides and immediately fled at their highest speed. More than one hundred of the Cromwellians were killed on the spot and the remainder, having been attacked unexpectedly by those in ambush between them and the garrison, were part of a second slaughter. 
Not more than a third of the four hundred escaped.  These were pursued to the walls of the garrison and the whole battle was over so quickly that it became a matter of history before the Governor actually knew that his men had even been attacked. 
Not one single Cromwellian officer escaped, they being the only men among the garrison troops who had the courage to offer any resistance to the Camerons.  Among them was a young gentleman, a great "favorite" of the Governor who, exasperated at the loss of his friend and that of his men, became furious and swore immediate revenge upon Ewen and the entire Clan Cameron. The next morning the Governor ordered out the entire garrison, some 1,500 men.  Ewen, as usual, obtained advance notice of this action and moved his men to higher ground, keeping in view of the enemy as he himself "marched round the mountains, with pipes playing and colors flying."  He made every effort to induce the Cromwellian commander to follow him, to get him entangled in the woods, narrow paths and other obstructions abounding in the area, where he could be successfully attacked. 
The Governor was too wary to fall into the trap prepared for him.  After traversing many difficult and rugged paths the Cromwellian forces turned right about and by the help of good guides found their way back to the garrison, heartily fatigued and disgusted with the fruitless expedition.  The Camerons, following closely on their heels, repeatedly insulted the Governor and his followers.  Whenever the nature of the ground favoured, and when they came to close quarters, they invited the Cromwellians to advance "for their Chief was there, ready to receive their Governor, if he wished to speak to him."  They were also said to have uttered several other "very tantalising and insulting remarks."  Needless to say, after this the garrison of Inverlochy was on better guard when they dared to venture from their fortification. 
Kilcamb Lodge Hotel & Restaurant

Kilcamb Lodge Hotel is a luxury AA4 Star Country House Hotel, breathtakingly situated on the shores of Loch Sunart in 22 acres of natural meadow and woodland, where otters and red deer are daily visitors. Close to Fort William and all its outdoor amenities, Ardnamurchan is one of the most un-spoilt and beautiful regions in the Highlands of Scotland. Our ethos is based on a simple ideal of good food, luxury...

Westcourt Bed and Breakfast

A Warm Welcome to Westcourt Bed & Breakfast. We hope that you enjoy our beautiful views overlooking Loch Linnhe, with the stunning shoreline, sea-birds, seals, otters, ducks and swans.Westcourt is a fabulous Bed and Breakfast in Fort William and an impressive property, which commands a prime location with stunning, un-interrupted views to the Ardgour hills and over Loch Linnhe with it's colourful array of leisure, cruise and sailing boats.  Westcourt is...

Lochview Guesthouse

Lochview Guesthouse in sits in a hillside location within mature gardens, enjoying exceptional views across Loch Linnhe towards the Ardgour Hills. It is ideally located for Fort William town centre which is a 10 minute walk away. There are many activities to enjoy from Lochview Guest house including the Jacobite steam train, climbing Ben Nevis, Visit Nevis range Ski and mountain bike centre, enjoy some of Scotland's finest walks and scenery,The Glenfinnan...

The Lime Tree Hotel

The Lime Tree in Fort William is a Small Hotel, Restaurant and high quality Art Gallery offering you unique accommodation in a convenient location in the Highlands of Scotland. Whether you choose to relax at The Lime Tree, enjoy the spectacular mountains and landscape, bag a Munro, tackle world championship mountain bike track at Nevis Range, take the Jacobite steam train on the road to the Isles, or choose to immerse...

Coire Glas Guest House

UNDER NEW OWNERSHIP - Please contact us directly for best offers and pricing,  20% winter discount on 3 or more nights - email Morven and Simon Hardiman:

[email protected]

or call +44(0)1397 712272Bed and Breakfast, Spean Bridge, near Fort William.Coire Glas Guest House is situated at the edge of the Village of Spean Bridge in grounds of approximately one acre facing south it looks out over the spectacular Grey Corries and Ben...

Airds Hotel & Restaurant - Luxury Boutique Hotel

'3 for 2' at Airds this March and AprilEaster Package at AirdsMay Bank HolidayMonthly Wine Club   ...

St Anthonys Bed & Breakfast

St Anthony's is a quiet, comfortable Fort William Bed & Breakfast situated in the middle of town in an elevated position giving lovely views over the tranquil Loch Linnhe to the majestic Ardgour hills beyond. We have 3 Double rooms one of which can be converted to a twin or large family room with sitting area. All rooms are en-suite, with hospitality trays, hairdryers, flat screen TV's,DVD's and free WiFi. Private off...

Luxury accommodation in Fort William

Luxury suites in Fort William. Choice of self-catering or award winning 5 Star Gold B&B with sublime suites in a stunning Victorian Townhouse or a unique cottage for two in a quiet glen.The Grange - Our B&B is rated at the highest quality, 5 Star Gold, by Visit Scotland, winner of the 'Most Hospitable Bed and Breakfast' at the 2016 Highland and Islands Tourism Awards and holds numerous other awards.Or choose The...

Calluna - Self Catering apartments and bunkhouse

Calluna Self Catering Accommodation was first opened in 1993 by Alan and Sue Kimber.  It provided suitable self catering accommodation for clients of Alan's mountaineering courses.  Since then Calluna has been a regular base for keen outdoor enthusiasts and visitors to the area.In May 2018 their daughter Victoria took over the running of things, so Alan and Sue can enjoy their retirement.Calluna offers a variety of accommodation possibilities for guests.  There...

Springburn Farmhouse

Located a short distance from the world-famous Commando Monument above the village of Spean Bridge, our modern and comfortable 4-star bed and breakfast is a great place to stay for a few days. We offer a real Highland welcome, a comfortable ensuite room with a great breakfast served from 7am.We have all modern conveniences you would expect. We are only 20 minutes from Fort William town centre and 30 minutes from...

Dalvenvie apartment

Dalvenvie Cottage is perfectly located just outside Fort William but within walking distance to shops and pubs. It has good views to Ben Nevis and across the River Lochy. Brand new to the market in 2018 this open plan self catering cottage is perfect for two persons and comes with almost everything you will need during your stay - including a fridge packed with tasty breakfast items for you to enjoy.The...

Distant Hills Guest House, Spean Bridge

Rooms for Two.Located in the pretty village of Spean Bridge, about 9 miles from Fort William, our comfortable 4 star guesthouse enjoys a good location in the village, within walking distance of several restaurants and shops. We are also very near Nevis Range for summer gondola trips, forest walks and mountain biking trails.Our bed and breakfast rooms are all ensuite and are rated by the AA as 4 gold star grade. We...

Lochaber Lodges - self catering holiday Fort William

Our high quality timber lodges are located in the Great Glen by The Caledonian Canal, about 20 minutes from Fort William town centre. The views of Ben Nevis and the Grey Corries are magnificent! We offer a choice of 12 very comfortable log-built lodges - some perfect for two or four persons, and others perfect for up to six. Each lodge is tastefully furnished with quality, contemporary fixtures and fittings PLUS...

Achaderry Farmhouse

Achaderry Farmhouse is located near Roy Bridge on its own estate neighbouring Kinchellie Croft self catering holidays.The farmhouse was new on the market in 2016 and was completely refurnished for let. The property can sleep up to 10 people and has its own unique and secluded location. The view speaks for itself - looking across the glen to the Grey Corries, Aonach Mor, Carn Mor Dearg and of course, the mighty Ben...

Braeburn Guesthouse

Ton and Irene look forward to welcoming you to our spacious and beautifully appointed home, where your comfort in our Fort William B&B is always our top priority. Braeburn is a family run house set in its own grounds with beautiful views of Loch Linnhe and the Ardgour Hills.All of our guest ensuite bedrooms are tastefully decorated and guests often comment on our `home from home' atmosphere. Relax in our comfortable lounge...

THE BREVINS GUEST HOUSE

The Brevins Guest House in Glen Nevis. A warm welcome awaits you at the Brevins Guest House, we offer Bed & Breakfast. Our guest house is located at the entrance to Glen Nevis ideal for exploring The Glen. We are a 15 minutes walk to the start of the Ben Nevis trail, our nearest restaurant is a 3 minute stroll away.   15 minutes walk to the town centre. plenty on site parking. pre...

Kinchellie Croft

Kinchellie Crort provides extremely good value of money self catering holiday accommodation at the same time as offering an excellent standard of log cabins and cottages. We are located in Roy Bridge and perfect for groups looking for a good location for outdoor activities.Our three cottages sleep up to 6 people and the two log cabins sleep up to 4 persons.We are open all year round and available for weekly lets...

Bluebell Croft - Honeysuckle House and Rose Cottage

Honeysuckle House (sleeps 8+) and Rose Cottage (sleeps 2-4) are 5 star and were described in the Sunday Times as one "of the Best Cosy Cottages in the UK" and as a 'Heavenly cottage.. and the best sited hot tub in Europe'. The house and cottage have been designed with every thoughtful comfort, even extra towels for the hot tub. Dogs are welcome with care. We can leave a casserole in...

The Waterfront - Luxury Self-catering Apartment

This luxury self catering apartment in Fort William is new to the market and is a delight. Located by the shore of Loch Linnhe, and a short walk into town, our "just for two" self catering accommodation makes a wonderful place to stay during a visit to Fort William. Partially open-plan the holiday accommodation comprises an airy sitting room with leather settees and maple flooring.There's a breakfast bar and the stylish kitchen...

Tigh na Drochaid Bed and Breakfast

Tigh na Drochaid (Bridge House) is a family run bed and breakfast in Fort William. Our  detached villa is located at the entrance to Glen Nevis and very close to restaurants, bars and shops. Ben Nevis is a mere 10 minute walk away as are many other long and short walks and cycle routes. We offer twin/King sized ensuite rooms with power showers. Each has Sky TV/DVD/CD players plus tea and...

Alltonside Guest House

Alltonside is a modern 3 star guest house situated just over a mile from Fort William town centre. It commands fabulous views over Loch Linnhe and the hills beyond. We offer you a comfortable and friendly stay. Each of our six ensuite letting rooms is kept to a high standard with tea/coffee, television and central heating. Choose from one of our 3 doubles, 2 twins and one family room. Breakfast is served...

Glengarry Castle Hotel

Glengarry Castle Hotel is a comfortable country house hotel with a jewel of a setting on the shores of Loch Oich, which lies between Loch Ness and Loch Lochy at the heart of the Great Glen in the Highlands of Scotland.Glengarry Castle Hotel is a 4 star scottish accommodation offering great comfort and service to our guests. We are central for touring the Scottish Highlands to Inverness, Ben Nevis, Fort William,...

Old Harbour Master's Self Catering Apartment

Conveniently located in Fort William town centre, with great views overlooking Loch Linnhe, this large self catering apartment in Fort William can accommodate up to 8 people. All amenities are provided and included in the price. There is plenty of parking and the local shops, pubs and restaurants are minutes away. Take an evening stroll along the loch side and enjoy the views.Please telephone or email to check availability. Minimum of 2 nights...

Bishops Bay Luxury Self Catering Cottage

Nestled between woodlands, wildlife, mountains and the shores of Loch Leven, Bishop's Bay Cottage enjoys a special place in her surroundings and offers an ideal base, discovering  Glencoe, Ben Nevis, Fort William, the Mamores and many other adventures. 5 Star Luxury Self CateringLochside LocationSurrounded by private woodlandRaised terrace with furnitureBeautifully designed and finishedIdeal for one or two couplesBishop's Bay Cottage is ideally located to explore this magnificent area. From Mallaig in the...

Moorings Hotel

Celebrated as one of the most popular hotels in Fort William, the Moorings Hotel is a hidden gem, located just five minutes drive from Fort William town centre but a million miles away from every day hustle and bustle.Situated on the banks of the Caledonian Canal at the famous Neptune's staircase locks the location is perfect for a short stroll along the canal-side or enjoying a more strenuous walk along the...

Glen Nevis Caravan & Camping Park

Our award-winning caravan and camping park is set in the midst of spectacular Highland scenery at the foot of Ben Nevis. Explore Glen Nevis on the many footpaths that wind through forests and alongside the River Nevis or relax on our park and enjoy the views and fresh mountain air. We manage a peaceful park with a relaxed and friendly atmosphere and pride ourselves in the quality of our infrastructure, facilities...

Ardmory Bed & Breakfast

Ardmory B&B in Fort William is a modern house with a spacious garden in a quiet street close to the town centre with private parking and convenient for railway and bus stations. There are panoramic views over Loch Linnhe and surrounding mountains. We have 1 double room and 1 twin room. All rooms with en-suite showers and towels, televisions, hairdryers and hospitality tray. WiFi is available. There is a drying area...

Hollybank Lochside Self Catering

Luxury lochside holiday home just 30 metres from the shore of Loch Linnhe and set in its own ten acres of croft ground, the property has been completely refurbished and has three ensuite bedrooms all with window seats and loch views. The lounge has loch views and flat screen TV and DVD and cosy wood burner and wifi there is a dining room seating six and large kitchen with all new...

Cedar Lodge - Self Catering Cottage Fort William

Cedar Lodge is one of the closest self catering places to Fort William's downhill mountain biking tracks and winter skiing/snowboarding at Nevis Range. We are also within 10 minutes of the Ben Nevis North Face car park, and 15 minutes from the Glen Nevis Visitor Centre where most people begin their walk up the mountain footpath on Ben Nevis. Facilities Cedar Lodge offers two ensuite bedrooms, a fully fitted kitchen, washing...

Crolinnhe Bed and Breakfast

A superb, secluded Guest House with it's own extensive gardens and elevated views overlooking Loch Linnhe. This lovingly restored Victorian villa is a haven in the West Highlands of Scotland. Crolinnhe is a 5-star establishment offering exceptional levels of comfort to guests and a warm welcome with an intimate and opulent atmosphere ensuring our guests enjoy the majestic Scottish scenery surrounding them.Enjoy afternoon tea and shortbread on arrival in the spacious...

Allt Mor Self Catering

Allt Mor studio is a beautifully presented, contemporary designed and equipped holiday apartment, offering open living accommodation on a first level position that maximize the spectacular mountain views and sensational sunsets. Located a short drive from Fort William in the village of Roy Bridge,  in the Highlands of Scotland with magnificent open views of the Nevis Range and the Grey Corries. An ideal location for exploring and touring the highlands with...

Ambrose Gillham

This is a large and comfortable apartment with great views in a very convenient quiet  location close to the town centre. It is ideal for a family group or group of friends for a relaxed break or to explore the Highlands of Scotland.The beautiful Cow Hill Circuit which gives access directly to Glen Nevis is a ten minute walk away. Fort William is a popular centre for climbing, walking, scrambling, canoeing,...

Great Glen Holidays - self catering lodges

Great Glen Holidays is a wonderful place to stay in one of our  comfortable self catering lodges on our working highland farm at Torlundy.  We enjoy a very quiet and relaxing location just outside Fort William as well as being the nearest self catering for Nevis Range skiing and great mountain biking. Including the famous downhill world champion track. Self Catering LodgesThere are 6 Scandinavian lodges situated in natural woodland. These 2 bedroomed...

Torlinnhe Guest House

Mark and Larisa would be delighted to welcome you to Torlinnhe, for an exceptional guest house experience in Fort William. Our guests' comfort and enjoyment is our top priority! On arrival, relax a while after your journey, settle in our comfortable lounge and enjoy the spectacular views of Loch Linnhe and the mountains beyond for dinner and drinks.  In the morning you'll enjoy a delicious and substantial breakfast overlooking the loch.  You can...

Glencoe Mountain Cottages

Enjoy a lovely 4 star cottage with just the most amazing views. Our Glencoe self catering holiday cottages are wonderfully situated a mile up a secret valley off, most probably, Scotlands most photographed, magnificent and historical glen -Glencoe.The two modern and clean, semi-detached self catering holiday cottages, sit below some of Scotland's highest mountains. Amongst this beautiful scenery, in what must be one of the most imposing and impressive locations in...

Bed & Breakfast, Fort William - a view with a view

PLEASE NOTE: This B&B is only available between OCTOBER and MARCH. We do not offer one night stays, but instead offer a discount to stay a min of two nights or longer. Our current rates, when accommodation is available, are on our website. This property operates as a self catering cottage during the Spring and Summer months.Fort William short breaks and weekend breaks are available all year round at Woodside. A MARVELLOUS view...

The Willows Guest House, Fort William

The Willows is a 3 star family run Bed & Breakfast situated by the shores of Loch Linnhe with views of the Ardgour hills.  Located close to Fort William town centre it is approximately a 10 - 15 minute pleasant stroll along the gardens of Loch Linnhe to the restaurants, bars and shops.  We offer three rooms and can accommodate a maximum of nine guests, a quadruple family room, a triple family room and an interchangeable...

St Andrews Guest House

Only minutes from Fort William town centre and within walking distance of the train station and bus stance, St Andrews House is a wonderful, Victorian building and home to the Wynne Family. Originally the rectory and Choir School for St Andrews Church, which can be seen from the house.St Andrews provides stylish comfort and space in one of Fort William's few Listed Buildings. Canadian pitch pine beams and panelling, two stain-glass...

Lochy Holiday Camping and Touring Park

Lochy Holiday Park's camping and touring park provides a peaceful riverside location with great views of Ben Nevis.We have separate pitches for tents, touring caravans and motorhomes with electric hook-up if required. The park has clean, well-maintained toilets and showers, a laundry and lots of parking. Our shop stocks basic essentials as well as all those bits and pieces your forgot or need replaced. We have lots of green space for...

Lapwing Rise Self Catering Accommodation

Situated on a working croft just over 3 miles from Fort William this bright and spacious self catering bungalow sleeps up to 7 persons and enjoys wonderful views over the Caledonian Canal to Ben Nevis and the Aonach Mor ski slopes.This holiday home is enclosed within its own garden and the accommodation includes a lounge, dining room, 4 bedrooms and 2 bathrooms (one with shower and the other with a bath...

Ardlinnhe Bed & Breakfast

Ardlinnhe offers a unique experience for visitors to Fort William. We have a superb location facing Loch Linnhe and three quality ensuite bedrooms to ensure your stay is a very comfortable one. With lots of private parking and only a 5 minutes walk along the lochside into the town centre, it couldn't be an easier choice to stay at our Fort William bed and breakfast. All rooms are tastefully decorated with...

Lochy Holiday Park

Woodbury Lodges - suitable for up to 4 persons maximum (including babies). The Lodges are superbly built and insulated. They come with colour television, dvd player, gas water heater, hob oven and grill, fridge, living flame gas fire in lounge area, electric panel heating in bedrooms and lounge area, microwave oven, bed linen and duvets. (towels and tea-towels are not provided). Two bedrooms. - one double and one twin. Outside storage...

Torlundy House

Torlundy House is a family run Guest House located in the rural settlement of Torlundy some 3 miles (5 kilometers) from Fort William in the Highlands of Scotland. Your hosts, Michael and Maxean, have been providing B&B for 17 years in Torlundy.We have lived in Torlundy for nearly 19 years now so are very conversant with the area. We welcome you to our home nestling among Britain's highest mountains (a short...

Glenfinnan House Hotel & Restaurant

"Best Bar Dining Hotel and Romantic Hotel 2018"Glenfinnan House Hotel stands just around the bay from the tall Bonnie Prince Charlie monument on Loch Shiel, with its lawn rolling down to the beach. The famous Glenfinnan viaduct railway bridge, used as a scene in several Harry Potter films, is a 10-minute walk away through the Glenfinnan Estate where Red Deer can often be seen. This country house hotel in Scotland is...

Gowan Brae House

A warm highland welcome awaits you at Gowan Brae which was built at the turn of the 20th century and is situated on the hillside above the town overlooking Loch Linnhe and the Treislaig Hills. We offer two double ensuite rooms and one twin room with private facilities.An extensive breakfast menu including vegetarian options is on offer and particular attention is paid to the quality and presentation of food served in...

Tower Ridge Apartments

Tower Ridge Apartments are new to the market for 2018 and are decorated to a high standard. These two holiday apartments have two bedrooms each - one is ensuite in each apartment. Spacious sitting areas and large stylish kitchens are a feature of our holiday apartments in Fort William. Each apartment sleeps 4 persons. A large Freeview TV is installed in each apartment.EACH APARTMENT SLEEP 4 PERSONS MAX.Our apartments are located...

Clan Macduff Hotel

The Clan Macduff is a friendly, family run Fort William hotel sitting right on the banks of the picturesque Loch Linnhe. We are just 5 minutes drive from Fort William town centre and 10 minutes drive from Ben Nevis, the highest mountain in Britain. Originally built in 1965, the hotel has always belonged to our family. It has been extensively rebuilt and modernised over the last five years to provide modern accommodation...
Glencoe Cabins & Caravans

Glencoe Cabins & Caravans at , Glencoe Independent Hostel, Near Ballachulish, PH494HX

Our private pet friendly, self catering caravan accommodation in Glencoe is set in a secluded position with fantastic mountain views all around. Our 3 Gold Plus caravans are extremely spacious, centrally heated and very well insulated. Each has a double bedroom with it's own wc, a twin bedroom,...

Gairlochy Bay

Gairlochy, Spean Bridge, PH34 4EQ

For a unique self catering holiday on the banks of Loch Lochy and the Caledonian Canal consider one or our cosy and special self catering holiday homes.Both properties sleep up to 8 people. Gairlochy Bay is built of log with exposed wood on the inside. Wood burner and a 50" plasma screen are...

Invercoe Highland Holidays Timber Lodges

Invercoe, Glencoe, PH49 4HP

These luxury, self-catering holiday lodges in Glencoe are located on a peaceful location by the sea. They are double glazed and centrally heated. Each is tastefully set out to take in the wonderful views and surroundings and all are set back quite exclusively to give optimum privacy. Each lodge...

Sleeps 98

West End Hotel

High Street, Fort William, PH33

The West End Hotel is a well appointed, family run hotel with a tastefully furnished restaurant, lounge bar and delightful patio which enjoys great views of Loch Linnhe and the Ardgour hills. We are a short walk across to the West End Car Park where the Scottish Six Day Trials have their base in...

Craig Moray Cottage Glencoe

Allanbreck, Lettermore, Ballachulish, PH49 4JD

Glencoe Luxurious and elegant properties, in the beautiful valley of Glencoe. If it's water sports, mountain biking, hill climbing, skiing, or touring you want, this beautiful rugged glen has it all. Exclusively designed for couples seeking that special break away from the toils of daily...

Sleeps 4

Invercoe Camping and Touring Park - Hobbit Houses

Invercoe, Glencoe, PH49 4HP

Come to Glencoe and stay in one of our two micro lodge Hobbit Houses which are available for nightly hire, with a 2 night minimum at the weekend. They are a real fun alternative to a tent and especially good when the weather is less than you might wish for... Each Hobbit unit has a double...

The Ballachulish Hotel

Ballachulich, Glencoe, PH49 4JY

The Ballachulish Hotel enjoys a wonderful location looking out to the west by the site of the old ferry crossing on Loch Leven... We are 10 miles south of Fort William town centre and Ben Nevis. Our Highland Hotel is a stone-built, baronial style building with lots of character, but completely...

Holly Tree Hotel, Swimming Pool and Restaurant

Kentallen Pier, Kentallen, Argyll, PA38 4BY

The Hollytree Hotel with Swimming Pool and Sauna is located a few miles down the Oban road from Glencoe in a quiet bay on the shore of Loch Linnhe - our views across the sea are often stunning - all year round ! We also offer ten superb self catering properties at www.glencoeholidays.co.uk and...

Great Glen Yurts - unique accommodation

Torlundy Farm, Tomacharich, Fort William, PH33 6SP

Great Glen Yurts is an eco yurt camp in a woodland riverside setting at the foot of Ben Nevis. Our hand painted authentic Mongolian yurts are set on a beautiful organic farm in the highlands of Scotland. Each yurt has unbelievably sensational views of the North Face of Ben Nevis and are also just...

The Wee Round House

Donnelly's croft 104 , Lochy side Caol , Fort William , PH33 7BA

The Wee Round House is located on the croft adjacent to the village of Caol near Fort William. It has stunning views of Ben Nevis and Loch Linnie. The wee round house has a gas cooker, sink, four beds, wood burning stove and cooking implements. There is a chemical toilet outside and also a secure...

Chenderoh Guesthouse

Achintore Road, Fort William, PH33 6RQ

Located on Fort William's "Golden Mile" - a lovely loch-side approach to Fort William, Chenderoh Guesthouse welcomes couples and adults looking for comfortable accommodation within walking distance of the town centre.Our 1930s villa is quite unique in the area and has a superb outlook over Loch...

Clachaig Holidays, Glencoe

C/o Clachaig Inn, Glencoe, Argyll, PH49 4HX

Situated in and around Glencoe, the most famous and scenic glen in the Scottish Highlands, all our self catering cottages, chalets and lodges provide the very best of holiday accommodation. All of our listed properties provide a high standard of accommodation and sleep between 4 and 6 people. Use...

Invercoe Camping and Touring Park

Invercoe, Glencoe, PH49 4HP

Touring in Scotland with your motorhome, caravan or tent can be lots of fun and you'll find Invercoe in Glencoe has something for you - lots of touring pitches, good touring park facilities and services, big mountains and an equally big welcome !
Our long established caravan and camping park...

Arisaig Hotel

Arisaig, Inverness-shire, PH39 4NH

Located in the village of Arisaig by the sea and on the way to the Skye Ferry, and within walking distance from the train station, our nice hotel in Arisaig offers affordable B&B and tasty bar meals. With views out to sea over the bay, our family run hotel is a great place to stay for a short...

Sleeps 2

The Hayloft

The Hayloft Self Catering, 96 Lochyside, Fort William, PH33 7NX

The Hayloft at Lochyside is positioned to one side of our lovely, quiet garden with views towards Ben Nevis and has everything you need to enjoy your visit to the Fort William area. The property is tastefully designed in the upper floor of a self-contained building with an open plan kitchen-diner...

Glencaig Self Catering Cottage

Glencaig Cottage, 6 Stronaba, Spean Bridge, PH34 4DX

Glencaig self catering cottage, located 2 miles north east of Spean Bridge in the Western Highlands, is a bright two bedroom bungalow on the family croft at Stronaba.Near Fort William (the Outdoor Capital of the UK) and the UK's highest mountain (Ben Nevis) Glencaig Cottage is not only popular...

Sleeps 140

Alexandra Hotel

The Parade, Fort William, PH33 6AZ

Part of the very fabric of Fort William, since 1876 The Alexandra Hotel provides traditional Scottish Hospitality at its best and located in the centre of Fort William is an ideal base from which to explore the Highlands and Islands.Relax by the warmth of the open fire in the lounge before...

Blackwater Chalet

www.blackwaterhostel.co.uk, PH50 4SG

The chalet is modern and spacious and and can accommodate up to groups of 5, with a fully equipped kitchen with dishwasher, washing machine, under counter fridge, microwave, double oven,  grill and electric hob.The lounge is furnished to a high standard with two comfortable leather sofas , 50...

Sleeps 11

Minard Cottage

Minard Cottage, Self Catering Holidays, Glencoe, Argyll, Scotland, PH49 4HN

We have 2 holiday cottages in iconic Glencoe: ​ Minard Cottage. Sleeps 6-8 Adults and 1-3 Juniors.  The Bunkie Chalet. Sleeps 2 Adults and 1-2 Juniors.  ​ Based in stunning Glencoe, our holiday cottages are in Scotland's most iconic glen and the perfect base for exploring the...

Nevis Croft Self Catering Cottages

Nevis Bridge, Glen Nevis, Fort William, PH33 6PF

Self catering accommodation situated at Nevis Bridge, Glen Nevis, Fort William. Nevis Croft Cottages are situated near Nevis Bridge - just half a mile from Fort William town centre and at the entrance to the stunning Glen Nevis and at the original end of the West Highland Way. Our cottages are...

Ben Nevis Log Cabins

Harland, Glen Nevis, Fort William, PH33 6ST

Beautiful self catering log cabin sleeps a maximum of 4, includes a double and twin room. Situated at the foot of Ben nevis and at the end of the west highland way in one of Scotland's most beautiful glens it is ideally situated for walking, cycling, climbing or just relaxing. Feels like you...

Lochailort Inn

The Lochailort Inn, on 'The Road to the Isles', Lochailort, By Fort William., PH38 4LZ

The Lochailort Inn is a small hotel & bar set amidst the stunning scenery of the West Coast of Scotland. Clean, comfortable accommodation, locally sourced, freshly made cuisine and friendly staff will ensure that you have a most relaxing stay. We like to pride ourselves on offering...

Sleep 6

Brae Mhor Cottage

Coire Vullin, Blarmafoldach, Fort William, PH33 6SZ

With a unique view of Ben Nevis, the West Highland Way on your doorstep & a stunning panoramic of surrounding countryside, Brae Mhor Cottage is the ideal Highland holiday retreat. The newly built cottage is situated in its own private grounds in the small crofting township of...

Sleeps 8

Glen Nevis Holidays 4 and 5 star Luxury Lodges

Glen Nevis, Fort William, PH33 6SX

Glen Nevis Holidays offers some of the best self catering holiday accommodation facilities in the United Kingdom. Located at the foot of the highest mountain in the British Isles, Ben Nevis dominates this beautiful Highland glen. The River Nevis, with 1000 hectares of fishing rights, flows past...

Spean Bridge Hotel

Main Road, Spean Bridge, PH34 4ES

The Spean Bridge Hotel is a traditional Highland Hotel with a warm welcome for travellers in the Great Glen. We have ensuite rooms in the main hotel and chalet-style accomodation in the grounds, but right in the middle of Spean Bridge village. Our restaurant offers bar meals and a la carte...

Snowgoose Apartments, The Smiddy Bunkhouse & Blacksmiths Hostel

Snowgoose Apartments & The Smiddy Bunkhouse, Station Road, Corpach, Fort William, Highland, PH33 7JH

 Snowgoose Apartments, The Smiddy Bunkhouse, Blacksmith's Hostel at Snowgoose Mountain Centre offer an ideal base to independently explore the surrounding west coast of  Scotland in the heart of the Scottish Highlands.Take the opportunity to take part in our adventure activities, with our...

Stronlossit Inn

Roy Bridge, Fort William, PH31 4AG

The Stronlossit Inn is located in an area of outstanding natural beauty. Centrally located in the highlands and an easy drive to the main visitor attractions. Located amidst the grandeur and majesty of the surrounding scenery, with the awe-inspiring backdrop of the Ben Nevis range, Stronlossit is...

Glentower Lower Observatory

Achintore Road, Fort William, PH33 6RQ

Glentower Bed and Breakfast in Fort William is the former Lower Observatory building where the mountain observatory Superintendent used to live and work. Today, our home is a fabulous, modern guest house located on the lochside, a few minutes from the town centre. We offer a range of 3...

Craigag Lodge

Glenfinnan, PH37 4LT

Craigag Lodge is nestled in the hills behind Glenfinnan. We offer a very comfortable, relaxing retreat that will set you up for your adventures in the Highlands and Islands.We have a drying room, free WiFi and welcome dogs by arrangement.Ensuite rooms are large with baths and showers to soak your...

Sleeps 180

Ben Nevis Hotel

North Road, Fort William, PH33 6TG

Nothing is overlooked - Except Ben Nevis Whether you are visiting on business or for some quality leisure time the hotel is an ideal base where you can be sure of a warm Scottish welcome. Situated at the foot of Ben Nevis in Fort WilliamThe Ben Nevis Hotel & Leisure Club is in a prime...

Invercoe Highland Holidays - Glencoe MacIain Cottages

Invercoe, Glencoe, Argyll, PH49 4HP

Invercoe Highland Holidays where we offer you quiet, getaway from it all vacations, in what is undoubtedly one of the most picturesque of the Scottish Glens. Here in Glencoe, an area renowned worldwide for its rugged grandeur and also for the Massacre of the Clan MacDonald in 1692, you can have a...

Sleeps 50

Nevis Bank Inn

Belford Road, Fort William, PH33 6BY

Fort William's Nevis Bank Hotel opened its door for the 2010 season at the end of May after a total refurbishment with very contemporary styling and a comfortable environment. The new management team welcomes you to our exciting place to stay in Fort William with stylish restaurant. We are...

Buccleuch Guest House

Buccleuch Guest House, Achintore Road, Fort William, PH33 6RQ

With fine views over Loch Linnhe and the hills of Ardgour, Buccleuch B & B (pronounced 'Buckloo') provides a great place to stay while visiting Fort William and touring the West Coast of scotland. Our spacious, Victorian (circa 1878), stone-built home has seven ensuite bedrooms. Breakfast...

Ben Nevis Inn Bunkhouse

Ben Nevis Inn, Achintee, Fort William, PH33 6TE

Set at the foot of the Ben Nevis mountain footpath, the Ben Nevis Inn offers bunkhouse accommodation and a restaurant with a selection of fresh, wholesome food in an informal atmosphere. The bunkhouse provides accommodation for up to 24 persons and has a kitchen, showers, toilets and drying...

Glen Nevis Cottage Self Catering Accommodation By Ben Nevis

old nevis bridge, Glen Nevis, FortWilliam, PH33 6PF

Located at the entrance to Glen Nevis, this very appealing, traditional cottage provides comfortable holiday accommodation for 4 plus persons. Every amenity is included in the weekly rent - except towels. Glen Nevis Cottage is within walking distance of Fort William town center, and at the...

Burntree House Bed & Breakfast

Burntree House, Lochview Estate, Fort William, PH33 6UP

Situated in an exclusive and peaceful residential area of Fort Wililam, Burntree House is the ideal base for your holiday in the Highlands. Nestling in the shadow of Ben Nevis, yet within walking distance of Fort William town centre, the house commands exhilarating views of Loch Linnhe and the...

Myrtlebank Guesthouse - Fort William accommodation

Achintore Road, Fort William, PH33 6RQ

This Victorian villa has superb views across Loch Linnhe yet is only 5 minutes walk from Fort William's shops, restaurants and bars. Our Fort William guesthouse is maintained to a very high standard offering an excellent choice of rooms from standard to large, ensuite rooms with loch or garden...

Bunree Holiday Cottages & Family Apartments

Bunree Holiday Cottages/Caravans, Janika, Onich, PH33 6SE

Bunree Scottish holiday accommodation is located 8 miles south of Fort William, near the village of Onich, on a croft running down to the shores of Loch Linnhe at Corran Narrows. You can walk to a good, family friendly, local pub and restaurant. We are half way between world famous Ben Nevis...

Sleeps 14

Camisky Lodge

By Torlundy, PH33 6SP

Camisky Lodge is a beautiful Victorian lodge near Torlundy, Fort William, set amidst the stunning Inverness-shire countryside on the banks of the River Lochy on the west coast of Scotland.Built in 1870 by Lord Abinger as the primary fishing lodge for the River Lochy, it was once host to...

But'N'Ben Self Catering Holiday Cottage (With log cabin BBQ hut)

1 But'N'Ben, Stronaba, Spean Bridge, PH34 4DX

But'N'Ben holiday cottage offers comfortable, homely and affordable self catering accommodation for up to 4 people in the beautiful scenery of the Scottish highlands. Our lovely cottage is located in the hamlet of Stronaba, at the gateway to the famous Great Glen, yet only a 15 minute drive to...

Guisachan Guest House

Alma Road, FortWilliam, PH33 6HA

A warm welcome awaits you at Guisachan House, a family run guesthouse offering bed and breakfast in Fort William. We are situated in an elevated position away from the main road with views over Loch Linnhe and surrounding hills, and only 5 minutes walking distance from Fort William town...

Sleeps 26

Glencoe Independent Hostel Accommodation

Glencoe Independent Hostel, Glencoe, Near Ballachulish, PH494HX

Glencoe Independent Hostel & Glencoe Cabins & Caravans is set in its own grounds at the foot of historic & dramatic Glencoe. We are perfectly located for those seeking great value accommodation and who want to explore the west coast of the Scottish Highlands. Glencoe really is one of...

Tigh an Beag

14 Upper Inveroy, Roybridge, PH31 4AQ

This comfortable, well equipped self contained ground floor self catering apartment with private entrance is annexed to our home and has full central heating and is double glazed throughout. The living / dining room has spectacular panoramic views toward the Grey Corries, it is carpeted...

Linnhe Lochside Self Catering Holidays

Linnhe Lochside Holidays, Corpach , Fort William, PH33 7NL

Relax and unwind. Fantastic views and a warm welcome await you at Linnhe. 10% off any full week stay in one of our lovely 3 & 4 star chalets between 15th December and the end of January. Our luxury self-catering holiday park offers top quality accommodation overlooking the wild and...

Sleeps 4

Glen Nevis Holiday Cottages

Glen Nevis Holidays, Glen Nevis, PH33 6SX

Tranquil holiday cottages set in magnificent mountain scenery at the foot of Ben Nevis in the Scottish Highlands; purpose built with every comfort, allowing you to make yourself truly at home. Enjoying the peace and privacy, each cottage is thoughtfully placed away from our access road, in pretty...

Rose Cottage - Garden Flat

Rose Cottage , Torlundy, Fort William, PH33 6SW

This little flat, which is part of the owners home, is perfect for a couple. The flat is self contained. All the accommodation is at ground level with access to a small private garden. Seats and table, herbs and cottage garden plants. Enjoy this sheltered spot with views of Ben Nevis.On a clear...

Sleep 6

Glen Nevis Holiday Caravans

Glen Nevis Holidays Ltd, Glen Nevis, PH33 6SX

Our Holiday Caravans have a fantastic location in Glen Nevis, at the foot of Ben Nevis, with stunning views to the surrounding mountains. We have three types of fully furnished holiday caravans, with wifi, offering 2-3 bedrooms and accommodating up to six people. We also offer a wheelchair...

Ramblers Rest

45 Mossfield Drive, Lochyside, Fort William, PH33

Ramblers Rest is a detached, single floor self-catering cottage in a quiet secluded location in Fort William. Accommodation includes sitting room/dining/kitchen open plan design leading to one double bedroom and separate toilet/shower room. The sitting room has a double sofa bed. A large,...

Fort William Winter Let - Cedar Lodge

Woodside, Tomacharich, Fort William, PH33 6SW

Fort William Spring Let / Serviced monthly let - AVAILABLE APRIL 2018 !This 2-bedroomed property would suit one or two professional persons working in the Fort William area, and willing to share the facilities. It would equally be a superb place for one professional person to enjoy. Cedar Lodge...

Roughburn Highland Holidays

Roughburn Highland Holidays, Roughburn, Tulloch, Roybridge, PH31 4AR

We are a family run business offering a friendly personal touch to ensure a pleasant stay in the beautiful Scottish Highlands. Lochside & Mountain View are quality self catering mobile homes situated at Roughburn, Tulloch on the A86, 7 miles from Roy Bridge at the foot of Meall Clachaig and...

Cruachan Hotel, Fort William

Achintore Road, Fort William, PH33 6RQ

With superb lochside views and a short distance to Fort William town centre, the Cruachan Hotel is a good choice as an affordable hotel if you are planning a visit to our Highland town. We have lots of private parking, generous sized public rooms, lounges and dining room with a variety of...

Sleeps 12

Self Catering on The Caledonian Canal

Top Lock, Neptune's Staircase, PH33 7LY

During the winter until the middle of March our comfortable holiday barges are parked near Fort William by the longest canal locking system in the UK, the Neptune's Staircase. This is an ideal location for up to 12 guests to be based while staying in the Highlands. With a waterside location there...

Culacrick Guest House

Old Banavie Road, Banavie, Fort William, PH33 7PZ

Culacrick is in an elevated position with superb views towards Ben Nevis.              We have three spacious bedrooms: One king-size bedroom which could also accommodate a third person with our fold down bed, a double room and one family room. The family room has a double bed and bunk beds,...

The Old Store - Holiday Cottage, Onich near Glencoe

The Old Store, by Fort William, PH33 6SD

Situated on the edge of the pretty village of Onich, this cosy, comfortable, semi-detached holiday cottage has been nicely furnished. Set along the A82, it makes a perfect base for touring this beautiful part of the Highlands. Glencoe, Fort William 'Outdoor Capital of the UK', Loch Ness and...

Number 81 Bed and Breakfast

81 Alma Road, Fort William, PH33 6HF

 Number 81:  Small, friendly bed and breakfast near Fort William Town Centre - quite near Bus and Railway Stations.Full Scottish Breakfast or Vegetarian available. Fort William is an ideal centre for walking and climbing being situated at the foot of Ben Nevis (the highest mountain in...

Garadh nan Ros Bed & Breakfast

Sutherland Avenue, Fort William, PH33 6JT

A warm Highland welcome awaits you at "Garadh nan Ros" - Garden of the Roses. Our two bedrooms - one a twin bedded room, the other a double - are both ensuite with toilet and shower. TV and tea/coffee making facilities are provided. We have private parking for guests.We offer a tasty...

Ealasaid Studio Apartment

Ealasaid, Victoria Road, Fort William, PH33 6BH

Ealasaid is a self-catering studio apartment, perfect for 2 people in a quiet residential area of Fort William, just a 3 minute walk to the town centre with its shops, restaurants and attractions. It has a 3 start Visit Scotland rating This ground floor studio apartment is bright and spacious...

Gairlochy Holiday Lodges

Gairlochy, Spean Bridge, PH34 4EQ

Gairlochy Holiday Lodges are situated near Spean Bridge at the south end of the Great Glen, on the B8004 between the Commando Memorial on the A82 and the Caledonian Canal. The canal is ten minutes walk and this is where you can join the Great Glen Mountain Bike Trail or the Great Glen Way. We are...

Lochview House Self Catering Apartments

Lochview House, Heathercroft, Argyll Road, Fort William , PH33 6EZ

Lochview House is situated on the hillside in a quiet location, above the town of Fort William, with panoramic views over Loch Linnhe. Lochview House has two non-smoking, self-catering apartments available to rent on a weekly basis all year round.The apartments are fully equipped and...

Dalchreggan House, Fort William

Achintore Road, Fort William, PH33 6RQ

Dalchreggan House is a grand Victorian villa with large, spacious bedrooms close to Fort William's town centre. This traditional bed and breakfast in Fort William offers Highland hospitality in quality ensuite rooms. Dalchreggan looks out onto Loch Linnhe and to the hills beyond, yet is only a...

Inverlochy Castle Hotel & Restaurant

Torlundy, Fort William, PH33 6SN

Stay at one of the best Scottish Castle Hotels in the Highlands.  Nestling in the foothills of the mighty Ben Nevis, Inverlochy Castle sits amidst some of Scotland's finest scenery. Inverlochy was built in 1863 by the first Lord Abinger, 2 miles from the site of the original 13th century...

Old Pines Hotel and Restaurant

Old Pines, Spean Bridge, PH34 4EG

Old Pines is a restaurant with rooms at Spean which enjoys a particularly good setting just north of the village but within walking distance of the Commando Memorial. The views of Ben Nevis from Old Pines Restaurant are fabulous. We off a warm welcome to our cosy, bed and breakfast or small...
a good battle day out for those enjoying the re-enactment of old battles

brave and well intentioned...

around the time of Culloden

a scene from begone days...

after a bloody battle...

once common in an around "Fort William"..

are a' weed awa...

well worth a visiting near Inverness...