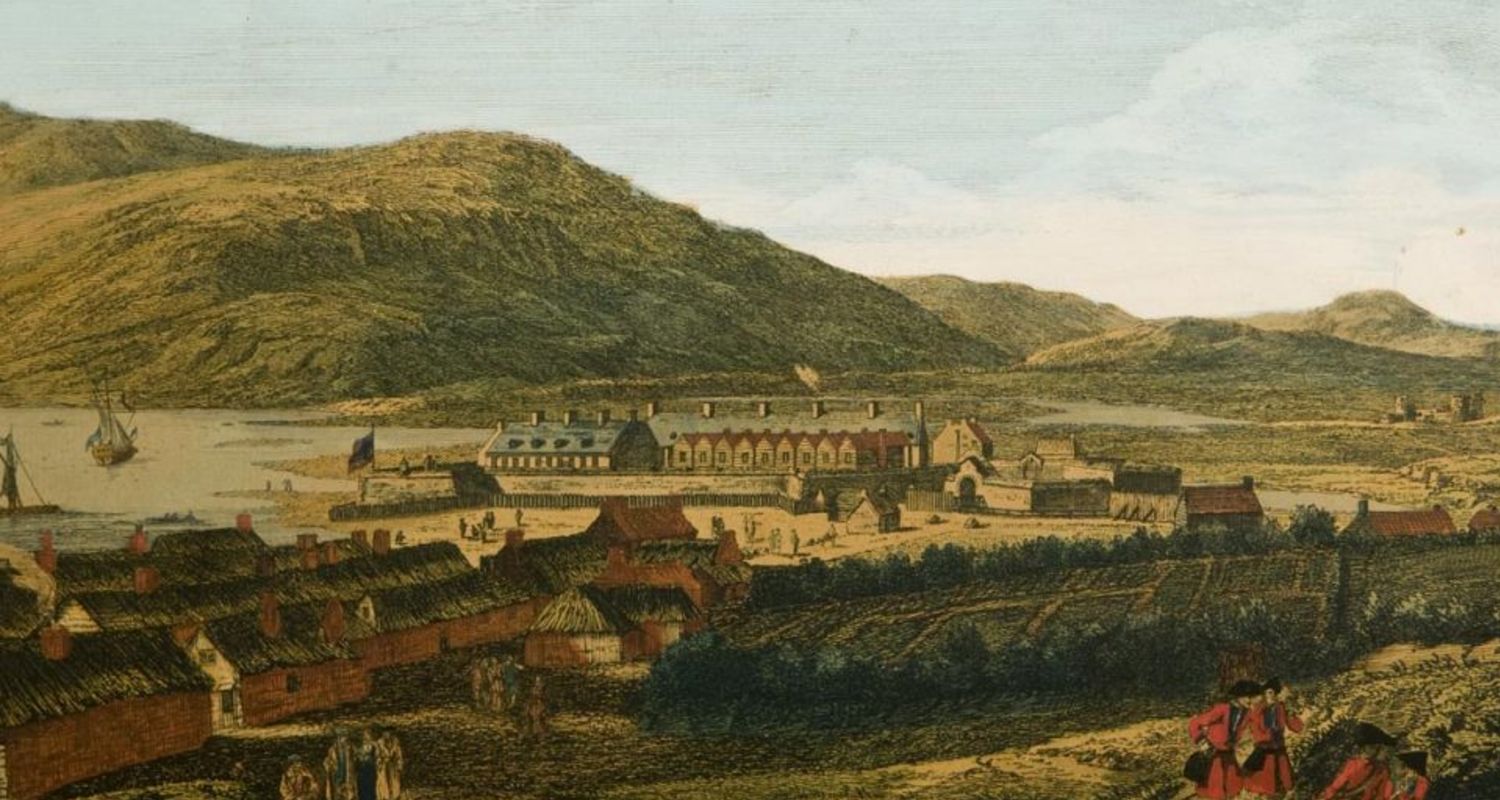 Visit Fort William, Glen Nevis and Ben Nevis in the Outdoor Capital of the UK
Chronology Of Fort William's History
A chronological history of Fort William's past
Year

Event

Detail

7,500 BC
 
First evidence of human settlement in Scotland  at Kinloch, Isle of Rhum in Lochaber.
3,000 BC
 
Recently discovered "Cup Marks" at Blarmafoldach suggest early territorial markings of agricultural settlement. Probable inhabited caves at Onich.
2,000 BC
 

Burial Cists with urns containing charred human remains found especially around Onich and North Ballachulish. Standing Stone at Onich.

 

1,000BC
 
Vitrified Fort in Glen Nevis at Dun Deardill
800AD
 
Ballachulish Goddess
1270
 
(Old) Inverlochy Castle Built
1429-31
Skirmish

31 Royalists for King James defeated Alexander Lord of the Isles in Lochaber. In 1431 a rematch had Donald Balloch MacDonald (Alexander's cousin) rout a royalist force led by the Earls of Mar and Caithness - the 1st Battlle of Inverlochy. 'Tis said they delayed engaging in battle to finish a game of cards.

1645
Battle

Second Battle of Inverlochy - Montrose's army after a sustained overnight March takes Campbell forces by surprise and routs the Duke of Argyll's army.

1654



General Monk, Cromwell's emissary sailed into Loch Linnhe and built a timber palisade, "The Fort of Inverlochy" to accommodate 250 troops. He anticipated his mission to check the Highland Clans (especially the Cameron's) would not be brief and took provisions for two years

1690

 

The Fort of Inverlochy was strengthened with 20' high stone walls, fifteen guns and barracks for a thousand men. It was then named Fort William after the King and the adjacent village which it had fawned became Maryburgh after Queen Mary. Some of the stone walls and the "Sally Port" remain to this day.

1692
Glencoe

The final papers authorising the "Massacre of Glencoe" were signed in the Fort and sent a detachment of troops to the McIains of Glencoe. After receiving their hospitality the soldiers turned on them in the early hours of a snow bound winters night, killing men, women and children. The wood panelled room in which the papers were signed is now reconstructed in the West Highland Museum.

1722
Mining

Lead mine opened at Strontian. Later that century a new mineral Strontianite was discovered and the new element named appropriately Strontium was identified in 1793.

1725
Road building

General Wade began building his great roads in the Highlands "to civilise the country". The road from Fort William to Inverness crosses the River Spean above a deep rocky gorge at " Highbridge", completed in 1736. The pillars are still standing. Here a skirmish took place in 1745 heralding the Jacobite uprising of that year. 

1745
The Jacobites

Charles Edward Stewart (Bonnie Prince Charlie) raises his Standard at Glenfinnan and takes his Jacobite army to Edinburgh, Carlisle and then on to Derby in an attempt to take back the British Throne for the Stewarts.

1746
A Siege

Siege of Fort William. The 1,500 strong Jacobite army with 200 French Artillery men laid siege to the Fort for 5 weeks, but failed. A sign of things to come - ending in  the fateful day on the Moor of Culloden when the Highland Army were defeated.

Charles goes into hiding spending many months being pursued by Redcoats.

Cumberland "The Butcher" ravages Lochaber after Culloden.         

1750s
Rebuilding

Town of Maryburgh rebuilt in wood (in case of further insurrection when it could be torched quickly.

1752
Murder
The Appin Murder
1803
Engineering

Construction of the Caledonian Canal begun designed and built by Thomas Telford.

1818
 
First boats pass through the Caledonian Canal.
1822
 
Caledonian Canal officially opened
1825
Whisky

Long John" MacDonald's distillery opened producing "Long John's dew of Ben Nevis. Still making whisky and has a Visitor Centre. Free dram!

1830s
Tourism

Many Tourism begins in the Highlands with the advent of regular swift Steamboats. The "Lochiel Arms Hotel" (later Banavie Hotel)  built beside the Caledonian Canal for Tourists.

1840s
 
Fort William lit with oil lamps
1843
 

"The Disruption" of the Church of Scotland. The breakaway "Free Church" was not recognised by local lairds, Ministers were banned from their Churches and use of land for services was forbidden. Services were held in graveyards and in Strontian a "Floating Church" on Loch Sunart allowed the minister to preach afloat whilst the congregation stood on the shore below the high tide line.

1847

Royal Visit

Queen Victoria arrived at Fort William en route to Ardverike "house hunting". It rained heavily. She may not have been amused. Instead of buying Ardverike on Loch Laggan side; she went eastwards and bought the Balmoral Estate instead. It is drier there!

1849

Highland Famine

The Highland famine at its height due to potato blight which decimated the staple food source. More emigration resulted.

1852

Dr.William Kennedy dies

Dr. Kennedy, local doctor,  dies in an outbreak of Typhus. Memorial built in Cameron Square.

1860

"New" Inverlochy Castle built

Construction of Lord Abingers "New" Inverlochy Castle began at Torlundy.

1861-1865

 

 

1864

Belford Hospital opens

Belford Hospital opened. Built by Andrew Belford of Glenfintaig after the death of a Shepherd's wife in childbirth on his estate.

1873

Queen Victoria stays in Fort William

Queen Victoria spent a week at Inverlochy Castle visiting Glenfinnan, Achnacarry and Glencoe Weather mixed!

1879

 

 

1881

Clement Wragge climbs Ben Nevis daily

Clement Wragge climbed Ben Nevis daily each summer daily for two years to make meteorological recordings and establish a need for an Observatory on the Summit.

1883

Ben Nevis Observatory opened

A bridle path to take ponies to the top of Ben Nevis constructed and an observatory  opened which took daily recordings on Britain's highest summit for 21 years.

1886

 

 

1890

 

 

1891

 

 

1894

West Highland Railway opened

The West Highland Railway opened to traffic; its terminus Fort William became the focal point of the town. MacBrayne's steamers landed on the pier (now occupied by "Crannog" the  sea food Restaurant) a stones throw  from the old station.

1895

First Ben Nevis Race

William Swan, local hairdresser runs up and down Ben Nevis in 2hrs.41m.

1896

Fort William Hydro Power

The Fort William Electric Lighting Company taps the Kiachnish river with a Hydro scheme and sees Fort William as the first town in Britain to be lit by electricity.

1900

 

 

1902

 

 

1904

Ben Nevis Observatory

Ben Nevis Observatory closes but "hotel" on the summit remains open until the first world War




 

1909

Kinlochleven Aluminium Smelter opened.(B.A.)

Blackwater dam constructed by teams of Navvies as recorded by Patrick MacGill in his "Children of the Dead End"

1911

Ford Car ascends Ben Nevis 

Ascent of Ben Nevis by Sir Henry Alexander in a Model "T" Ford! 

1912

 

 

1914

 

 

1915

 

 

1918

 

 

1923

West Highland Museum opened

The West Highland Museum opened in Cameron Square. Its recent refurbishment shows off to advantage its local and especially Jacobite collection which is of International Importance.

1926

 

 

1928

 

 

1929

Fort William Aluminium Smelter opened.(B.A.)

The British Aluminium factory opens after five years of construction. Its Aluminium smelter is powered by a Hydro scheme tapping water from a vast area of the Lochaber & Badenoch. A tunnel 15ft in diameter,15 miles long and 200ft below ground was driven through the hillside of the Ben Nevis Range to carry water from Loch Treig to the factory's power house.

1930

 

 

1934

 

 

1935

 

 

1938

Scottish Six day trials

Scottish Six day motorbike trials first centered on Fort William

1939

 

 

1940

Wartime in Lochaber

The outbreak of War changes Lochaber into a major centre for servicing Atlantic Convoys and a training ground for Commandos (headquarters at  Achnacarry Castle) and for  Motor Torpedo Boats. In December a bomb penetrated the power house at the factory but did not explode - it had been sabotaged during it's construction in Germany.

1941

 

 

1945

 

 

1948

 

 

1949

 

 

1950

 

 

1951

Ben Nevis Race restarted

Modern Series of the Ben Nevis Race begins.

1952

Commando Memorial unveiled

The Commando Memorial unveiled by the Queen on a prominent site above Spean Bridge on the A82. This striking bronze by Scott Sutherland commemorates the Commando's killed in the Second World War most of whom were trained hereabouts.

1953

 

 

1955

 First female to run Ben Nevis Race

 Kathleen Connochie aged 16, (now Mrs Kathleen Macpherson), completed the Ben Nevis Race as first female, and was featured in Guinness Book of World Records for around 30 years. Until this point no female had completed the race. The Amateur Athletic Association had to amend their rules, as they had not permitted any  female to run this race. This resulted in female athletes being given equal status and allowed to run in athletic events like the marathon. 

1962

 

 

1963

 

 

1964

Pulp Mill opened

The Scottish Pulp and Paper Mill company open an vast industrial site at Annat utilising the local resources of water and wood. This brings a major influx of population with new housing, shops and amenities.

1965

New Belford Hospital opens

The New Belford Hospital built to accommodate the increase population and expectations of modern medicine and surgery.

1967

 

 

1969

 

 

1974

Town bypassed

A town by-pass was built on piers in the Loch to take traffic away from the congested main street. The station was relocated and a roundabout built adjacent to the remains of the Old Fort.

1975

Ballachulish Bridge

Ballachulish Ferry no more as the bridge is opened

1975

Town Hall burnt down

The "Old Town Hall" burnt down in December when being used by the Royal Mail to sort the Christmas Post.

1980

Salmon Farming develops

Commercial Salmon farming becoming more important with fish pens on many sea ands Fresh water lochs. A processing factory on the "Blar Mhor" can dispatch up to 200 tons of fresh Salmon daily and all within 24 hours of harvesting.

1981

 

 

1986

 

 

1988

Lochy Estuary reclaimed

Reclaimed land beside the old estuary of the River Nevis was developed with a large hall and leisure centre and Safeways supermarket.

1989

Nevis Range opened

Skiing on Aonach Mor opened December 1989 with Gondola and chair lifts.

1994

Nevis Radio

Nevis Radio started broadcasting 24 hours a day!

1995

 

 

1996

 

 

1997

Longest "Strip the Willow" in the West!

The West Highland Museum celebrates its 75th Anniversary with 3,000 people in the High Street to see and dance "The Longest Strip the Willow in the West" . The dancers stretched 250 yards from the Grand Hotel to beyond St.Andrews church

1999

 

 

2000

Last "Strip the Willow" of the Century

Fort William celebrated the Millennium with the last "Strip the Willow" of the Century with 7,000 gathered from the Grand Hotel to Nevisport; followed by a fine firework display.

2001

Mountain Biking World Cup

Mountain Biking World Cup held for the first time in Fort William at Aonach Mhor

2004

 

 

2005

Support the Belford Public Meeting

2,800 attended a Meeting at the Nevis Centre where conclusions of the West Highland Project were to be delivered. The audience vociferously rejected the proposals which derailed the Health Boards plans and led to national acceptance of the locally conceived "Rural General Hospital" model.

2007

Mountain Biking World Championship Aonach Mhor

Mountain Biking World Championship Fort William

2008

Pulp Mill demolished

The Tower of the Pulp Mill blown up to assist demolition

 

 

 
Na Tighean Beaga - The Little Houses

Since 1976 the Matheson Family have welcomed visitors to Na Tighean Beaga, our comfortable self catering bungalows and chalets in Roy Bridge, near Fort William The experience we have gained over the years will ensure a successful and enjoyable holiday for everyone in your family or party.The SiteSome 300 metres from the village centre, our site is set amid heath and silver birch with views over Glen Spean to the Nevis...

Kilcamb Lodge Hotel & Restaurant

Kilcamb Lodge Hotel is a small, luxury Country House Hotel, breathtakingly situated on the shores of loch Sunart in 22 acres of natural meadow and woodland, where otters and red deer are daily visitors. Close to Fort William and all its outdoor amenities, Ardnamurchan is one of the most un-spoilt regions in the Highlands of Scotland. Our ethos is based on a simple ideal of good food, luxury accommodation, peace, harmony...

Lochy Holiday Camping and Touring Park

Lochy Holiday Park's camping and touring park provides a peaceful riverside location with great views of Ben Nevis.We have separate pitches for tents, touring caravans and motorhomes with electric hook-up if required. The park has clean, well-maintained toilets and showers, a laundry and lots of parking. Our shop stocks basic essentials as well as all those bits and pieces your forgot or need replaced. We have lots of green space for...

Achaderry Farmhouse

Achaderry Farmhouse is located near Roy Bridge on its own estate neighbouring Kinchellie Croft self catering holidays.The farmhouse was new on the market in 2016 and was completely refurnished for let. The property can sleep up to 10 people and has its own unique and secluded location. The view speaks for itself - looking across the glen to the Grey Corries, Aonach Mor, Carn Mor Dearg and of course, the mighty Ben...

Nevis Lodge Self Catering

Nevis Lodge is a fabulous open-plan holiday lodge set in an ancient pine forest in front of Ben Nevis, but just 5 minutes from Fort William town centre. The property sleeps 8 - 10 persons in 5 bedrooms, two modern bathrooms with showers and baths (one ensuite). The central living area has a modern open plan kitchen, central log fire and comfortable seating with large picture windows and sliding doors onto a...

Motorhome Hire

Motorhome Hire from Fort William in the Highlands of Scotland, the perfect area to explore in a motorhome. We are based in Fort William and that could be your starting point to explore our wonderful Highlands and Islands. Compact, stylish and a dream to drive, our Autoquest AQ-130 4 berth is a very compatible motorhome and is perfect for couples preferring that bit of extra space of smaller family groups of...

The Lime Tree Hotel

The Lime Tree in Fort William is a Small Hotel, Restaurant and high quality Art Gallery offering you unique accommodation in a convenient location in the Highlands of Scotland. Whether you choose to relax at The Lime Tree, enjoy the spectacular mountains and landscape, bag a Munro, tackle world championship mountain bike track at Nevis Range, take the Jacobite steam train on the road to the Isles, or choose to immerse...

Coire Glas Guest House

UNDER NEW OWNERSHIP - Please contact us directly for best offers and pricing,  20% winter discount on 3 or more nights - email Morven and Simon Hardiman:

[email protected]

or call +44(0)1397 712272Bed and Breakfast, Spean Bridge, near Fort William.Coire Glas Guest House is situated at the edge of the Village of Spean Bridge in grounds of approximately one acre facing south it looks out over the spectacular Grey Corries and Ben...

Braeburn Guesthouse

Ton and Irene look forward to welcoming you to our spacious and beautifully appointed home, where your comfort in our Fort William B&B is always our top priority. Braeburn is a family run house set in its own grounds with beautiful views of Loch Linnhe and the Ardgour Hills.All of our guest ensuite bedrooms are tastefully decorated and guests often comment on our `home from home' atmosphere. Relax in our comfortable lounge...

The Byre Holiday Cottage

A spacious four star cottage with one of the best views in Britain. Sleeps 4 or 5. Situated on the sunnier side of the Great Glen, it offers instant access to traffic free local walks with village amenities close at hand. Sited on a working croft. Over 50% of guests are repeat visitors. Availability and tariffs shown on owners website...

Bed & Breakfast, Fort William - a view with a view

PLEASE NOTE: This B&B is only available between OCTOBER and MARCH. We do not offer one night stays, but instead offer a discount to stay a min of two nights or longer. Our current rates, when accommodation is available, are on our website. This property operates as a self catering cottage during the Spring and Summer months.Fort William short breaks and weekend breaks are available all year round at Woodside. A MARVELLOUS view...

Inverskilavulin Lodges - self catering near Fort William

Warm and cosy lodges for between 4-6 people each, with spectacular views on Ben Nevis, Aonach Mor, the Grey Corries and much more. Both lodges are nestled away in the heart of the Scottish Highlands, located just 6 miles outside of Fort William in Glenloy at the foot of Beinn Bhan corbett. Solar powered, with water straight from Beinn Bhan river, we offer eco-friendly and sustainable holiday accommodation, in the quiet serenity...

Lochview Guesthouse, Onich

We have three spacious and luxurious rooms which all have king sized beds, modern, high quality bathrooms, and a comfortable seating area, where you will be served home baking with tea or coffee on arrival. Complimentary Wi-Fi is offered to all guests. Our two largest rooms share our stunning loch view, whilst the third enjoys an inland, mountain view. Prices start from £100 per night and breakfast is always included. The peace and...

Luxury accommodation in Fort William

Luxury suites in Fort William. Choice of self-catering or award winning 5 Star Gold B&B with sublime suites in a stunning Victorian Townhouse, a traditional Highland cottage beside Loch Linnhe or a unique cottage for two in a quiet glen.The Grange - Our B&B is rated at the highest quality, 5 Star Gold, by Visit Scotland, winner of the 'Most Hospitable Bed and Breakfast' at the 2016 Highland and Islands Tourism...

Fordon Self Catering Apartment

Fordon Self Catering Apartment is both modern and fully equipped while still being cosy and comfortable allowing a peaceful and tranquil break. Fordon has stunning panoramic views of Ben Nevis and Aonach Mhor with the town of Fort William and Loch Linnhe situated below and the Caledonian Canal nearby. While being ideally based for travelling to Mallaig, the Isle of Skye, the Small Isles, Inverness, the Ardnamurachan Peninsula and Oban it...

St Anthonys Bed & Breakfast

St Anthonys  is a quiet, comfortable Fort William Bed & Breakfast situated in the middle of town in an elevated position giving lovely views over Loch Linnhe and the surrounding hills. We have 3 Double rooms and 1 Family Suite. All rooms are en-suite, with hospitality trays, hairdryers, flat screen tv/dvd players and free WiFi. Gill & Dave Ferguson, the owners, look forward to offering a warm welcome and friendly service. Complete...
Lochview House Self Catering Apartments

Lochview House, Heathercroft, Argyll Road, Fort William , PH33 6EZ

Lochview House is situated on the hillside in a quiet location, above the town of Fort William, with panoramic views over Loch Linnhe. Lochview House has two non-smoking, self-catering apartments available to rent on a weekly basis all year round.The apartments are fully equipped and accommodate two people in one bedroom. The...

Bohenie Lodges

Bohenie Lodges, Bohenie, Roy Bridge, PH31 4AN

Bohenie Lodges provide comfortable holiday accommodation in idyllic rural surroundings in Glen Roy a mile from the junction of the River Roy and River Spean. The lodges are situated in Roy Bridge 30 minutes NE of Fort William, the Outdoor Capital of the UK. The lodges make an ideal base for a...

Culacrick Guest House

Old Banavie Road, Banavie, Fort William, PH33 7PZ

Culacrick is in an elevated position with superb views towards Ben Nevis.              We have three spacious bedrooms: One king-size bedroom which could also accommodate a third person with our fold down bed, a double room and one family room. The family room has a double bed and bunk beds, ideal for a...

Glen Nevis Cottage Self Catering Accommodation By Ben Nevis

old nevis bridge, Glen Nevis, FortWilliam, PH33 6PF

Located at the entrance to Glen Nevis, this very appealing, traditional cottage provides comfortable holiday accommodation for 4 plus persons. Every amenity is included in the weekly rent - except towels. Glen Nevis Cottage is within walking distance of Fort William town center, and at the end of the West Highland...

Maybank Holiday Home

Muirshearlich, Banavie, Fort William, PH33 7PB

Maybank holiday home is set on the Caledonian Canal with stunning views for Ben Nevis and the boats sailing the Canal. Sleeping 8, Maybank is excellent for large families or group of friends. Maybank is a high standard, well appointed, self catering holiday home set on the bank of the Caledonian...

Inn at Ardgour

North Corran, Ardgour, Fort William, PH33 7AA

The Inn at Ardgour can be seen from the Corran Ferry as you wait for the Ferry to Ardnamurchan. We offer comfortable rooms, good food with Highland hospitality so you will be made to feel very welcome. We are ideally placed for cycling along quiet country roads or touring the Ardnamurchan...

Burnlea Cottage in Fort William

Burnlea, Achintore Road, Fort William, PH33 6RN

With fantastic panoramic views over Loch Linnhe to the hills beyond, this stylish Fort William cottage is less than 1 mile from the shops, restaurants and pubs of Fort William town centre. Our cottage accommodation comprises 1 twin/super-king bedroom, kitchen/sitting room, shower room.Free WiFi /parking and guests have use of the...

Sleeps 12

Self Catering on The Caledonian Canal

Top Lock, Neptune's Staircase, PH33 7LY

During the winter until the middle of March our comfortable holiday barges are parked near Fort William by the longest canal locking system in the UK, the Neptune's Staircase. This is an ideal location for up to 12 guests to be based while staying in the Highlands. With a waterside location there...

Sleeps 14

Camisky Lodge

By Torlundy, PH33 6SP

Camisky Lodge is a beautiful Victorian lodge near Torlundy, Fort William, set amidst the stunning Inverness-shire countryside on the banks of the River Lochy on the west coast of Scotland.Built in 1870 by Lord Abinger as the primary fishing lodge for the River Lochy, it was once host to the Prince of...

Langall Cottages near Glencoe

LANGALL, Glencoe, PH33 6SA

Roe Deer Cottage is situated on our croft in North Ballachulish and enjoys magnificent views over wild mountain and moorland. Our cottage is comfortable and well equipped, we can accommodate up to four people and have a double and a twin bedroom, both have en-suite bathrooms with bath and shower.At the...

Ben View Lodges

Alveston, Lochyside, Fort William, PH33

Welcome to Ben View Lodges. Our superbly appointed 4-star lodges will appeal to people who want high-quality home comforts while enjoying the spectacular scenery of the West Highlands.Whether you are seeking outdoor pursuits such as climbing, hill walking, ski-ing, mountain biking, fishing or sailing, or just want to relax away from...

Glencoe Holiday Caravans - Self Catering Accommodation

Glencoe Independent Hostel, Glencoe, Near Ballachulish, PH494HX

Our private pet friendly, self catering caravan accommodation in Glencoe is set in a secluded position with fantastic mountain views all around. We have 4 luxury 'gold' holiday caravans, brand new with heated double and twin rooms, walk in shower, wc and wash hand basin, full cooking facilities and a lovely...

Stronchreggan View Guest House

Achintore Road, Fort William, PH33 6RW

Stronchreggan View is a family-run Fort William guest house on the shores of Loch Linnhe over looking the Ardgour Hills. It's an ideal Fort William B&B base for touring the Highlands and the surrounding area of the West Highlands.This comfortable, guesthouse has family, double, twin and triple bedrooms - en-suite &...

Western Isles Campers - Camper Hire

Station Square, PH336TQ

Welcome to Western Isles Campers! We hire a variety of campervans all year round - based in Fort William, giving you access to everything the highlands & islands has to offer! All of our campers come with everything you'll need for your adventure, & yes, all of our campers are heated,...

Cruachan Hotel, Fort William

Achintore Road, Fort William, PH33

With superb lochside views and a short distance to Fort William town centre, the Cruachan Hotel is a good choice as an affordable hotel if you are planning a visit to our Highland town. We have lots of private parking, generous sized public rooms, lounges and dining room with a variety...

Clachaig Holidays, Glencoe

C/o Clachaig Inn, Glencoe, Argyll, PH49 4HX

Situated in and around Glencoe, the most famous and scenic glen in the Scottish Highlands, all our self catering cottages, chalets and lodges provide the very best of holiday accommodation. All of our listed properties provide a high standard of accommodation and sleep between 4 and 6 people. Use our easy...

Fort William Winter Let - Cedar Lodge

Woodside, Tomacharich, Fort William, PH33 6SW

Fort William Spring Let / Serviced monthly let - AVAILABLE APRIL 2018 !This 2-bedroomed property would suit one or two professional persons working in the Fort William area, and willing to share the facilities. It would equally be a superb place for one professional person to enjoy. Cedar Lodge is 3 miles...

Torbeag House - B & B near Ben Nevis

Torbeag House, Muirshearlich, Fort William, PH337PB

Torbeag House is just 4 miles from the Highland town of Fort William, (the Outdoor Capital of the UK), yet set in the peace and tranquility of the Great Glen, facing Ben Nevis Britain's highest mountain. Torbeag is a substantial family home offering 1st class ensuite bed and breakfast accommodation and...

Sleeps 140

Alexandra Hotel

The Parade, Fort William, PH33 6AZ

Part of the very fabric of Fort William, since 1876 The Alexandra Hotel provides traditional Scottish Hospitality at its best and located in the centre of Fort William is an ideal base from which to explore the Highlands and Islands.Relax by the warmth of the open fire in the lounge before...

Sleeps 8

Glen Nevis Holidays 4 and 5 star Luxury Lodges

Glen Nevis, Fort William, PH33 6SX

Glen Nevis Holidays offers some of the best self catering holiday accommodation facilities in the United Kingdom. Located at the foot of the highest mountain in the British Isles, Ben Nevis dominates this beautiful Highland glen. The River Nevis, with 1000 hectares of fishing rights, flows past one side of our park, which...
by the shore of Loch Linnhe

from times long gone

from Corpach

from the River Lochy