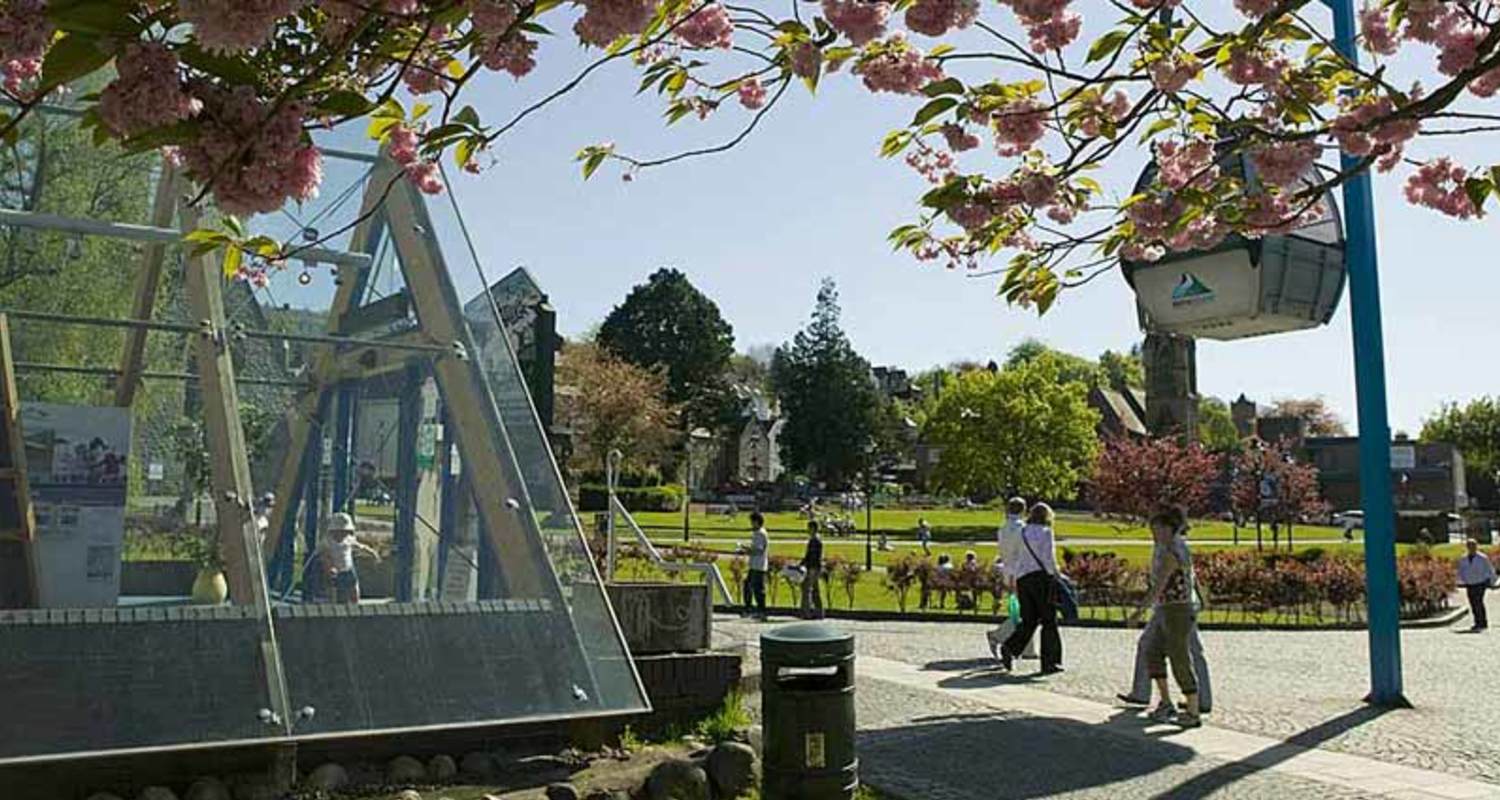 Visit Fort William, Glen Nevis and Ben Nevis in the Outdoor Capital of the UK
Top Historic Events In Lochaber
Visit Fort William is working towards providing some interesting historical events to this website
The Definitive Dozen Historical Events about Fort William
 
1645 The Second Battle of Inverlochy
Montrose's army after a sustained overnight March takes Campbell forces by surprise and routs the Duke of Argyll's army.
 
1654 The Building of the First Fort      
General Monk, Cromwell's emissary sailed into Loch Linnhe and built a timber palisade, "The Fort of Inverlochy" to accommodate 250 troops. He anticipated his mission to check the Highland Clans (especially the Cameron's) would not be brief and took provisions for two years. About 1690 the Fort was renamed "Fort William".
 
1692 Massacre of Glencoe
The final papers authorising the "Massacre of Glencoe" were signed in the Fort and sent a detachment of troops to the McIains of Glencoe. After receiving their hospitality the soldiers turned on them in the early hours of a snow bound winters night, killing men, women and children. The wood panelled room in which the papers were signed is now reconstructed in the West Highland Museum.
 
1722 Discovery of a new Element - Strontium  
Lead mine opened at Strontian. A new mineral Strontianite was discovered in the mine and isolated by Sir Humphrey Davy in 1808 when he named it Strontium, after the village near where it was mined.
 
1745 The '45 Jacobite Uprising           
Charles Edward Stewart (Bonnie Prince Charlie) raises his Standard at Glenfinnan and takes his Jacobite army to Edinburgh, Carlisle and then on to Derby in an attempt to take back the British Throne for the Stewarts. Fort William sieged in 1746 and the Jacobites later defeated at Culloden
 
1752 The Appin Murder
The Murder of Colin Campbell of Glenure and the subsequent hanging of the innocent James of the Glen has been the historical basis for RLS's Kidnapped.
1803 The Caledonian CanalFirst boats pass through the 62 mile long Caledonian Canal in 1822, after 19 years Construction, thus linking the Moray Firth with Loch Linnhe.

1825 Long John" MacDonald's distillery
Started by an exceptionally tall MacDonald, the distillery now produces the fine Ben Nevis Whisky. Link to Ben Nevis Distillery Visitor Centre. Free dram!
1883  Ben Nevis Observatory
Clement Wragge climbed Ben Nevis almost daily for two years to make meteorological recordings and establish a need for an Observatory on the Summit which was open until 1905.
 
1894 The West Highland Railway
Five years in construction this line has been named one of the worlds most scenic railways.
 
1931 The British Aluminium Factory
The high local rainfall encouraged this major industry to be constructed in Fort William where the furnaces are powered by a hydro scheme carrying water 15 tunnelled miles from Loch Treig to the factory's power house. It was the longest in the world at the time.
 
1964 The Scottish Pulp and Paper Mill
The availability of Water and wood locally brought the second large industry to Lochaber, bringing hundreds of workers to the town.

Lochaber Lodges - self catering holiday Fort William

Our high quality timber lodges are located in the Great Glen by The Caledonian Canal, about 20 minutes from Fort William town centre. The views of Ben Nevis and the Grey Corries are magnificent! We offer a choice of 12 very comfortable log-built lodges - some perfect for two or four persons, and others perfect for up to six. Each lodge is tastefully furnished with quality, contemporary fixtures and fittings PLUS...

The Waterfront - Luxury Self-catering Apartment

This luxury self catering apartment in Fort William is new to the market and is a delight. Located by the shore of Loch Linnhe, and a short walk into town, our "just for two" self catering accommodation makes a wonderful place to stay during a visit to Fort William. Partially open-plan the holiday accommodation comprises an airy sitting room with leather settees and maple flooring.There's a breakfast bar and the stylish...

Airds Hotel & Restaurant - Luxury Boutique Hotel

The Airds Hotel & Restaurant is a romantic luxury boutique hotel located in the stunning hamlet of Port Appin, near Oban, Argyll, situated on the shore of Loch Linnhe with the Morvern mountains behind, on the West Coast of Scotland in the Scottish Highlands. This luxury hotel has one of the best reputations in Scotland for it's food and dining here is a real pleasure. The bedrooms are all individually decorated and all have...

Gowan Brae House

A warm highland welcome awaits you at Gowan Brae which was built at the turn of the 20th century and is situated on the hillside above the town overlooking Loch Linnhe and the Treislaig Hills. We offer two double ensuite rooms and one twin room with private facilities.An extensive breakfast menu including vegetarian options is on offer and particular attention is paid to the quality and presentation of food served in...

Alba Ben View Holiday Cottage

Our self catering cottage is located just past the Commando Monument above the village of Spean Bridge - about 10 miles from Fort William town centre and Ben Nevis - a pleasant 20 minute journey. The cottage sits in its own grounds, next to the owners accommodation with superb uninterrupted views over to Ben Nevis and the Mamore Hills, and provides accommodation for up to 4 persons in two ensuite bedrooms.Everything...

Nevis Lodge Self Catering

Nevis Lodge is a fabulous open-plan holiday lodge set in an ancient pine forest in front of Ben Nevis, but just 5 minutes from Fort William town centre. The property sleeps 8 - 10 persons in 5 bedrooms, two modern bathrooms with showers and baths (one ensuite). The central living area has a modern open plan kitchen, central log fire and comfortable seating with large picture windows and sliding doors onto a...

Distant Hills Guest House, Spean Bridge

Located in the pretty village of Spean Bridge, about 9 miles from Fort William, our comfortable 4 star guesthouse enjoys a good location in the village, within walking distance of several restaurants and shops. We are also very near Nevis Range for summer gondola trips, forest walks and mountain biking trails.Our bed and breakfast rooms are all ensuite and are rated by the AA as 4 gold star grade. We are one...

Kinchellie Croft

Kinchellie Crort provides extremely good value of money self catering holiday accommodation at the same time as offering an excellent standard of log cabins and cottages. We are located in Roy Bridge and perfect for groups looking for a good location for outdoor activities.Our three cottages sleep up to 6 people and the two log cabins sleep up to 4 persons.We are open all year round and available for weekly lets...

Old Harbour Master's Self Catering Apartment

Conveniently located in Fort William town centre, with great views overlooking Loch Linnhe, this large self catering apartment in Fort William can accommodate up to 8 people. All amenities are provided and included in the price. There is plenty of parking and the local shops, pubs and restaurants are minutes away. Take an evening stroll along the loch side and enjoy the views.Please telephone or email to check availability. Minimum of 2 nights...

Crolinnhe Bed and Breakfast

A superb, secluded Guest House with it's own extensive gardens and elevated views overlooking Loch Linnhe. This lovingly restored Victorian villa is a haven in the West Highlands of Scotland. Crolinnhe is a 5-star establishment offering exceptional levels of comfort to guests and a warm welcome with an intimate and opulent atmosphere ensuring our guests enjoy the majestic Scottish scenery surrounding them.Enjoy afternoon tea and shortbread on arrival in the spacious...

Cedar Lodge - Self Catering Cottage Fort William

Cedar Lodge is one of the closest self catering places to Fort William's downhill mountain biking tracks and winter skiing/snowboarding at Nevis Range. We are also within 10 minutes of the Ben Nevis North Face car park, and 15 minutes from the Glen Nevis Visitor Centre where most people begin their walk up the mountain footpath on Ben Nevis. THIS PROPERTY IS AVAILABLE FOR THE MONTH OF APRIL FOR PROFESSIONALS WORKING...

Coire Glas Guest House

UNDER NEW OWNERSHIP - Please contact us directly for best offers and pricing,  20% winter discount on 3 or more nights - email Morven and Simon Hardiman:

[email protected]

or call +44(0)1397 712272Bed and Breakfast, Spean Bridge, near Fort William.Coire Glas Guest House is situated at the edge of the Village of Spean Bridge in grounds of approximately one acre facing south it looks out over the spectacular Grey Corries and Ben...

Inverskilavulin Lodges - self catering near Fort William

Warm and cosy lodges for between 4-6 people each, with spectacular views on Ben Nevis, Aonach Mor, the Grey Corries and much more. Both lodges are nestled away in the heart of the Scottish Highlands, located just 6 miles outside of Fort William in Glenloy at the foot of Beinn Bhan corbett. Solar powered, with water straight from Beinn Bhan river, we offer eco-friendly and sustainable holiday accommodation, in the quiet serenity...

Torlinnhe Guest House

Andy and Sue Keen would be delighted to welcome you to Torlinnhe, for an exceptional bed and breakfast experience in Fort William. Our guests' comfort and enjoyment is our top priority! Right from the moment you call us to enquire you will find us friendly and welcoming. On arrival, relax a while after your journey, settle in our comfortable lounge and enjoy the spectacular views of Loch Linnhe and the mountains...

Ben View Cottage

Situated directly in front of Ben Nevis, Ben View Cottage is where Jennifer's forbears made their home after being evicted from the Loch Arkaig area during the Highland Clearances. The house has changed considerably since those far-off days (early 1800's) Now a very comfortable 3 bedroom family home, it is the ideal base for a holiday in the West Highlands.We have just completed a major refurbishment of the cottage to provide...

Clan Macduff Hotel

The Clan Macduff is a friendly, family run Fort William hotel sitting right on the banks of the picturesque Loch Linnhe. We are just 5 minutes drive from Fort William town centre and 10 minutes drive from Ben Nevis, the highest mountain in Britain. Originally built in 1965, the hotel has always belonged to our family. It has been extensively rebuilt and modernised over the last five years to provide modern accommodation...
Glen Marie B & B

Glen Marie, Tomacharich, Fort William, PH33 6SW

With wonderful views of near by Ben Nevis, and a pastoral landscape of grazing horses outside the front door, Glen Marie B & B is a place worth considering for a visit. We're only 10 minutes from the town centre, yet enjoy a quiet setting in the country. We offer one...

Garadh nan Ros Bed & Breakfast

Sutherland Avenue, Fort William, PH33 6JT

A warm Highland welcome awaits you at "Garadh nan Ros" - Garden of the Roses. Our two bedrooms - one a twin bedded room, the other a double - are both ensuite with toilet and shower. TV and tea/coffee making facilities are provided. We have private parking for guests.We offer a...

Sleeps 12

Self Catering on The Caledonian Canal

Top Lock, Neptune's Staircase, PH33 7LY

During the winter until the middle of March our comfortable holiday barges are parked near Fort William by the longest canal locking system in the UK, the Neptune's Staircase. This is an ideal location for up to 12 guests to be based while staying in the Highlands. With a waterside location there...

Nevis Croft Self Catering Cottages

Nevis Bridge, Glen Nevis, Fort William, PH33 6PF

Late availability in 2 bedroom cottages: 28 April - 5 May.Short breaks often available - please call 07872943912 or email [email protected] Nevis Croft Cottages are situated near Nevis Bridge - just half a mile from Fort William town centre and at the entrance to the stunning Glen Nevis and at the original end of the...

Sleeps 140

Alexandra Hotel

The Parade, Fort William, PH33 6AZ

Part of the very fabric of Fort William, since 1876 The Alexandra Hotel provides traditional Scottish Hospitality at its best and located in the centre of Fort William is an ideal base from which to explore the Highlands and Islands.Relax by the warmth of the open fire in the lounge before...

Old Pines Hotel and Restaurant

Old Pines, Spean Bridge, PH34 4EG

Old Pines is a restaurant with rooms at Spean which enjoys a particularly good setting just north of the village but within walking distance of the Commando Memorial. The views of Ben Nevis from Old Pines Restaurant are fabulous. We off a warm welcome to our cosy, bed and breakfast or...

Sleeps 10

Great Glen Holidays - self catering lodges

Torlundy farm, Tomacharich, Fort William, PH33 6SP

Great Glen Holidays is a wonderful place to stay in one of our  comfortable self catering lodges on our working highland farm at Torlundy.  We enjoy a very quiet and relaxing location just outside Fort William as well as being the nearest self catering for Nevis Range skiing and great mountain biking....

Fassfern Bed and Breakfast

Achintore Road, Fort William, PH33 6RQ

We are just a 2/3 minute walk from Fort William town centre and also the end of the West Highland Way. Situated on the shore of Loch Linnhe, we have stunning views across the loch towards the Ardgour hills. Our all our rooms are en-suite with central heating. We have flat...

Rose Cottage - Garden Flat

Rose Cottage , Torlundy, Fort William, PH33 6SW

This little flat, which is part of the owners home, is perfect for a couple. The flat is self contained. All the accommodation is at ground level with access to a small private garden. Seats and table, herbs and cottage garden plants. Enjoy this sheltered spot with views of Ben Nevis.On...

Beinnard Bed and Breakfast

Argyll Road, Fort William, PH33 6LF

Beinnard Bed and Breakfast in Fort William offers four bedrooms in our family home which enjoys an elevated location with great views looking over the town of Fort William and Loch Linnhe. Our deck is a great place to relax on a nice afternoon or evening with its west-facing view. We...

The Wee Round House

Donnelly's croft 104 , Lochy side Caol , Fort William , PH33 7BA

The Wee Round House is located on the croft adjacent to the village of Caol near Fort William. It has stunning views of Ben Nevis and Loch Linnie. The wee round house has a gas cooker, sink, four beds, wood burning stove and cooking implements. There is a chemical toilet outside and...

Invergloy Riverside Lodges

Riverside, Spean Bridge, ph34 4dy

Invergloy Riverside Lodges provides flexible accommodation in unique architecturally designed lodges, ideal for week long family holidays or short breaks, it's a perfect space for couples families or groups of friends in all seasons. Just three lodges sit in an elevated position on our 14 acre woodland garden overlooking Loch Lochy...

Culacrick Guest House

Old Banavie Road, Banavie, Fort William, PH33 7PZ

Culacrick is in an elevated position with superb views towards Ben Nevis.              We have three spacious bedrooms: One king-size bedroom which could also accommodate a third person with our fold down bed, a double room and one family room. The family room has a double bed and bunk beds, ideal for a...

Linnhe Lochside Self Catering Holidays

Linnhe Lochside Holidays, Corpach , Fort William, PH33 7NL

Relax and unwind. Fantastic views and a warm welcome await you at Linnhe. 10% off any full week stay in one of our lovely 3 & 4 star chalets between 15th December and the end of January. Our luxury self-catering holiday park offers top quality accommodation overlooking the wild and dramatic...

Mill Cottage Self Catering

Mill Cottage, Bunree, Fort William, PH33 6SE

Mill Cottage is situated on the shores of Loch Linnhe adjacent to a large waterfall.Offering excellent self catering accommodation for up to 12 guests in 3 large double bedrooms and 2 twin rooms. Perfect for couples seeking privacy, or indeed large groups or families needing space. The river and waterfall give...

Burnlea Cottage in Fort William

Burnlea, Achintore Road, Fort William, PH33 6RN

With fantastic panoramic views over Loch Linnhe to the hills beyond, this stylish Fort William cottage is less than 1 mile from the shops, restaurants and pubs of Fort William town centre. Our cottage accommodation comprises 1 twin/super-king bedroom, kitchen/sitting room, shower room.Free WiFi /parking and guests have use of the...

Tigh an Beag

14 Upper Inveroy, Roybridge, PH31 4AQ

This comfortable, well equipped self contained ground floor self catering apartment with private entrance is annexed to our home and has full central heating and is double glazed throughout. The living / dining room has spectacular panoramic views toward the Grey Corries, it is carpeted throughout and has comfortable seating, coffee...

Hollybank Lochside Self Catering

Hollybank , Achintore Road, Fort William, PH33 6RP

Luxury lochside holiday home just 30 metres from the shore of Loch Linnhe and set in its own ten acres of croft ground, the property has been completely refurbished and has three ensuite bedrooms all with window seats and loch views. The lounge has loch views and flat screen TV and...

Holly Tree Hotel, Swimming Pool and Restaurant

Kentallen Pier, Kentallen, Argyll, PA38 4BY

The Hollytree Hotel with Swimming Pool and Sauna is located a few miles down the Oban road from Glencoe in a quiet bay on the shore of Loch Linnhe - our views across the sea are often stunning - all year round ! We also offer ten superb self catering properties at...

Gairlochy Bay

Gairlochy, Spean Bridge, PH34 4EQ

For a unique self catering holiday on the banks of Loch Lochy and the Caledonian Canal consider one or our cosy and special self catering holiday homes.Both properties sleep up to 8 people. Gairlochy Bay is built of log with exposed wood on the inside. Wood burner and a 50" plasma...
near the Moorings Hotel

Fine whisky since 1826

and the West Highland Museum

the perfect escape to the Outdoor Capital

by Glen Nevis

from the High Street

by Loch Linnhe

around the Fort William area