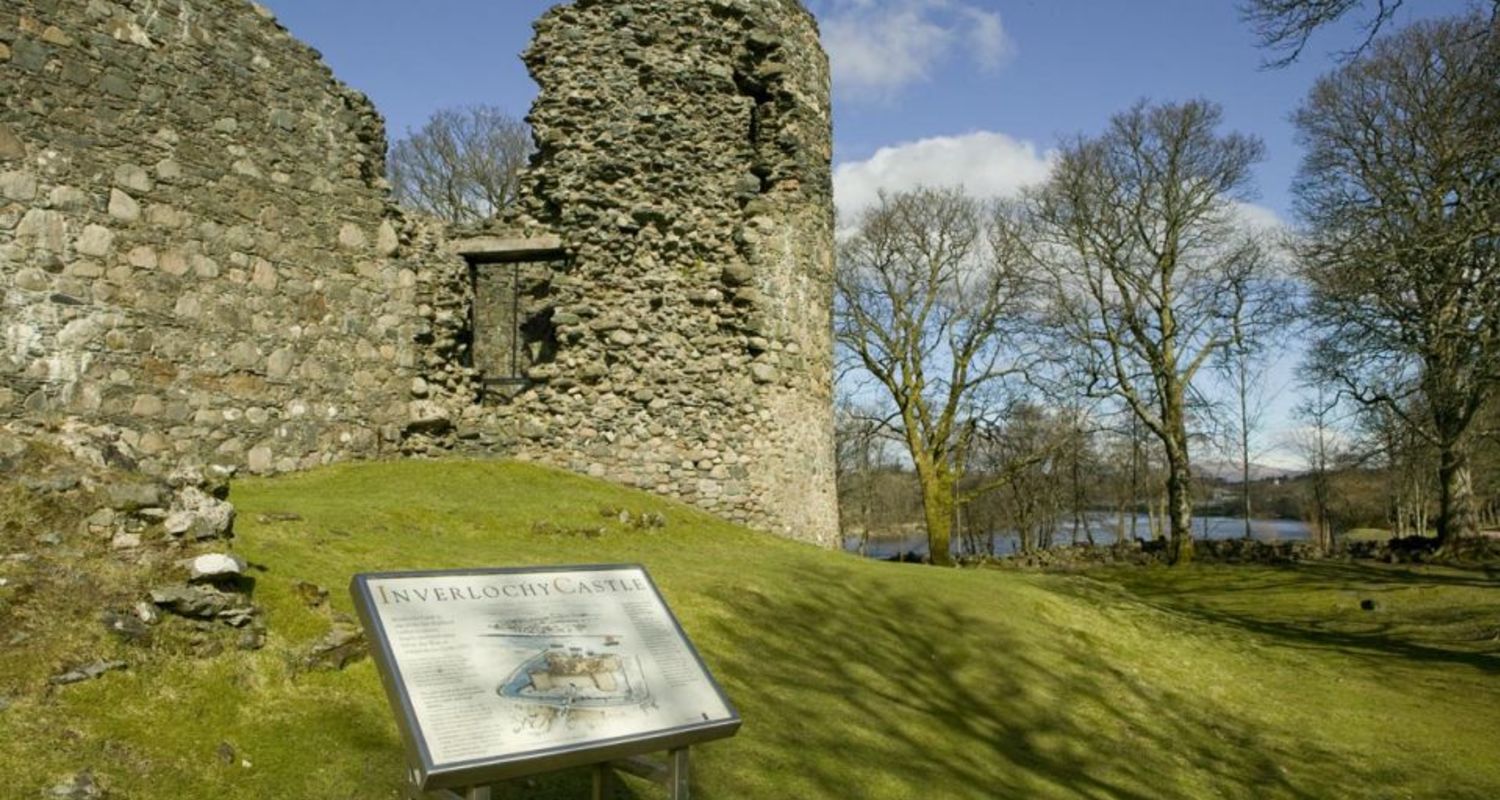 Visit Fort William, Glen Nevis and Ben Nevis in the Outdoor Capital of the UK
Search the Visit Fort William & Lochaber Directory
Old Inverlochy Castle is an interesting ancient site by the River Lochy in Fort William
Inverlochy Castle was built about 1280 is still a fine sight despite witnessing many scenes of splendour and carnage - standing in the grassy quadrangle beneath the 30 feet high and 10 feet thick let your imagination wander! It was probably built by the Comyn family at the command of Longshanks (Edward I), who appreciated the strategic site at the head of Loch Linnhe beside the River Lochy.
There was a large settlement here in pre-Christian times and Inverlochy was the site of the signing of a treaty in 790 between the ambassadors of Charlemagne, the French King and Achaius, King of the Picts. The Vikings may have attacked the original pictish fortification.
It was said to have been a regular haunt of merchants from Spain and France to buy Salmon and Herring. Two major battles were fought at Inverlochy.
The Battle of inverlochy 1431
In 1431 during the desperate struggle between the Lords of the Isles and the Royalists, Donald Balloch, 18 year old cousin of the then imprisoned Lord of the Isles led 600 clansmen up Loch Linnhe to attack the Royalists in the Castle. Simultaneously his uncle from Torcastle attacked from the North. 1000 men lay dead and the battle was commemorated in a famous pipe tune, the Pibroch of Donald Dubh.
The Battle of inverlochy 1645
In 1645 in Covenanting times, James Graham, Earl of Montrose, was on the Royalist side in the Civil Wars. With only 1500 man, and after a long forced march through the winter hills of Lochaber, he attacked the Duke of Argyll's men in front of the Castle at dawn. Argyll had  retreated across the loch to Camasnagaul bay and witnessed, from a distance, the defeat of his men and the slaughter of 1500 of them. Those who fled were pursued by Montrose's men and where caught (and killed ) a number of cairns were raised – one notably 6 miles off near Lundavra on the West Highland Way.
Today the crumbling walls have been repaired by Scotland's Ancient Monuments Commission – though "renovations" started about 1894 when Lord Abinger, then owner of the Castle, had some battlements built atop of the wall facing the West Highland Railway – this  to impress Queen Victoria as she sped past in a train to Banavie! (One hopes she was looking out to the right side of the track).
There is a well-known painting of Inverlochy Castle by Horatia McCulloch - some of the local hoteliers have copies hanging in their properties and its been well published in books.

The second of February was a day to be a spectator at a safe distance from here....The Battle of Inverlochy in 1645 began at first light when an army of 3,000 men led by Montrose, charged on the Covenanter Lowland occupants - discharging them from the castle and slaughtering them in the river... must have been an exciting day in Fort William - if not a bit cold !
Inverlochy Castle is possibly the oldest castle in Scotland where it is believed that in 790 AD King Achaius signed a treaty with Charlemagne. However this much earlier structure was destroyed by the Vikings after they took up sailing and developed raping and pillaging, but long before they got involved in salmon fish farming back home in Norway. 

It's interesting how things move on... fish farming in Loch Linnhe by Fort William is an important employer in the area nowadays... wonder if there are any Vikings working for Marine Harvest...

Our Ambassador of Lochaber History, Dr Chris Robinson, is working on our history section which we look forward to publishing next month..

Torlundy House

Torlundy House is a family run Guest House located in the rural settlement of Torlundy some 3 miles (5 kilometers) from Fort William in the Highlands of Scotland. Your hosts, Michael and Maxean, have been providing B&B for 14 years in Torlundy.We have lived in Torlundy for nearly 15 years now so are very conversant with the area. We welcome you to our home nestling amongst Britain's highest mountains (a short...

Lochy Holiday Park

Woodbury Lodges - suitable for up to 4 persons maximum (including babies). The Lodges are superbly built and insulated. They come with colour television, dvd player, gas water heater, hob oven and grill, fridge, living flame gas fire in lounge area, electric panel heating in bedrooms and lounge area, microwave oven, bed linen and duvets. (towels and tea-towels are not provided). Two bedrooms. - one double and one twin. Outside storage...

Calluna - Self Catering apartments and bunkhouse

Ben Nevis mountain country - Calluna self catering apartment(s) in Fort William are perfect for walkers, climbers and outdoor people. Welcome to Calluna, self-catering accommodation in the heart of the beautiful Scottish Highlands. Located above the west coast town of Fort William beneath Ben Nevis, Britain's highest mountain. Calluna provides the ideal self-catering base for your holiday, whatever you wish to do. Families, groups, couples and individuals are welcome, for a short or long...

Moorings Hotel

Celebrated as one of the most popular hotels in Fort William, the Moorings Hotel is a hidden gem, located just five minutes drive from Fort William town centre but a million miles away from every day hustle and bustle.Situated on the banks of the Caledonian Canal at the famous Neptune's staircase locks the location is perfect for a short stroll along the canal-side or enjoying a more strenuous walk along the...

Inverskilavulin Lodges - self catering near Fort William

Warm and cosy lodges for between 4-6 people each, with spectacular views on Ben Nevis, Aonach Mor, the Grey Corries and much more. Both lodges are nestled away in the heart of the Scottish Highlands, located just 6 miles outside of Fort William in Glenloy at the foot of Beinn Bhan corbett. Solar powered, with water straight from Beinn Bhan river, we offer eco-friendly and sustainable holiday accommodation, in the quiet serenity...

Bluebell Croft - Honeysuckle House and Rose Cottage

Honeysuckle House (sleeps 8+) and Rose Cottage (sleeps 2-4) are 5 star and were described in the Sunday Times as one "of the Best Cosy Cottages in the UK" and as a 'Heavenly cottage.. and the best sited hot tub in Europe'. The house and cottage have been designed with every thoughtful comfort, even extra towels for the hot tub. Dogs are welcome with care. We can leave a casserole in...

Gowan Brae House

A warm highland welcome awaits you at Gowan Brae which was built at the turn of the 20th century and is situated on the hillside above the town overlooking Loch Linnhe and the Treislaig Hills. We offer two double ensuite rooms and one twin room with private facilities.An extensive breakfast menu including vegetarian options is on offer and particular attention is paid to the quality and presentation of food served in...

Burnlea Bed and Breakfast Fort William

Burnlea bed and breakfast in Fort William has stunning, uninterrupted panoramic views over Loch Linnhe to the hills beyond and is just a mile's scenic walk from the shops, restaurants and pubs of Fort William. Free parking, free Wi-Fi, superb breakfasts; Highland hospitality at its best! Rooms from £79 - £110 per night, two persons, including breakfast.  We provide 2 comfortable rooms, each on the ground floor (super-king, twin or single,...

The Waterfront - Luxury Self-catering Apartment

This luxury self catering apartment in Fort William is new to the market and is a delight. Located by the shore of Loch Linnhe, and a short walk into town, our "just for two" self catering accommodation makes a wonderful place to stay during a visit to Fort William. Partially open-plan the holiday accommodation comprises an airy sitting room with leather settees and maple flooring.There's a breakfast bar and the stylish...

Lochview Guesthouse

Lochview Guesthouse sits in a hillside location within mature gardens, enjoying exceptional views across Loch Linnhe towards the Ardgour Hills. It is ideally located for Fort William town centre which is a 10 minute walk away. There are many activities to enjoy from Lochview Guest house including the Jacobite steam train, climbing Ben Nevis, Visit Nevis range Ski and mountain bike centre, enjoy some of Scotland's finest walks and scenery,The Glenfinnan...

The Willows Guest House, Fort William

The Willows is a 3 star family run guest house situated by the shores of Loch Linnhe with views of the Ardgour hills.  Located close to Fort William town centre it is approximately a 10 - 15 minute pleasant stroll along the gardens of Loch Linnhe to the restaurants, bars and shops.  But for our guests arriving by bus or train we would recommend a taxi, as the train and bus station are on...

Kinchellie Croft

Kinchellie Crort provides extremely good value of money self catering holiday accommodation at the same time as offering an excellent standard of log cabins and cottages. We are located in Roy Bridge and perfect for groups looking for a good location for outdoor activities.Our three cottages sleep up to 6 people and the two log cabins sleep up to 4 persons.We are open all year round and available for weekly lets...

Ben View Cottage

Situated directly in front of Ben Nevis, Ben View Cottage is where Jennifer's forbears made their home after being evicted from the Loch Arkaig area during the Highland Clearances. The house has changed considerably since those far-off days (early 1800's) Now a very comfortable 3 bedroom family home, it is the ideal base for a holiday in the West Highlands.We have just completed a major refurbishment of the cottage to provide...

Lochy Holiday Camping and Touring Park

Lochy Holiday Park's camping and touring park provides a peaceful riverside location with great views of Ben Nevis.We have separate pitches for tents, touring caravans and motorhomes with electric hook-up if required. The park has clean, well-maintained toilets and showers, a laundry and lots of parking. Our shop stocks basic essentials as well as all those bits and pieces your forgot or need replaced. We have lots of green space for...
by the River Lochy

and the River Lochy with Ben Nevis in the background

a ruin, not to be confused with the 5 star hotel.

a substantial ruin in Fort William

an ancient stronghold by the River Lochy

visiting Old Inverlochy Castle

scene of two battles

Old Inverlochy Castle ruins