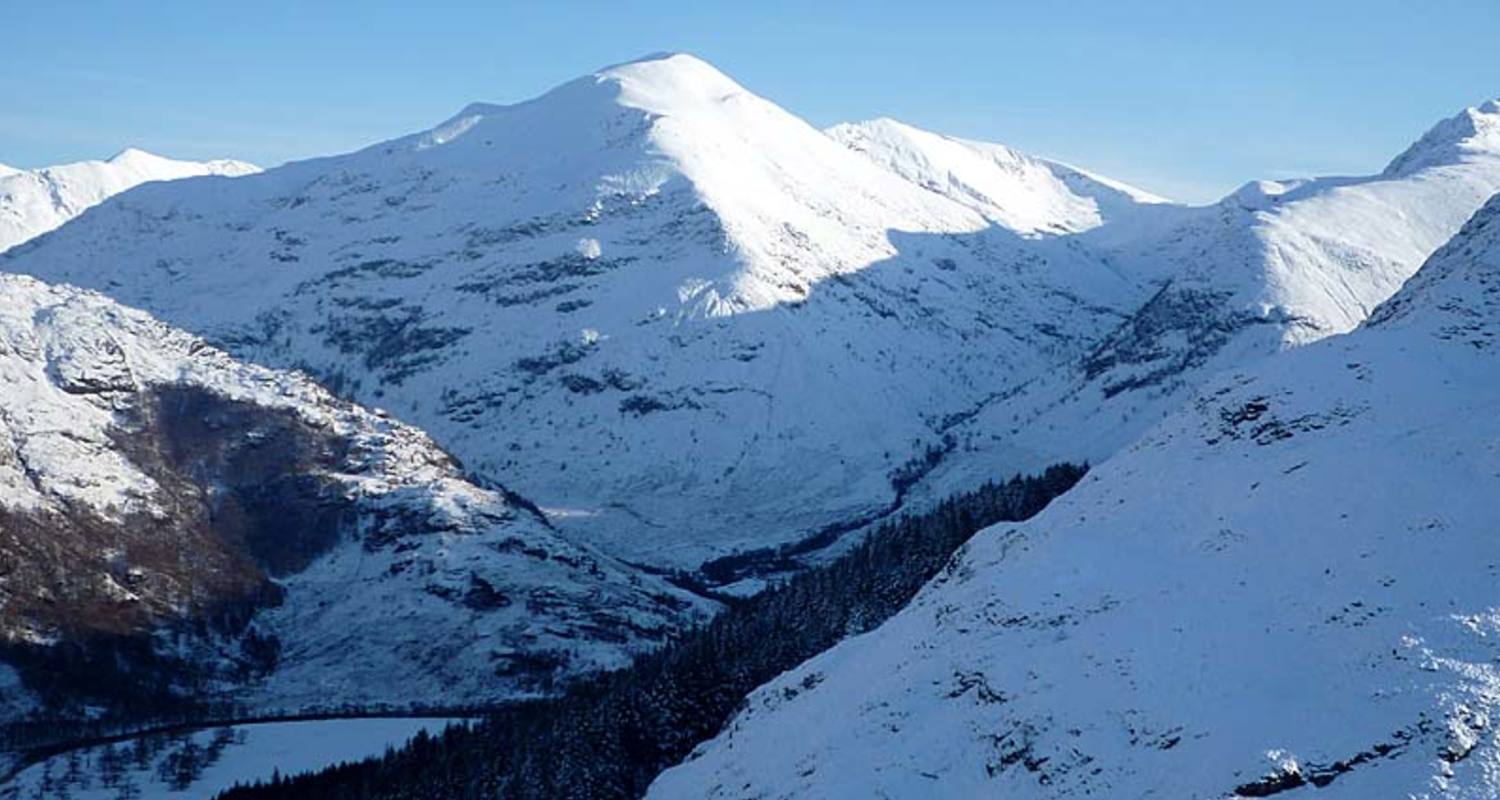 Visit Fort William, Glen Nevis and Ben Nevis in the Outdoor Capital of the UK
About Glen Nevis By Fort William
Glen Nevis is one of the most beautiful glens in Scotland, at the foot of Ben Nevis - the highest and most popular mountain in the UK.
Glen Nevis is arguably one of Fort William's best assets. Just a few minutes from town, a very picturesque Highland glen stretches out before your eyes as one enters from the west. Formed on the north by the flank of Ben Nevis and two accessable mountains to the east, the glen is a place of peace and tranquility as well as a place to play and stay. The River Nevis flows throuugh Glen Nevis on its short journey to the sea from the rainfall that pours onto Ben Nevis and the surrounding mountains, and is a major feature of the glen with several spectacular waterfalls. There is an exciting gorge which provides an easy but rewarding walk through to Steall falls. See erosion at work as the force and volume of water cascades over and down through deep rocks pools. Glen Nevis is considered one of the best examples of a glaciated valley in Scotland. Further down stream the Lower Falls is a great place to see a waterfall - particularly when its raining - watch millions of gallons (or litres) of fresh water pour over the rock on its way to the sea. The movie Braveheart was filmed in Glen Nevis and a good way to see the glen is to leave your car in the
Braveheart car park
then set off on foot either along the forestry paths which offer a choice of walks, or take the main road into the Glen to visit the Ionad Nibheis Centre (
Glen Nevis Visitor Centre
and then perhaps walk up to the
lower falls.


Glen Nevis is towards the end of the West Highland Way  - a 95 mile walking route between Glasgow and Fort William. Walkers on the last leg of the journey from Kinochleven are often seen with tired legs and glad faces, as they work their way down from the pass over the hills.




Nevis Landscape Partnership film with Dave MacLeod from Dave MacLeod on Vimeo.

Glen Nevis has had a very turbulent history and much of this is can be discovered in the Glen Nevis visitor centre. Glen Nevis has been home to the Cameron family since 1536. During the Jacobite rebellion Glen Nevis was a place where Highlanders would plan their attacks on the garrison Fort where the English soldiers were kept under siege for two days in April 1746.

Today, Glen Nevis is still the home of the Cameron family who operate Glen Nevis Holidays - one of  Scotland's best self catering, touring and camping parks.

Glen Nevis is beautiful with lots of easy walking and several places to stop to enjoy the views with a picnic.

Ben Nevis Inn is located at the start of the Ben Nevis mountain footpath at Achintee - this converted stone barn offers a cosy place to drop in for a hot meal and refreshments after your return from the summit. If you don't plan to climb the mountain try their tasty menu for lunch or evening meal. The log stove is always welcoming as are the staff. There's a Glen Nevis app is available for Android devices on the following app stores for phones and tablets:

Google Play: https://play.google.com/store/apps/details?id=com.friendsofnevis.glennevis

Amazon app store: http://www.amazon.com/Androidbrains-Glen-Nevis/dp/B007HB54M4/ref=sr_1_1?s=mobile-apps&ie=UTF8&qid=1342000974&sr=1-1&keywords=glen+nevis

Blackberry (Playbook/BB10 only): http://appworld.blackberry.com/webstore/content/92431/?lang=en
Sleeps 50

Nevis Bank Inn

Belford Road, Fort William, PH33 6BY

Fort William's Nevis Bank Hotel opened its door for the 2010 season at the end of May after a total refurbishment with very contemporary styling and a comfortable environment. The new management team welcomes you to our exciting place to stay in Fort William with stylish restaurant. We are confident we...

Ben Nevis Log Cabins

Harland, Glen Nevis, Fort William, PH33 6ST

Beautiful self catering log cabin sleeps a maximum of 4, includes a double and twin room. Situated at the foot of Ben nevis and at the end of the west highland way in one of Scotland's most beautiful glens it is ideally situated for walking, cycling, climbing or just relaxing. Feels...

Sleep 6

Glen Nevis Holiday Caravans

Glen Nevis Holidays Ltd, Glen Nevis, PH33 6SX

Our Holiday Caravans have a fantastic location in Glen Nevis, at the foot of Ben Nevis, with stunning views to the surrounding mountains. We have three types of fully furnished holiday caravans, with wifi, offering 2-3 bedrooms and accommodating up to six people. We also offer a wheelchair friendly accessible caravan with...

Sleeps 4

Glen Nevis Holiday Cottages

Glen Nevis Holidays, Glen Nevis, PH33 6SX

Tranquil holiday cottages set in magnificent mountain scenery at the foot of Ben Nevis in the Scottish Highlands; purpose built with every comfort, allowing you to make yourself truly at home. Enjoying the peace and privacy, each cottage is thoughtfully placed away from our access road, in pretty landscaped grounds. An outdoor...

Sleeps 2

The Old Byre Achintee

Crochaorich, Achintee Road, Fort William, PH33 6TE

We Offer the perfect base for you and your dogs to explore Fort William and Glen Nevis. We have some of the finest low level walks available anywhere in the UK, perfect for a relaxing holiday doing some gentler exercise with your four-legged friends, after all not many dogs have a...

Ben Nevis Inn Bunkhouse

Ben Nevis Inn, Achintee, Fort William, PH33 6TE

Set at the foot of the Ben Nevis mountain footpath, the Ben Nevis Inn offers bunkhouse accommodation and a restaurant with a selection of fresh, wholesome food in an informal atmosphere. The bunkhouse provides accommodation for up to 24 persons and has a kitchen, showers, toilets and drying area. If you...

Nevis Croft Self Catering Cottages

Nevis Bridge, Glen Nevis, Fort William, PH33 6PF

Late availability in 2 bedroom cottages: 28 April - 5 May.Short breaks often available - please call 07872943912 or email [email protected] Nevis Croft Cottages are situated near Nevis Bridge - just half a mile from Fort William town centre and at the entrance to the stunning Glen Nevis and at the original end of the...

Glen Nevis Cottage Self Catering Accommodation By Ben Nevis

old nevis bridge, Glen Nevis, FortWilliam, PH33 6PF

Located at the entrance to Glen Nevis, this very appealing, traditional cottage provides comfortable holiday accommodation for 4 plus persons. Every amenity is included in the weekly rent - except towels. Glen Nevis Cottage is within walking distance of Fort William town center, and at the end of the West Highland...
by the River Nevis

this place is truely beautiful

Glen Nevis Hoildays in the Glen below the footpath

Ben Nevis in the background

in Glen Nevis

relaxing at Dundeardeall in Glen Nevis

on the Ben Nevis footpath near Achintee