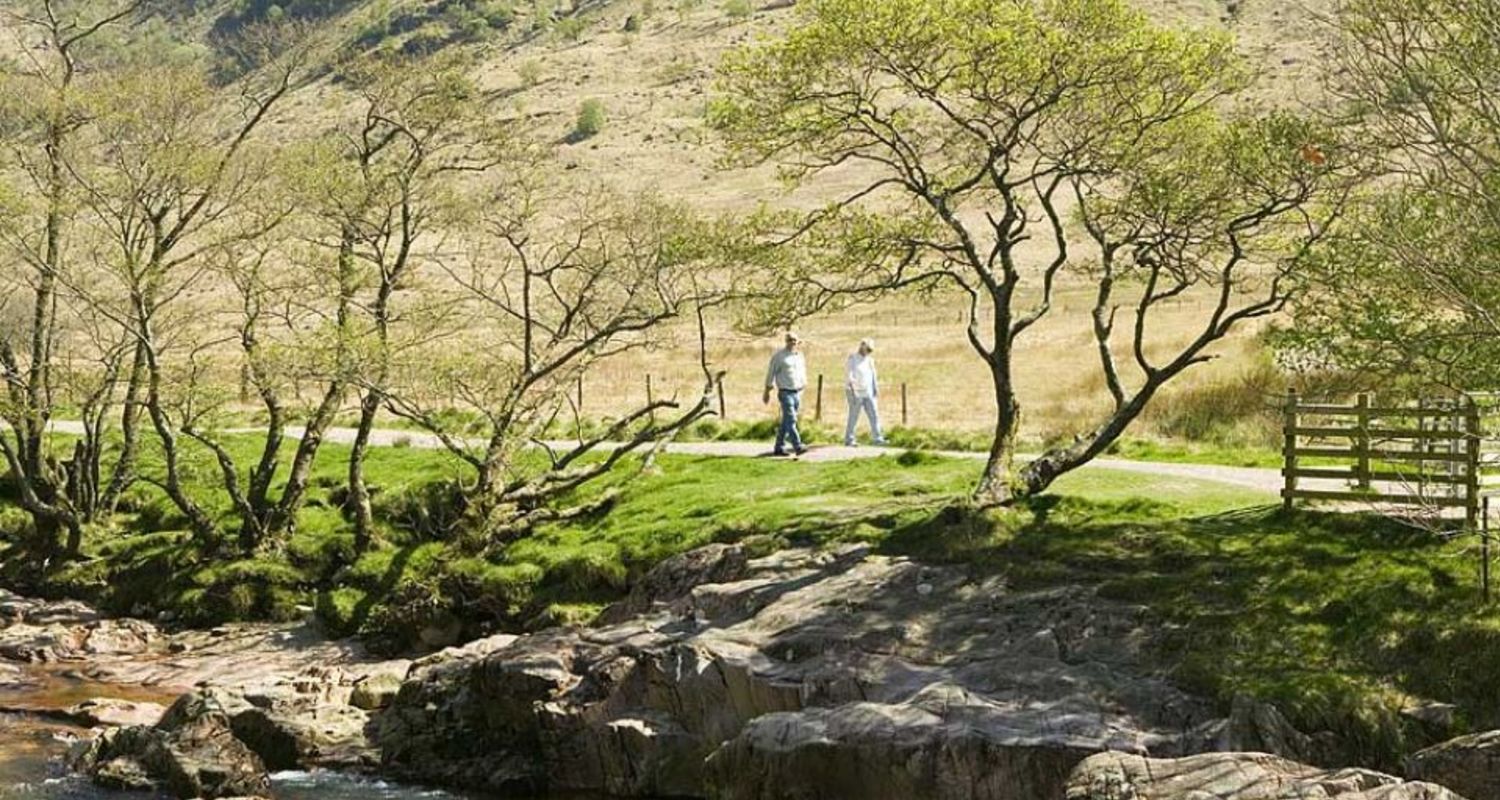 Visit Fort William, Glen Nevis and Ben Nevis in the Outdoor Capital of the UK
The Lower Falls In Glen Nevis
The River Nevis and the glen near Fort William is one of our best kept secrets - so don't tell everyone, okay ?
The Lower Falls in Glen Nevis is a place we highly recommend - whether it's a wet day, or one of our beautiful clear sunny days. This visitor destination in Fort William is a fascinating place to spend a few hours.
There's a small car park nearby or, if you are up for it, leave your car in the
Glen Nevis Visitor Centre
and walk or cycle up the road in the glen to get a real feel for this beautiful place. There is also a public bus service to this location which starts in Fort William.
On a wet day, it is amazing to watch the huge volume of fresh water pour over the lower falls on its way to the sea - a short journey from the heavens to the ocean - natural recycling we suppose... these wet days can be dangerous near the banks of the river so stay well clear. On a good dry day, there's a path which takes you upstream from the bridge where you can sit on a boulder and enjoy the ambience of the scene. Downstream when the river is low after a dry spell there are amazing places to find huge stones and boulders pushed and shaped by the water into groups. The winter months are good too - we have seen the river and falls completely frozen and the trees hanging over with the weight of ice.
The Lower Falls is the start point of the annual
Glen Nevis River Race
- when competitors jump into the falls with floatation and wetsuits to navigate the river to a finishing point down stream - this is a good spectator sport. Check out the Events section to find out the date of the next race.
Glen Nevis is only 10 minutes from Fort William and is one of our 5 Star attractions. The Highland Council produced a
walks in Glen Nevis leaflet
which you can download and use as a reference.
Sleeps 50

Nevis Bank Inn

Belford Road, Fort William, PH33 6BY

Fort William's Nevis Bank Hotel opened its door for the 2010 season at the end of May after a total refurbishment with very contemporary styling and a comfortable environment. The new management team welcomes you to our exciting place to stay in Fort William with stylish restaurant. We are confident we...

Ben Nevis Log Cabins

Harland, Glen Nevis, Fort William, PH33 6ST

Beautiful self catering log cabin sleeps a maximum of 4, includes a double and twin room. Situated at the foot of Ben nevis and at the end of the west highland way in one of Scotland's most beautiful glens it is ideally situated for walking, cycling, climbing or just relaxing. Feels...

Sleep 6

Glen Nevis Holiday Caravans

Glen Nevis Holidays Ltd, Glen Nevis, PH33 6SX

Our Holiday Caravans have a fantastic location in Glen Nevis, at the foot of Ben Nevis, with stunning views to the surrounding mountains. We have three types of fully furnished holiday caravans, with wifi, offering 2-3 bedrooms and accommodating up to six people. We also offer a wheelchair friendly accessible caravan with...

Sleeps 4

Glen Nevis Holiday Cottages

Glen Nevis Holidays, Glen Nevis, PH33 6SX

Tranquil holiday cottages set in magnificent mountain scenery at the foot of Ben Nevis in the Scottish Highlands; purpose built with every comfort, allowing you to make yourself truly at home. Enjoying the peace and privacy, each cottage is thoughtfully placed away from our access road, in pretty landscaped grounds. An outdoor...

Sleeps 2

The Old Byre Achintee

Crochaorich, Achintee Road, Fort William, PH33 6TE

We Offer the perfect base for you and your dogs to explore Fort William and Glen Nevis. We have some of the finest low level walks available anywhere in the UK, perfect for a relaxing holiday doing some gentler exercise with your four-legged friends, after all not many dogs have a...

Ben Nevis Inn Bunkhouse

Ben Nevis Inn, Achintee, Fort William, PH33 6TE

Set at the foot of the Ben Nevis mountain footpath, the Ben Nevis Inn offers bunkhouse accommodation and a restaurant with a selection of fresh, wholesome food in an informal atmosphere. The bunkhouse provides accommodation for up to 24 persons and has a kitchen, showers, toilets and drying area. If you...

Nevis Croft Self Catering Cottages

Nevis Bridge, Glen Nevis, Fort William, PH33 6PF

Late availability in 2 bedroom cottages: 28 April - 5 May.Short breaks often available - please call 07872943912 or email [email protected] Nevis Croft Cottages are situated near Nevis Bridge - just half a mile from Fort William town centre and at the entrance to the stunning Glen Nevis and at the original end of the...

Glen Nevis Cottage Self Catering Accommodation By Ben Nevis

old nevis bridge, Glen Nevis, FortWilliam, PH33 6PF

Located at the entrance to Glen Nevis, this very appealing, traditional cottage provides comfortable holiday accommodation for 4 plus persons. Every amenity is included in the weekly rent - except towels. Glen Nevis Cottage is within walking distance of Fort William town center, and at the end of the West Highland...
in Glen Nevis, Fort William

happily drains away into the sea

a great walk along the river

near the Glen Nevis Lower Falls

how many million litres per hours ?

you don't see this every winter...

enjoying a picnic by the River Nevis

a Fort William big freeze