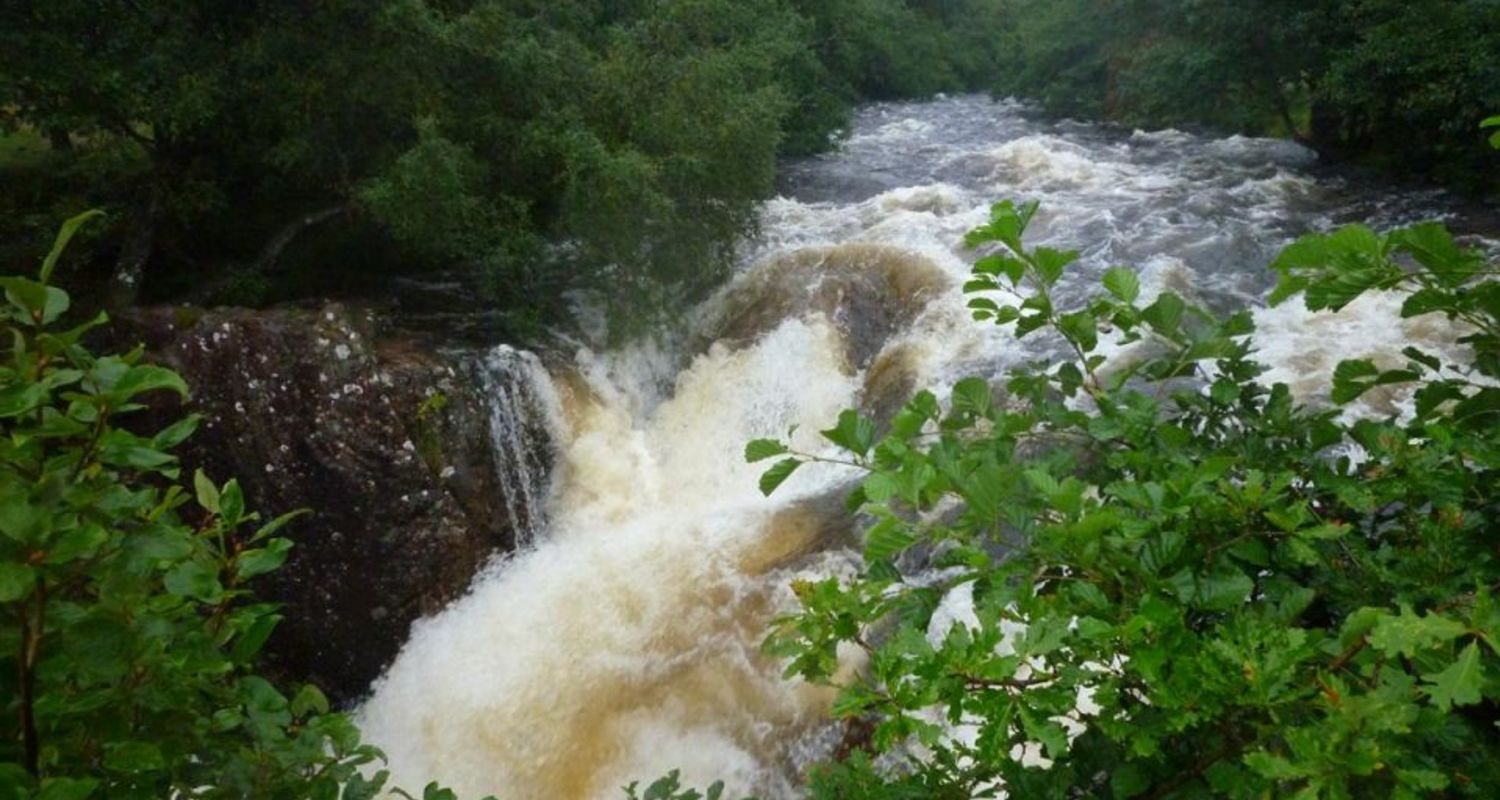 Visit Fort William, Glen Nevis and Ben Nevis in the Outdoor Capital of the UK
The Lower Falls In Glen Nevis
The River Nevis and the glen near Fort William is one of our best kept secrets - so don't tell everyone, okay ?
The Lower Falls in Glen Nevis is a place we highly recommend - whether it's a wet day, or one of our beautiful clear sunny days. This visitor destination in Fort William is a fascinating place to spend a few hours.
There's a small car park nearby or, if you are up for it, leave your car in the
Glen Nevis Visitor Centre
and walk or cycle up the road in the glen to get a real feel for this beautiful place. There is also a public bus service to this location which starts in Fort William.
On a wet day, it is amazing to watch the huge volume of fresh water pour over the lower falls on its way to the sea - a short journey from the heavens to the ocean - natural recycling we suppose... these wet days can be dangerous near the banks of the river so stay well clear. On a good dry day, there's a path which takes you upstream from the bridge where you can sit on a boulder and enjoy the ambience of the scene. Downstream when the river is low after a dry spell there are amazing places to find huge stones and boulders pushed and shaped by the water into groups. The winter months are good too - we have seen the river and falls completely frozen and the trees hanging over with the weight of ice.
The Lower Falls is the start point of the annual
Glen Nevis River Race
- when competitors jump into the falls with floatation and wetsuits to navigate the river to a finishing point down stream - this is a good spectator sport. Check out the Events section to find out the date of the next race.
Glen Nevis is only 10 minutes from Fort William and is one of our 5 Star attractions. The Highland Council produced a
walks in Glen Nevis leaflet
which you can download and use as a reference.
how many million litres per hours ?

enjoying a picnic by the River Nevis

near the Glen Nevis Lower Falls

a Fort William big freeze

happily drains away into the sea

a great walk along the river

in Glen Nevis, Fort William

you don't see this every winter...