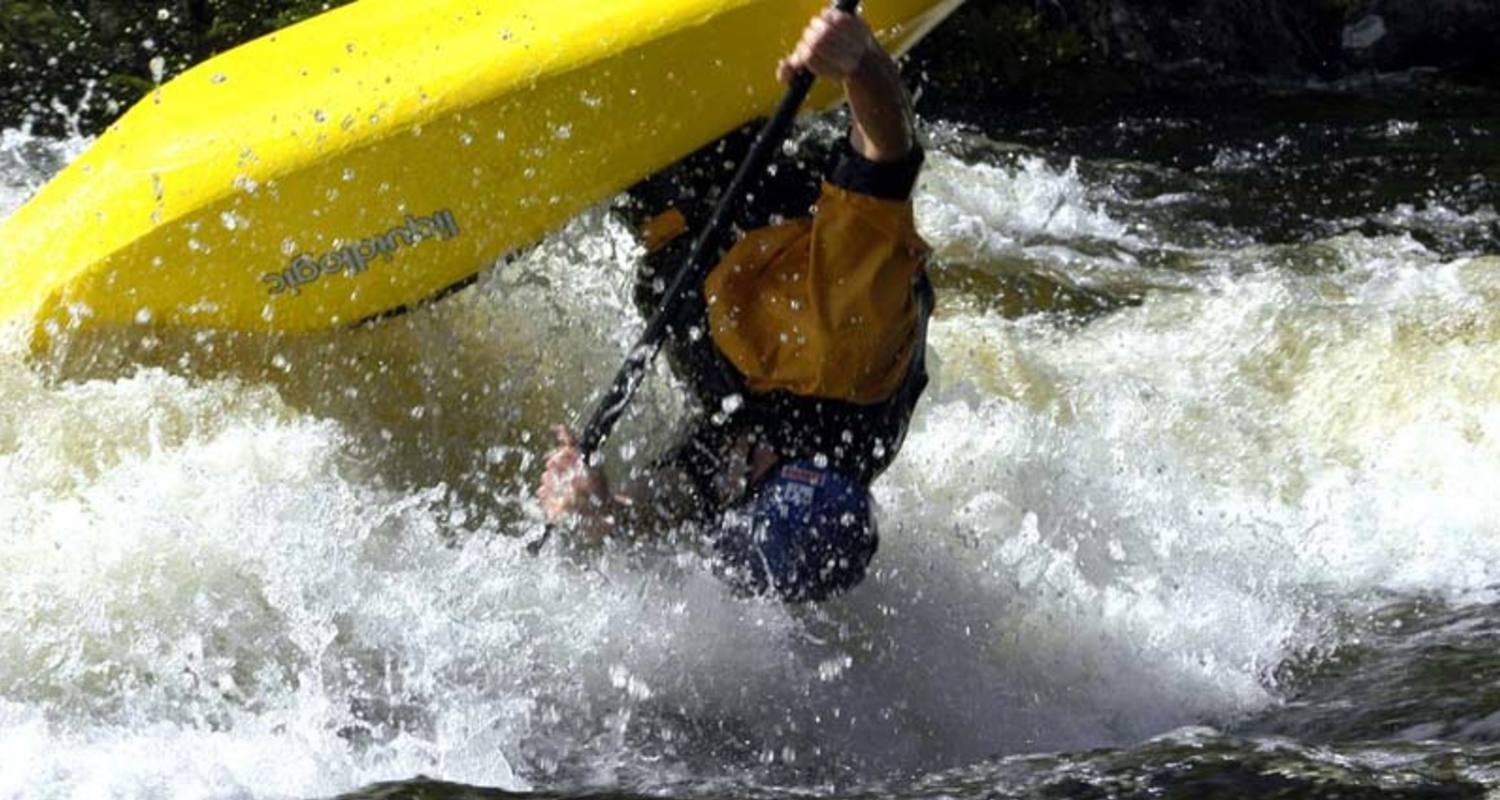 Visit Fort William, Glen Nevis and Ben Nevis in the Outdoor Capital of the UK
White Water Kayaking In Lochaber
Information about white water kayaking in the Fort William and Lochaber area.
The Scottish Canoe Association (SCA) white water guidebook lists no less than 37 rivers in the Lochaber area. These range from uncomplicated rivers, ideal for early experience on moving water, to full-on expert-only burns. 

Lochaber offers big, high-flow rivers as well as many steep, technical creeks. The paddling takes you through magnificent landscapes and scenery and more than likely, you'll have it all to yourself. 

Paddling in Lochaber is a year-round experience. The SCA white water guide lists 4 river sections that can be paddled at any time, 11 that need wet conditions and 27 that need very wet weather. 

The best paddling conditions are generally found between October and April. November is a wonderful month. Find out about current river levels at the SCA website (www.canoescotland.com). As well as the 37 rivers in Lochaber, the Etive, Orchy, Morriston and Pattack are all nearby. 

For the most reliable information on Lochaber's rivers consult the indispensable SCA "Scottish White Water Guide". SCA river advisers may also be able to help.

This info and photos kindly provided by Bridget Thomas. 
Fort William Football Club

Claggan Park, Achintee Road, PH33 6TE

We are Fort William based canoe club, with around 50 members of all ages and abilities. As long as you are happy to get wet then you are more than welcome to come and join us. During the summer we have weekly sea kayak trips every Tuesday evening at lots of different locations and weekly...

Glencoe Boat Club

Tighphuirt', Glencoe, PH49 4HN

Glencoe Boat Club is an established sailing club located on Loch Leven between Glencoe village and Ballachulich. We have an active series of events and courses, as well as our weekly sailing races and annual regatta in June. Visitors are most welcome to use one of our visitor moorings and make...

Nevis Hillwalking Club

Skeabost, Old Ferry Road, PH33 6SA

The Nevis Hillwalking Club is a small, friendly Lochaber-based club that organises a hill walk on every weekend of the year. It is not a climbing club. Technical equipment is used only when necessary for part of the walk, for example ice axe and crampons on winter routes, or a rope if useful...

Lochaber Showstoppers

n'a, n/a

Lochaber Showstoppers, formed in 1993, is a not for profit community musical theatre group based in Fort William. It was established with the aim of encouraging community access to and involvement in musical theatre within Lochaber, particularly amongst young people. Although run by...

Lochaber Yacht Club on Loch Linnhe, Fort William

Achintore Road, Fort William, PH33

Lochaber Yacht Club was established 1954 over at Corpach but today the Club enjoys its new sailing clubhouse on the shore of Loch Linnhe in Fort William. We go sailing lots and every year teach people to sail who join our sailing club and then go on to sail club dinghies or they buy their own...
in Kinlochleven

on one of your many rivers

in sunshine !

or is that the edge?

Paddling in Fort William

in Fort William